Peter Brotherhood: a history
Peter Brotherhood: a history 1 2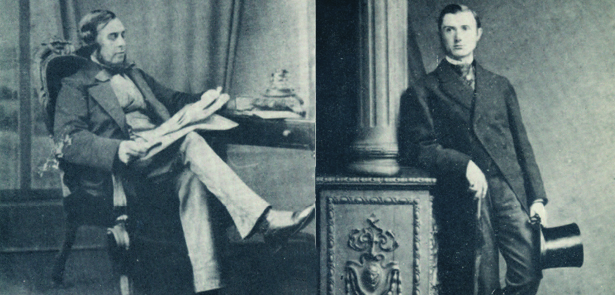 In 2014, the archive of Peterborough engineering firm Peter Brotherhood – a collection dating back to the mid-19th century – was handed to Vivacity's Archives Service at Peterborough Central Library. Toby Venables talked to Archives Manager, Richard Hunt, about the value of the collection and the history of this innovative and dynamic local company
HOW DID THE BROTHERHOOD ARCHIVE FIRST COME TO YOU?
The Brotherhood archives had lived in the factory for a long time, and as the company changed they wanted to ensure it would be preserved, and asked for it to be deposited with a local archive. Dresser-Rand – who bought out the company – were really interested in the history of Peter Brotherhood. As a result they were very happy to sign the archives over to us and they have been really enthusiastic and co-operative about it. They recognise the legacy of Brotherhood, and have secured its history by giving it a safe home with a professional archive service. Often, when a business gets taken over, those old archives simply get thrown out, so Dresser-Rand are to be applauded for that.
WHAT FORM DOES THIS ARCHIVE TAKE? ARE WE TALKING ABOUT A LOT OF MATERIAL?
It came to us early last year for safekeeping, in a load of cardboard boxes, and essentially is the complete history of a very venerable engineering firm. There are other archives still there, bit this is all the very historic, older material dating as far back to the 1860s, so really is going back to the earliest days. It goes through to about the 1960s – pretty much 100 years worth of history. It's still awaiting full cataloguing, but we do have a brief overview list, so if people wanted to know what was in the collection we could advise them and they could look at individual pieces. Eventually, there will be an online catalogue, but that's a bit of a way off – it's a lot of work, and a big collection!
HAVE ANY SURPRISES EMERGED SO FAR?
The company has its origins way back with Rowland Brotherhood, who worked with Brunel on railway engines, and there is actually a book in the archive dated 1856 that relates to railway engines that is potentially quite important in the history of the coming of the railways. It's a fascinating perspective on those early days. There is also a massive collection of patents, with phenomenally intricate and often quite beautiful drawings, showing some of the revolutionary stuff they were coming up with. These were worldwide patents too, so you've got Russian and US patents in there – all very important for their period.
IS THIS DIVERSITY A KEY CHARACTERISTIC OF BROTHERHOOD'S?
Yes, I think so. They're an interesting company because they always made what people needed. They're not like Perkins, who make engines and specialise in that key thing. Brotherhood do have core things that they're very good at and which they have always done, of course, such as making compressors. But their great strength was that if you needed something, they could make it for you. If you needed an extremely large casting, they would do it. As a result of that, the company has continually reinvented itself.
HOW DID IT ALL START?
In the early days, they were making things for the railway. Then they moved into equipment for the brewing trade, down in London. Then, in 1872, they invent this three cylinder, radial engine which wins lots of prizes in Vienna and Paris. That was Peter Brotherhood's own innovation – it's him who comes up with the idea. That leads to them making turbines, pumps and steering gear for ships and so on, and that opens them up to other things. If you're making turbines, then why not make things that are powered by turbines? That leads to them making torpedoes, for example. This continual evolution is, I suspect, why the company survived.
IT SEEMS LIKE THEY WERE HAD THE KNACK OF DOING THE RIGHT THING AT THE RIGHT TIME, MAKING EXACTLY THE COMPONENTS THE NAVY NEEDED DURING THE 1870S WHEN IT WAS BECOMING HIGHLY MECHANISED
The key to the British Empire is the ability to trade the things that we make. We can't just consume it here. The way you trade around the word is in ships, and the way to trade more efficiently is to have ships that go faster, and to get ships to go faster you need them to be mechanised, and that technology is exactly what the company is making. So yes, they were there at the right time, making what people most needed. Had they stuck with making brewing equipment, I'm pretty sure we wouldn't still be talking about them today! They moved with the times.
HOW DID THE PETERBOROUGH CONNECTION FIRST COME ABOUT?
Initially, they have premises on London. Peter Brotherhood himself is trained at Kings College, London – and made a small, model engine that is still on display there. They end up getting bigger engineering works in London in 1882, on the south side of the Thames near Westminster Bridge. They eventually also outgrew that site, and so in 1907 established themselves in Peterborough, moving pretty much the entire company to Walton. Peter Brotherhood had died in 1902 and his brother Stanley, who had been general manager for a time, had by then taken over the business. When they had moved to Peterborough, they changed it from being a family firm into being a private company, with Stanley as chairman.
WHY CHOOSE PETERBOROUGH?
I can find no real reason why they chose to come here. There was land, the railway connection was good, so everything they made could go straight off wherever it needed to go, but I can see no other connection.
COULD IT BE SOMETHING AS SIMPLE AS THE NAME OF THE COMPANY? PETER BRO…
It could be that! They did create the Peterbro tractor when they were here. Other than that, they are complete outsiders at that point, which is very unlike Perkins, whose history here goes way back.
MIGHT IT BE PARTLY BE BECAUSE PERKINS WAS HERE THAT THEY CHOSE THE LOCATION?
I suspect that may have had something to do with it, yes. You wouldn't come to a city that had no engineering tradition – you would not have gone to Leicester or Northampton if you wanted to make torpedo engines. So there's already a trained workforce here, and there's fantastic transport. I don't think you can downplay that factor. You can go straight to any port from here; Peterborough is a town that is changing very fast by the time they get here.
HOW DID THINGS CHANGE WHEN THE FIRST WORLD WAR CAME ALONG?
That's an important time for them. They're a major employer by this stage – never quite on the scale of Perkins, but 3,000 people during the Great War, when the population is around 34,000, is still a large proportion of the population. Mostly they are serving the war effort. Thousands of torpedo engines are being made, but also things like gun mountings, sights for… [cont]
Peter Brotherhood: a history 1 2
Leave a Reply