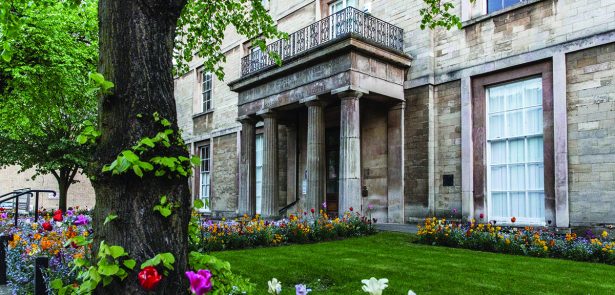 If there's one place where you can put our turbulent times in perspective, it's Peterborough Museum. Within its walls you can contemplate the demise of the dinosaurs, the rise and fall of the Roman Empire, the impact of Napoleon on the area – and maybe even spot a ghost or two. But what of the Museum itself? How is it faring in these interesting times? We talked to Heritage Manager Sarah Wilson about the effects of COVID, budget cuts, and where the Museum goes from here.
Many will have heard about the cuts that the Museum's facing. What is your current situation?
Like everywhere, these are challenging times for the Museum, without a doubt. But I think, in the last few years, with COVID, we've realized that we want to be a service that demonstrates real social value to the community. The vision we've all agreed on, going forward, is that we want to create a welcoming space where everybody can find out about, participate in and shape the heritage of the city – and that they will get benefits as a result of that. There's the learning aspect, of course, as well as also improving people's wellbeing, which COVID has really brought to light. I think in the past we have underestimated how much we do that, just by providing a space that people can go into and explore without pressure, and by getting them involved in activities with their kids. The last couple of years have cemented that idea, that it's a space for the entire community, and we want it to represent all of the communities.
What are the main issues there?
If you look at our spaces and the story of Peterborough, there are gaps. Not just in terms of particular communities, but even time periods. So, you know, what was happening to Peterborough in the 1960s and 70s… We should be out there and talking about it. So we want to look at how we revisit our galleries and make them much more representative of communities, but also work with the communities to shape the stories that we're telling. So it's not us telling the story – it's coming from the community. Despite the cuts that are coming, we want to be out there working with people, beyond the walls of the museum, right there in the communities. For us, that means continuing to develop how we work.
Has the hiatus with COVID been a sort of 'taking stock' period?
It's allowed us – and forced us, in some ways –to question how we do what we do. What are the things that we do well, and how could we do them better? For example, we have a big café space and a passionate team who have been key in integrating the café in our programme. As a result the public are getting a much more immersive experience when they visit the Museum. And what are the things that we're not perhaps doing as well at? For example, we run walks and tours programmes. We need to get back out there with those, but we also need to go beyond what we were doing. We need to be talking to businesses, and finding out how we work with them to get more people into the city centre, encouraging people to go to restaurants or shops by having offers tied in with the walk or tour. My hope is that heritage becomes transformative for the city. We're following in the footsteps of all the hard work that previous Museum colleagues have done, and we want to build on that, and the Heritage Festival is something I absolutely want to get back.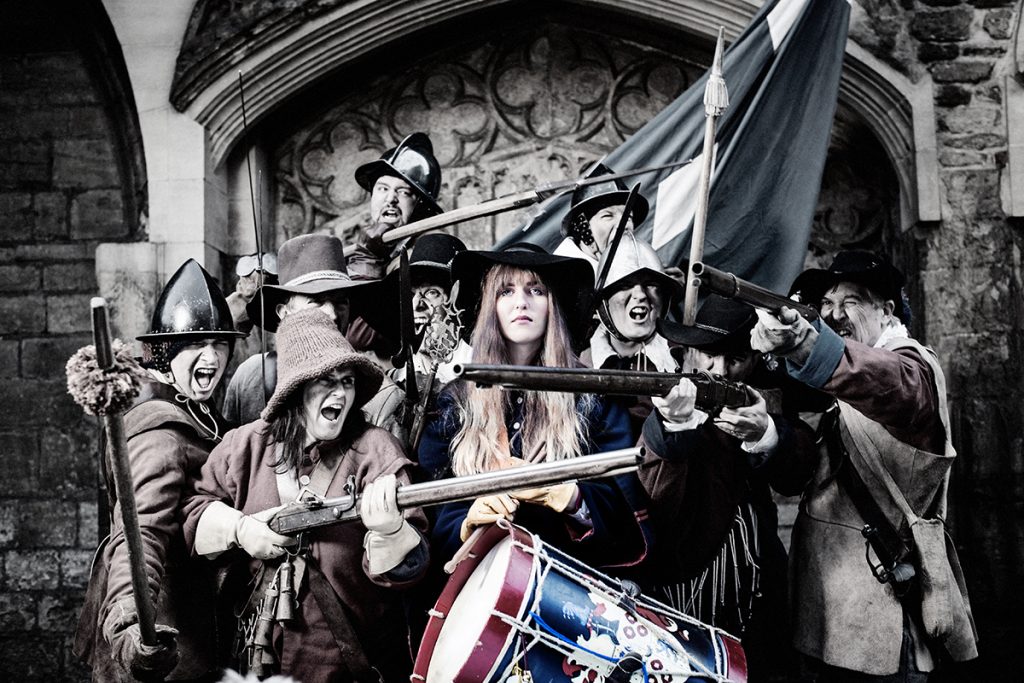 One of the great things about the Heritage Festival is that it's out in the street, and passersby can literally bump into history!
The last Heritage Festival that we did, we placed Victorian fair rides outside McDonald's, in the square. That was slightly on purpose! But what was really good was you started to see people engage with the festival who perhaps normally wouldn't. It's a case of being clever about it and going into those unusual spaces or everyday spaces, where people can encounter the city's great stories on their own terms.
It's about looking at it, perhaps, in a different way. So we still do the things that people love, but we actually bring more stories into it – more modern stories of communities coming to live in Peterborough. The history of the people alongside the history of the city. And again, that's about working more closely with others – such as businesses in the city centre – to get something that will really benefit everybody in the city. COVID forced everyone to stop and take stock, but instead of looking inward we need to look outward and ask 'What's the potential to work with others? How could we team up?' I think partnerships are going to be a big thing for us. It's looking at different methods to bring stories alive. The city has such a rich history, and it's a wonderful resource. Just the other day I was walking through the underpass under Bourges Boulevard, and I was wondering how many people realised they had to exhume an entire cemetery to build that!
If you're talking about more recent history there's scope for participation from people who actually remember it, who have stories to tell that could be recorded, or written down…
Absolutely. And the things that really interest us as a team are those kind of shared life experiences, irrespective of backgrounds. These experiences are all recorded in the archives and collections of the Museum, Flag Fen and Peterborough Archives Service. I absolutely believe heritage can play a role in helping communities integrate by showing our connection with people who had homes here thousands of years ago, like those at Must Farm. We talk about migration in the city, but there have been waves of migration into this city over thousands of years. I suppose,
in a sense, it's saying there's nothing new. In some respects, Peterborough has always been changing and will continue to do so. But people's experiences and fundamental needs haven't changed. I often talk to kids about the network of rivers and waterways that would have characterised the Fens, and compare them to the parkways and cycle paths. They look slightly different, but the concepts are the same. It's about finding ways to make history and heritage much more accessible to people – bringing us closer to the people of the past.
Before COVID, the big news for the Museum was the plan to house the incredible finds from the Must Farm excavations, including the log boats that made headlines worldwide. What is the status of that now?
We are still committed to putting the Must Farm collection on display. The boats are going to be conserved fairly soon, and the archive is ready to be deposited at the Museum. So, with key stakeholders, we need to agree on what are we going to do? Are we going to adapt the spaces we already have, or go for a huge re-imagining of the whole museum and use the archive as a catalyst to do that? And that's the discussion that we've got to have. We've got to be honest about the situation we're in, financially, but we also need to be ambitious and work with others to realise our ambitions. I think it's important that local people feel a sense of ownership, because it's a remarkable story. There are huge numbers of people across the UK and internationally that are really excited by this collection, but I want people in the city to be excited about it too, and for it to be a source of pride. Must Farm will undoubtedly bring new visitors to our city.
The Museum collections are very broad. Is it a constant challenge, trying to engage so many different audiences in one place?
They're so unusual, museums. They're a collective memory and we have fantastic collections for a museum of our size. Our collections comprise of around 250,000 objects, which tell hundreds of thousands of stories. Museums are social spaces too and should be used by all sections of the community. I think we've got a big job on our hands engaging with young people, who are the future guardians of our heritage. But we need to determine what it is they want. Is it a place to develop skills that will help them with whatever their future endeavours are? So, I think the key is finding out what people want.
Presumably some of the young people the Museum engages might also become volunteers?
I hope so! We're not a huge team, but we're a welcoming team. We're small enough to be supportive to people coming in, and aim to create a good environment for people to gain skills and experiences. And we have had people staying with us for a long time, or coming back to us after they've got a job somewhere else, when the opportunity comes up. I always think that's a really good sign! It means you're doing something right. For young people in particular, we offer not just volunteering opportunities but a range of school learning sessions as well. We have an award-winning education programme and offer Arts Award at all 5 levels. Coming back to volunteering, this will continue to be a focus for us. We can offer a range of experiences for all ages, for whatever stage people are at in their lives. We know we hugely benefit from all people's life experiences which enables us to develop and try new things.
What's next at the Museum?
Well, we've got the POSH exhibition. That shows that history and heritage isn't just Tudors and Romans and all those things you learned in school – it's happening all the time. In Peterborough, POSH has such a massive part to play in the identity of the city. We wanted to have an exhibition that would bring in different audiences from those we'd had in the past. Again, it's about working in partnership – and we want to use the exhibition and the programme around it to look at literacy and numeracy and support that learning. It's really family-friendly, and it means we can start to build those relationships with other partners in the city.
We've also got the Extinction exhibition, showcasing some of the fabulous specimens that we have within our own collections. We're working in partnership with environmental organisations, getting people to think about what they can do, and what difference they can make. There have been five big, mass extinctions in the Earth's history – the end of the dinosaurs being the most well-known – but are we now in a sixth, with climate change? And what can we do about that? As an organisation we are thinking hard about our impact on the climate, and visitors will see that reflected in our day-to-day operations at the Museum. We want to use the Extinction exhibition as a real opportunity
for schools, but also families, and make it very hands-on and accessible so people go away with a good understanding of what's happening now.
Leave a Reply