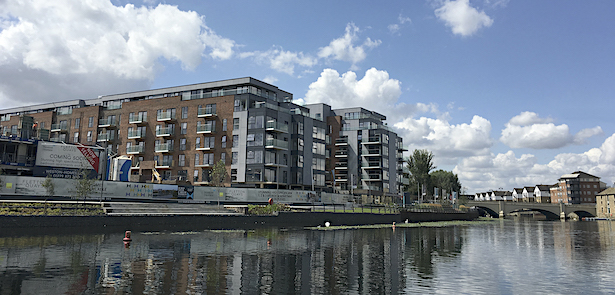 Opportunity Peterborough is very well known in local business circles, but this is a slightly new direction… Tell us what's going on!
It's been it's been building for a couple of years, but what's happening at the moment is that Opportunity Peterborough is taking responsibility for the promotion of Peterborough as a leisure and tourism destination. This is really part of a package, and we're looking at really changing our focus from inward investment promotion. As part of our economic development portfolio, obviously, we promote the city to attract more businesses and create jobs, but what we've been tasked with is broadening that remit to incorporate visitor economy, business tourism, and talent attraction, and therefore take a more holistic place-marketing approach to the promotion of the city.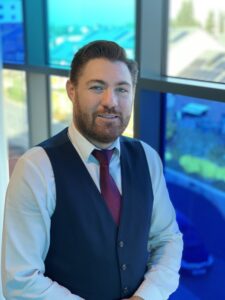 How did that come about?
There are a number of drivers behind that, really. First, I think it's just a sensible thing to do in the first place! It's what tends to happen in larger cities, through organisations like Marketing Manchester or London and Partners, and it's about making sure we have one agency that is ultimately responsible – and accountable, really – for developing a consistent and coordinated approach to how we market the city. Whilst those different target audiences – businesses or tourists – will be after different things, the fact that we can have some consistent narrative about the city, that we're using the same kind of facts and figures across the board, and that people know where to come for that information, will, I think, make a big difference for the city. It's not something we can do alone. It's something we've very much got to do in partnership with all the other stakeholders – so, with all the property agents and developers on the investment side, but also all the hotels, retailers, restaurateurs and people who are running the attractions on the visitor economy side, and then on the talent attraction side, the major employers and of course the new university as well. We've got to work with all those. But I think, in the past, one of our challenges in the city, has been that we've got many people doing a fantastic job, with incredible amounts of goodwill, but it's lacked co-ordination. I think bringing that level of co-ordination will make us much more effective as a city promoting ourselves, and is a better way of creating kind of a single identity that I think people will really start to start to buy into.
What can Opportunity Peterborough bring to this that is different from other organisations?
I think we've done an incredible job over the years at promoting the city to a specific audience – that audience being businesses looking for somewhere to locate and set up. But we work across and support many different business sectors, and this is an extension of that. This is why I say it makes sense that we do this, not only because it is a sensible way of promoting the city, but also – particularly given what's happened over the last 12 months with the impact of COVID on leisure and retail, tourism and hospitality – these are the businesses in particular need of support at the moment. That requires a redoubling of efforts in the city, not just to promote the city outwardly, but also internally, to inspire confidence for people to come back out and rediscover the city and all the great things that it has. Peterborough's had some perception challenges, I think it's fair to say, from within the city as well as from outside, and that's what part of this is trying to address. Opportunity Peterborough has a great track record and we have become very well-respected by the various stakeholders – but we've got a degree of independence within this field, as well. We don't have any vested interests, other than doing the best job that we can for Peterborough, and all the stakeholders and communities therein. Because of that, I think we can be a trusted, impartial broker when it comes to bringing these various stakeholder groups together – and we're obviously used to working with the local authorities very closely, as well as central government organisations, securing funding for the city. All those things will, I think, be really important.
You mentioned COVID, which wasn't factored into anyone's plans… What was the timeline in relation to that? Was this move partly in response to that or was it happening anyway?
It was something that was happening anyway. If anything, COVID has got in the way of our plans, and we would have been delivering this much sooner. But we needed to do it very much with those businesses that we've been talking about, and obviously, for large parts of last year, many of them were closed down and unable to trade. So it was very difficult to engage with them during what was an incredibly taxing time. We put the plans on hold and started looking at them again early this year, when we began to understand what the roadmap was. But we initially started this in mid-2019. We were having conversations with the council at that time about what we would do, and I think one of the big triggers for it was those nonsense reports that we were getting about Peterborough being the worst place to live… There was a big gathering of minds about what we should do to respond to that, and my suggestion was that we shouldn't respond to it. Don't give it the oxygen. What we should be doing is putting out a consistent, positive message about Peterborough so that when people try and land these blows on the city, they don't stick. But it's going to take time. There are people within Peterborough who have a negative perception of, and outlook on, the city and feel that it doesn't do what it should do for them. We need to take those people with us – not just by telling them all the great things about Peterborough, but listening to them as well, and finding out what it is that we need to do to try and improve the city. And that's going to be a big part of what we're doing behind the scenes – a bit of community engagement in order to find out how we can improve the product, not just for people we're trying to attract here, but also so it works better for those who call it home.
Has COVID shifted the emphasis of that project, because people are perhaps a little more reluctant to travel than they were?
Yes, I'd say it has. It was always going to be a big focus of the work, talking to Peterborough about those internal perceptions. When we talk about the visitor economy rather than referring to it as 'tourism', it's because we're talking about all the people who use it on a day-to-day basis. We do need to get people in from further afield and get more overnight stays, but that's probably going to be a little bit further down the line than originally planned. We still absolutely need to be having those external conversations, though, with a whole summer of staycations – and they will probably go into next year as well. And of course, as business restrictions are being lifted as well, people are starting to plan conferences and exhibitions for next year, and we want to make sure that Peterborough is selected, or at the very least, considered.
I interviewed Flag Fen archaeologist Francis Pryor a while ago, who knows quite a bit about tourism in the city (having once been in charge of it), and he was saying Peterborough needs to be like York – a destination that people come to for short stays. Is that achievable?
We're holding a number of workshops over the next couple of weeks with specific stakeholder groups so we can map that out. So, we've got the hotels and the venues coming together so we can talk to them both about the visitor economy from a leisure perspective, but also the business side of things – because for a lot of them, the vast majority of their income actually comes from business tourism, exhibitions and conferences. But we're also speaking to those from cultural and heritage attractions, and hospitality and independent retailers. We've got a lot more than most people realise within the city, but it's also about placing Peterborough at the centre of a wider offer, then looking at who are the various target customers for that offer. We know, for example, that there's a lot of bird watching appeal because of the Fens. It's about everything that we've got surrounding us. So whilst we will be Visit Peterborough, the offer that we'll be presenting to the outside world will be that broader geography. We'll be promoting fantastic things in South Lincolnshire, Rutland, East Northants down into Huntingdonshire and the Fens as well. And, of course, we're working with the people at the New Theatre, Cresset and Key Theatre to really increase people's awareness of all the fantastic shows they're bringing in. I know there's a lot of ambition within all those theatres, but it's about packaging that up with the hotels and hospitality as well, so people not only think 'Let's go to a show…' but also 'Let's get dinner as well. And why not stay over?'
Without doubt, it's been an awful year, but in a way does that make it the optimum moment to be doing this?
I think it is. As I say, this is something we were looking at before anyway, and I think everyone that we spoke to at that point agreed that there is a lot more positive energy in the city than ever before. That people were starting to want to work together a lot more, and realised that, to be blunt, we had to get our act together as a city. What we've experienced over the past 12 months has only enhanced that. If anything is going to bring people together, it's something like the challenges that we've been through. We all know that we will all be much stronger, and come out of this much better, if we're working together to achieve what we're trying to achieve for the city. But also, I think more people realise how valuable our art, culture and heritage is to life and society – not just economically, but as the soul of a place. I think more people have also come to enjoy open space in the countryside and our parks, which is fantastic. And maybe take a bit of pleasure in some of the more simple things in life. Another thing I think is good from a timing perspective – although it was born out of another crisis, with Vivacity closing down – is that it's another chance to do something quite special with Flag Fen and the museum. We're really excited to see those projects coming along, as well as all the sports and leisure being under new management too. All those stakeholders now have the opportunity for a bit of a fresh start and a clean slate, and are really willing to be working as part of a unified city.
And, of course, there's the university coming as well. How is that going to help move things along?
It's going to help massively. I think University Centre Peterborough has done a fantastic job over the years, but having a full-blown university in the city centre is going to have a huge impact, and in order to attract high-quality students we've got to make sure that we were putting on a really good offer for them. Initially a lot of the students are going to be coming from the local area, but it will ultimately trigger more use of the city centre and really boost that night-time economy. That increased vibrancy and diversity is going to be really positive for the city as well. And it's not just the university; we've got all these great plans for the Station Quarter, we've seen what's been achieved at Fletton Quays, and now the Hilton's going up there, and the government hub as well. There's The Hive going up in the old TK Maxx building, with money from the Town's Fund, which is also going into the museum, Flag Fen, and other places as well. Peterborough is one of the fastest growing cities in the country, and a lot of that growth is within the 30-40 year age bracket, and also zero to nine. So it's mainly young families that are moving into the city, and we need to take advantage of that talent.There's so much exciting stuff going on in the city at the moment, and I think we need one agency to be able to go out there and take the lead on telling that story to the outside world – working in partnerships with people who've been putting a lot of time and effort into it over the years – including The Moment magazine!
Leave a Reply