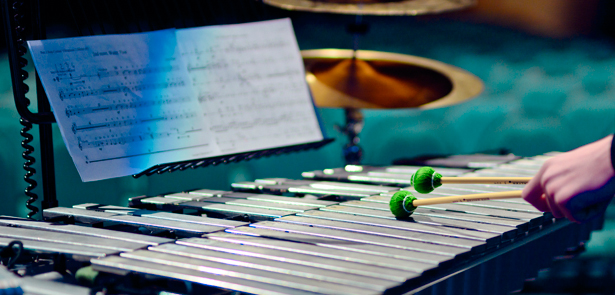 On Saturday 17 March young musicians, vocalists and dancers from across the region performed together in a special concert at Peterborough Cathedral – a collaboration between Northamptonshire Music and Performing Arts Trust and Peterborough Music Hub. The programme included performances of two new pieces of work inspired by the River Nene and the historic reed lands of the fens: Nene by Benjamin Till, who grew up near the river, and the premiere of Reeds Sway at Water's Edge by Peterborough composer Martin Bright. A percussion teacher and composer trained at the Royal College of Music, who has previously had works performed at the Southbank Centre, Martin Bright wrote his piece specifically for the Peterborough Centre for Young Musicians' Percussion Ensemble and dancers from Ken Stimpson Community School. The Moment talked to him about the piece, the performance and how it all came together.
How did Reeds Sway at Water's Edge first come about?
I was given the opportunity to write a piece of my own choice, and my inspiration was Flag Fen and Must Farm and the Bronze Age people who lived in that area, and how they had to deal with the elements. The first movement is based on earth, the second on water and the third on air. It was developed completely separately from the Nene project, so it was coincidental that these things came together, which was rather good. The music service at Northants contacted Peterborough Music Hub and invited them to contribute to the Nene concert and the two things just married so well together that it was a no-brainer! The Music Hub has been fantastic. Not only have they financially supported it, but their physical and practical support has been immense. They're really a pleasure to work with – and I was surprised they took this project on, because I thought at first it might be too challenging.
Did the percussion ensemble rise to that challenge..?
I think it's been successful precisely because it put everybody out of their comfort zone. It was a little adapted to people's abilities, but I wasn't too kind to them! They did have to stretch. The ensemble is basically comprised of rock drummers who are used to playing a drum kit, and pianists who had never played percussion in their lives before. For slightly different reasons, they're completely exposed and in quite different areas from those they're used to, and I am so impressed with how the students have managed it. They took it all on board and worked so hard to make it good. The same with the dancers. They had never done this kind of classically based expressive dance before, so they were also out of their comfort zone for different reasons and worked really, really hard. Working with a choreographer was a new experience for me, too – but Jordi Guitart took my piece and put a whole new layer of meaning to the piece. His inspirational and creative work added a new physical dimension which was fascinating to me. The enthusiasm from both groups has been fantastic – and there's the possibility that it may be performed again in June at Ken Stimpson. That's where the dancers are from, and we're hoping they can bring it home to their own audience there.
The ensemble is made up of teenagers at a very early stage of their musical training, did you start with an idea of their abilities and work back from that?
In theory, yes, but in practice it didn't quite work out like that! For one thing, the number of members of the ensemble changed; it started with three and then expanded to five. Obviously you create things to work together and it's not just a case of adding or subtracting a part, so there were a few rewrites. The initial brief was to write a piece for grade 4-5 level, and we also agreed that it needed to be challenging for them – which it was! Beyond that, I just wrote as I liked, knowing the gear and abilities we'd got. I was also very keen to make it a piece for dancers – that was in my original proposal right from the start.
Can you describe the piece for those who haven't heard it?
The first movement is 'earth', which is to do with being grounded and has weight to it, and is connected to the idea of home. That starts in quite a grand way. The second – 'water – has actually been performed separately, and is a more gentle, flowing kind of piece. The third is more energetic, and that's 'air'. There's this constant movement going on in it, so it gave the dancers quite a lot to do! Having dancers introduces additional, incidental sound, but we went further than that because we actually wrote music in for them, so they become part of the percussion as well.
In terms of the ensemble's instruments it's all the percussion that you'd expect at an orchestral concert, plus a few extras – glockenspiels, vibraphones, a marimba, timpani and lots of smaller percussion instruments including a snare drum, shakers and a large tam-tam. So, there's the possibility for a lot of different colours and sounds, and also a large range of volume, from absolutely huge to almost imperceptible. The very last thing you hear in the piece is a very tiny flick from the shaker.
How did they react to the experience of performing in the Cathedral?
To do a new piece with a new group of people in a huge cathedral, which was full, was a big challenge, but they rose to it magnificently. For me, it was incredibly satisfying, because the Cathedral is a wonderful venue, which also provided me with the opportunity to share the piece with a very large number of people. It's great acoustically; percussion especially is great because you have this huge reverb after everything, and when you're doing really big things you have this wall of sound coming back at you, which you can play with. One of the things we did find and had to adapt was that our 'quiet' was too quiet, so we had to push up the volume of some of the quieter bits. That's all part of being a performing musician; you have to adapt to the acoustics you're in. The performers themselves seemed to thoroughly enjoy it, although they found it a bit awe-inspiring! But each time they play this piece they play it better, which is really rewarding.
Having a piece created for them by a professional composer must be so inspiring…
You'd have to ask them that! But I've certainly been rewarded by the way they took it on board and went with me on it. It was a leap of faith for them, and I really appreciate what they did to make it happen. And it wasn't without other practical challenges – things were disrupted by the snow, then there was a big rehearsal planned and I ended up in hospital so we couldn't do that – but they just kept going, so I'm really proud of them. And I would imagine that the Peterborough Cathedral concert is an experience they won't forget in a hurry!
---
Peterborough Centre for Young Musicians
The city's young musicians now have access to high quality music education with the opening of the Peterborough Centre for Young Musicians.
PCYM seeks to attract talented young musicians, in the earliest stages of learning, who are able to demonstrate a technical and musical fluency alongside those with more experience and skill.
With support from Peterborough Music Hub the Peterborough Centre for Young Musicians is a collaboration between Ormiston Bushfield Academy and the Guildhall School of Music & Drama. Operating from the high quality facilities at Ormiston Bushfield Academy, this exciting venture offers music training at weekends throughout the academic year.
Facebook: www.facebook.com/PeterboroughCYM     
Twitter: https://twitter.com/PmhPcym
Website: www.pcym.org.uk
Photo: Semjons Zaicevs @semkaphotos
Leave a Reply