Music Hub: fun in the sun this summer!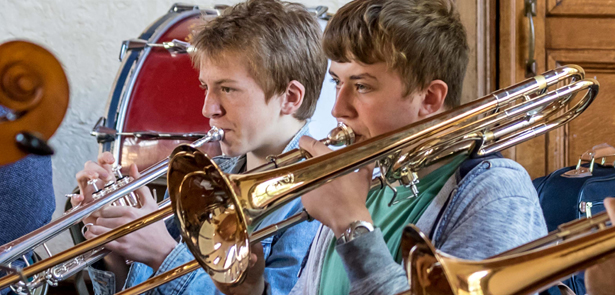 With summer on the way, music will play a large part in the fun to come and Peterborough has some great opportunities for young musicians (and audiences) over the coming months. Peterborough Music Hub, continues to work with professional musicians, music organisations, teachers and young people to raise the profile of music in the city and celebrate local, skills, creativity and success.
Creative Zone will be the 'Hub' of Careers Fair this June
Following the enormous success of last year's Careers Show, Peterborough Music Hub is once again joining forces with the Skills Service to sponsor the Creative Zone at this year's high profile regional event, held at the East of England Arena in Peterborough.
This year's show takes place on Thursday 21 June 2018, from 9:30am to 3:30pm. The event aims to inform and inspire young people aged 14 to 24 about the wide range of career opportunities on offer.
Peterborough Music Hub's Creative Zone will bring together a range of industry professionals and local employers, offering a one-stop shop for help and advice for young people looking to take up careers in the Creative Industries – and especially music of course.
The Careers Show isn't to be missed and will provide a superb opportunity for all young people considering options for their future, helping them understand the entry requirements and pathways to working creatively – and with creative people.
For more details visit: www.theskillsservice.co.uk or contact
---
Bags of Help Stands Up for Music!
PCYM is bidding to bag a massive cash boost from the Tesco Bags of Help initiative for its Young Musicians: Stand up for Music! fundraising campaign.
Tesco teamed up with Groundwork to launch its community funding scheme, which sees grants of £4,000, £2,000 and £1,000 – all raised from the 5p bag levy – being awarded to local community projects.
Three groups in every Tesco region have been shortlisted to receive the cash award and shoppers are being invited to head along to Tesco stores to vote for who they think should take away the top grant.
PCYM is one of the groups on the latest local shortlist. The Centre operates out of Ormiston Bushfield Academy in Orton on Saturday mornings during term time. The Centre – opened in October 2016 – provides weekly ensemble sessions for the city's young musicians, aged 5-18. It currently works with wind, brass, piano, guitar, percussion and singing ensembles, as well as special classes for very young players too.
PCYM is a division of the Guildhall School of Music & Drama and its links with the world renowned conservatoire provides wonderful opportunities for members looking to attend further training and enter professional music careers.
The fundraising campaign through Tesco will support investment in the provision of music stands for the young players – a vital piece of equipment for a musician
The Centre Manager Kirsten Barr said: "It is fantastic that PCYM has been selected to participate in this popular and truly local fundraising campaign. We hope that Peterborough's music lovers, shopping in Tesco stores and needing extra carrier bags this spring, will decide to support the Centre and help develop it into a truly regional destination for our young musicians. Everyone can support our campaign by promoting it through social media.
Follow our fundraising on Twitter and Facebook – https://twitter.com/PmhPcym and https://www.facebook.com/PeterboroughCYM and share our efforts with family, friends and colleagues."
Voting is open in all Tesco stores from Tuesday 1 May to Saturday 30 June 2018. Customers will cast their vote using a token given to them at the check-out in store each time they shop.
Tesco's Bags of Help project has already delivered over £43 million to more than 10,000 projects up and down the UK. Tesco customers get the chance to vote for three different groups every time they shop. Every other month, when votes are collected, three groups in each of Tesco's regions will be awarded funding.
Alec Brown, Head of Community at Tesco, said: "We are absolutely delighted to open the voting for May and June. There are some fantastic projects on the shortlists and we can't wait to see these come to life in hundreds of communities."
Groundwork's National Chief Executive, Graham Duxbury, said: "We've been thrilled to see the diversity of projects that have applied for funding, ranging from outdoor classrooms, sports facilities, community gardens, play areas and everything in between. We're looking forward to learning the results of the customer vote and then supporting each group to bring their project to life."
Funding is available to community groups and charities looking to fund local projects that bring benefits to communities. Anyone can nominate a project and organisations can apply online.
To find out more visit www.tesco.com/bagsofhelp.
---
Diary dates:
Music at St. John's Church Cathedral Square
The venue's Tuesdays Till Two Concert series continues with The Berridge Consort vocal ensemble (8 May) and local pianist Irena Radić (15 May). Other highlights include a concert featuring two unusual instruments from the lute family, the archlute and the theorbo, with Jonatan Bougt (22 May) and a return appearance from coloratura soprano Shiona Cormack (29 May). Cellist Ellen Porter plays on 5 June and a super quartet of young flautists, the Dolce Flute Quartet provide the music on 12 June. There are also plans for a special event on 18 May, provisionally entitled "(Not Quite)The Royal Wedding" – with music to celebrate the Royal wedding – especially for those not invited to the real thing! For full details visit: https://stjohnscic.wordpress.com/
PYO Summer Workshop Programme

Conductor Robin Norman has announced the dates for this year's Peterborough Youth Orchestra Summer Workshop Programme – Monday 6 – Friday 10 August.
PYO, will be joined once again by the Peterborough Youth Jazz Orchestra and PYO Too (for grade 3+ players). This year's event will also feature a new group for beginners and a choir too, so something for musicians of all skill levels and disciplines. The programme will include some of the world's best known film music, providing and exciting and accessible workshop experience for attendees.
Professional musicians from Britten Sinfonia will be on hand during the week for a special day of workshop support and advice for attendees. Bursaries are also available for eligible students.
With the cost for five-day courses at just £75.00 per person (and £60.00 per person for four-day courses), this really is exceptional value. For further details and booking information email:
Peterborough & District Organists' Association – Organ Recitals
Saturday 19 May at 2:30pm – Organ Recital at Bourne Abbey by Stanley Godfrey
Assistant Organist at Bourne Abbey.
Friday 6 July at 1pm – Organ Recital at All Saints, Stamford by Bruce Burbidge.
---
Music Set to cause a 'Jam' in Cathedral Square this Summer
Peterborough Music Hub has joined forces with the YMCA to support a fabulous city-centre music event this July in Cathedral Square.
If you're an inspiring: Singer, Musician, Rapper, Artist or Songwriter then the Youth Jam '18 Needs You!
Youth Jam '18 is an exciting Big Lottery funded event organised by YMCA Trinity Group and The Cresset in conjunction with the Peterborough Celebrates programme of events. The event aims to showcase the talents of young people in Peterborough and give them opportunities to thrive, belong and contribute to the community.
This is a one day extravaganza taking place on Saturday 21 July between 10am – 4pm. Young people will have the chance to take the spotlight through live music, theatre and dance. There will also be exciting education and careers opportunities, as well as the chance to try a variety of activities that are available in the local community.
The organisers are looking for individuals or groups aged 8-28 years old with a skill or talent they want to share. They're looking to fill the event stages with a wide variety of artists and entertainers in a series of 20 minute slots available throughout the day. For those entertainers without enough material for a full set, then between 12:10 and 12:30pm, there's 5 minute Open Mic slots available too.
There's also plans to include a mass sing-a-long, featuring 900 voices, as part of the city's Cathedral celebrations. So, if you run a choir (or any group with young people who like to sing) get in touch with the team.
For further information or to discuss your involvement in Youth Jam '18:
Call: 01733 373188 or Email:
Leave a Reply