A Merrie Christmasse at Longthorpe Tower!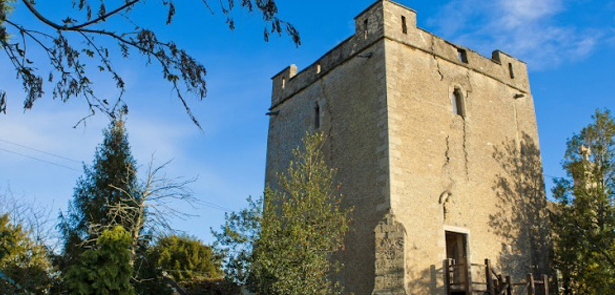 Longthorpe Tower is getting set for some authentically medieval goings on, with costumed re-enactors recreating a complete medieval Christmas. Toby Venables talked to historical re-enactor Chris Carr about feasting, table manners and how Christmas was celebrated at the time of Richard III
Tell us what you're going to be doing at Longthorpe…
What we'll be doing is recreating a medieval Christmas in a wealthy household, for which I'll be playing the part of Anne Whittlebury, lady of the manor. The Whittleburys were county gentry. Her husband Sir Robert Whittlebury was Sheriff of Northampton twice and was a lawyer, and they had connections with royalty. Anne was born Anne Catesby and was sister to William Catesby, who was Richard III's best mate, so they have those connections too. So, they're not titled, they're not incredibly rich, but they're what we today would call upper middle class.
So, what year are we talking about?
We're talking about 1483, which was when Robert Whittlebury was Sheriff of Northampton. He did quite well – he was Sheriff under Richard III and Henry VII.
Was that a tricky shift of allegiance, considering the two kings were mortal enemies?
There was no allegiance! The way the Whittlebury's managed to survive was that when it came to Bosworth, rather than going themselves they sent one of their retainers, Will Sapcote. He died in battle, but basically what they retained was plausible deniability. If Richard had won, they could have said 'Terribly sorry, your grace, couldn't make it to the battle – had a bit of the flux – but we sent our man and he died bravely in your service…' As it was, they could say to Henry 'Nothing to do with us, guv!'
So what was different about Christmas in that period, and what would be familiar?
What was the same was the giving of gifts. Also, bringing greenery into the house. There weren't decorated trees in the house – although there is some evidence for people decorating trees outside – but evergreens would be brought in: holly and ivy, as in the song. And there's feasting, and rich food. There are mince pies – with real mince in! There will be a chance at Longthorpe for people to taste a medieval mince pie, which contains minced meat, vine fruits, spices and sugar. Quite an odd combination, but really quite tasty! There will also be medieval gingerbread for people to try, which is literally gingered bread – breadcrumbs, honey, ginger and cinnamon – and if Anne Whittlebury's cook gets to market, iy may even be gilded…
What would be most unfamiliar to us in terms of the manners of the time?
I think the fact that you can eat with your fingers, and the fact that you put your knife in your mouth. We don't have forks yet – they are a nasty French invention. But, in many ways, there were more rules then that there are now. In movies you see all that rowdy stuff, but that didn't really happen. Conversation is encouraged, but if anyone gets too raucous or drunk, they will be evicted. One of the funnier things is that you were not supposed to ask for anything to be passed to you. So, whereas now you say 'Can you pass the gravy?' then you'd have to say 'The gravy looks very nice…' and then a lot depends on whether the person sitting near the gravy is socially your equal or lower, because if they are your better they might just say 'Yes, it is!' and there's not much you can do about it.
So, you could end up with very little…
Yes, particularly if you were a servant. In very large households there were two sittings for dinner – the first for the lord and lady and their high ranking guests, where they would be served by the lower ranking people, and then there was the second sitting where those lower ranking people would eat what was left. There are instances in Henry VIII's household where dishes were placed on the table by servers, left for about ten seconds then whipped away, so they could save them for themselves!
And you will demonstrating some of this at Longthorpe?
Yes – as part of it, we will be doing the medieval dining experience, where we sit and eat and everyone watches us. It's a bit like the chimps' tea party – but as we eat the food and give a running commentary on what we're eating, how we're eating it, and a bit on medieval table manners as well. There will also be a mummer's play, so there'll be entertainment – there may even be some singing!
A MERRY MEDIEVAL CHRISTMAS 10 & 11 December 2016, 10am-5pm (last entry 4pm) Longthorpe Tower £4 adults, £3 concessions/children, £10 families English Heritage members receive a 20% discount on event entrance.
Leave a Reply