Antony Gormley: looking up…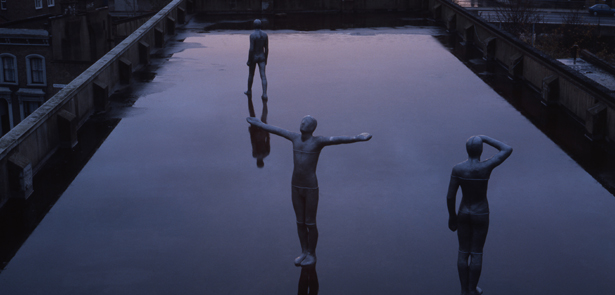 This May, Vivacity will be restoring to public view one of the most important pieces of sculpture in the city's collection. Places to Be was the very first public commission by Angel of the North sculptor Sir Antony Gormley, installed at Peterborough rowing lake 30 years ago but absent since suffering serious damage. Now, it's been fully restored by the artist and is ready to be installed in an exciting new location in the very heart of the city. Placed on the rooftops of Queensgate Shopping Centre, Leeds Building Society, and Norwich & Peterborough Building Society , the lead, life-sized figures of Places to Be will be revealed on the skyline on the morning of 25 May 2018 – and everyone is invited. Toby Venables talked to Sheena Carman, Vivacity's Arts Programme Manager, about the long process of bringing this key work by one of Britain's greatest living sculptors back into the light.
First of all, can you describe the piece and its history?
Places to Be consists of three figures, all in different poses. It was Antony Gormley's first ever public commission and was bought by the Development Corporation – a pretty good buy! The foresight they had in doing that, and going to the effort and expense of purchasing artworks – which they did not need to do, but which have hugely enhanced the city – was extraordinary. Some people may remember it being at Thorpe Meadows, but unfortunately whilst there it got badly damaged. One of the figures – the one with its arms outstretched – had its arms broken off. Probably someone swinging on them, but what actually became of the arms themselves we'll never know! They may well be in the bottom of the rowing lake, so it's unlikely they'll ever be recovered. Obviously the sculpture couldn't stay like that so it had to come in, and it's been sitting in store since then. It's been quite a long process, and Antony Gormley himself. For him, it's very important how the figures are sited and interact with each other, so we started searching for suitable buildings, because his new vision for the piece was that they would be on top of buildings overlooking a public space. Obviously that works well for us as it means they're safe, but, for Gormley it's to do with using a space that otherwise people rarely think about and having them look up to the skyline – the space that is often only used by aerials and chimneys! So, the hunt was on…
Was it challenging finding buildings that fulfilled all the criteria?
It's not as simple as you might think! Many buildings are owned by landlords who perhaps aren't in the country or who, when you do get in touch with them, may not want a sculpture on their roof. So it was this long procedure of finding buildings that Antony Gormley liked and that fitted with the idea of a triangle, and making sure it was the right shape of roof, so it could take the platform for the figures to stand on. That wasn't easy. But finally we got three buildings that he really loved, that had the right kind of roof, and that had owners who were really happy to be involved in this project. But it's been over a year – a year and a half, in fact – from the point when we found and secured the sites on the buildings to where we are now. Once the buildings were sorted and we had agreement in principle with the owners we knew the project could go ahead. So, off went the sculptures down to Gormley's studio in London and the long procedure of having them restored began. Obviously, Antony had to make new arms from fibreglass and then they had to be covered with lead, and that's taken a while to do.We took the opportunity to have all three restored so they look absolutely pristine, and have had them reinforced. Now they're all done, in storage in London and ready to come up and go straight up on the buildings.
How long will the installation take?
It will be quite a quick process – in fact, one of the buildings is already prepared because they happened to be doing some work on the roof of the building, so we took the opportunity to install the frame that needed to go up there. The other two are very simple, because they're flat, and it will literally all go up overnight. They'll be installed on the night of 24th May, and when people wake up on the morning of the 25th and walk through the city, they'll be there. One of the great things about this is that it is right in the historic heart of Peterborough, and to have something contemporary in that historical setting really works wonderfully. I love when you bring the past and present together like that. I think it's going to be pretty amazing!
Gormley's become a major figure since that first commission – do you think this is going to be important for Peterborough?
I've mentioned before that one local artist said to me: 'When the Gormley and Caro's Lagoon come back out again, artists in the city will feel that the city's really getting somewhere…' And I really do believe that. This city has so much to offer; what we want is for people to come to the city, and this is another way of putting Peterborough on the map. Talking to people in other cities which have Gormley sculptures in their public spaces, they can measure the economic benefit to the city with people coming to see them. Gormley really is a major international artist to have on display and owned by the city – and the other thing about his work is that people 'get' it. It's really simple, not abstract in any way, and people respond to that. But it's all about how and where you place it and how it engages people.
Is it going to be nerve-racking when Antony Gormley sees it for the first time..?
We've produced Photoshop mock ups and have gone back and forth to him many times –to ensure it's absolutely right! He'll also be here on the Friday. But it's a complicated business to make sure everything is absolutely right. Most people aren't aware of all the calculations that have to go on behind the scenes, or the fact that we have to have a civil engineer involved in the installation, a the designer for the framework, a company in to do a 'pull and push' test… This is why it takes so long – but I think the end result is absolutely going to be worth it!
"Places to Be was my first public commission. It is wonderful that it is being re-sited on a striking modern horizontal parapet, a Victorian corner tower, and the 18th century roofline around Cathedral Square in the centre of Peterborough. I am very proud of this work and am delighted that with Vivacity's help it will again be part of the collective life of the town." – Antony Gormley
---
Put yourself in the picture!
To support the launch of the installation, Vivacity will be encouraging the public to visit selfie spots from the 25-27 May, and post favourite shots with the Places to Be collection on social media, tagging #lookup. You could win yourself an exclusive, limited edition collectors' badge!
To find out more, visit vivacity.org
Leave a Reply