Live Culture: wherefore art?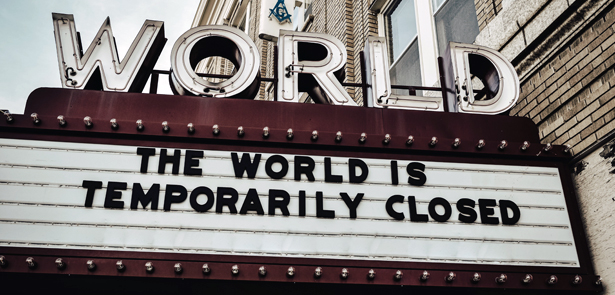 Jumped Up Theatre's Kate Hall poses the big question...
What is the purpose of art? 700 words can't cover the range of answers you could give me, from 'It's pointless' to 'It's what makes us human'. A better question, for these times, is – what is the purpose of art, now? Judging by the output of work being brought out of vaults, and also being created, art can fill challenging times. 'Have you seen that screening/virtual tour/class/book/album/box set?' No? I haven't either, but should I get bored (aside from frustrated by the narrow perimeters of my fridge, four walls and neighbourhood walk)
I know that there is a huge quantity of work available online, as I am lucky enough to have decent WiFi, unlimited data and a number of screen options. (My idea of panic buying was a big screen with a cable to link to my laptop.) I have watched the National Theatre's screenings (some are better than others), I am also enjoying our eclectic record collection whilst not enjoying store-cupboard shopping, and I would recommend you check out Lamphouse Theatre's weekly Wednesday evening offering – making fooling about during lockdown into an artform with live music, questionable dancing and plots, and a never ending supply of hats. Normally, when you programme events and activities, timing is everything. Children's shows for school holidays, selling exhibitions before Christmas, lantern parades as the nights draw in but before it gets too cold, festivals when the days are long and the weather is heady. This is because time is precious, and you match audiences' everyday inclinations with your offerings. Corona Time means those considerations have evaporated.
Families are juggling homeworking with home-schooling and our moods swing from blighty spirit to languid despair – so holding people to particular times is out the window, On Demand is king. Though, contrarily, our desire to connect means that scheduling has become even more important for some. Which would you prefer: a YouTube film about drawing techniques, or a Zoom class where you can connect with a skilled tutor such as street artist Korp? What is better: a non-specific guide to film-editing or targeted tutoring from filmaker Emily Steele? Plus joining a live group means interaction with your fellow learners. We are discovering the value of being part of a community of interest – whether it's clapping for the NHS at 8pm every Thursday, or logging into the many workshops that creatives have set up. Even I have discovered the joy of joining in.
Working with local dance tutor Chloe Wilmot I have moved Jumped Up's Northern Soul inspired dance classes, Body & Soul, online. There have been a few hiccups on the way, from being Zoombombed to an unstable internet connection, but we have learnt a lot (and trained all our participants to use video conferencing) and invested in better kit (£££ ouch!) to get it right. And this morning I got to dance the morning away, which lifted my mood, making another day in lockdown that much more bearable. Maybe in the post-COVID 'normal' being part of a group who makes something, from performance to craft, will become a bigger and more valued part of people's lives – breaking the cycle of being on our own, looking at screens and instead we will want to be creative, with others. This could also be a time for Peterborough to explore what else art is for, besides passing the time and casual entertainment.
Art and culture is also there to build communities and individual resilience. And as we move forward it will also be the place where we can explore those difficult emotions and experiences which will linger longer than any virus – the grief and relief, the guilt and regret, the hope and fear. Those will be difficult times, possibly even harder than lockdown – but maybe we will have more of the skills to deal with them, after all everyone's an artist now – but they always were.
Kate Hall
Creative Producer, Jumped Up Theatre @jumpeduptheatre @Platform8PBO
Photo by Edwin Hooper on Unsplash
Leave a Reply