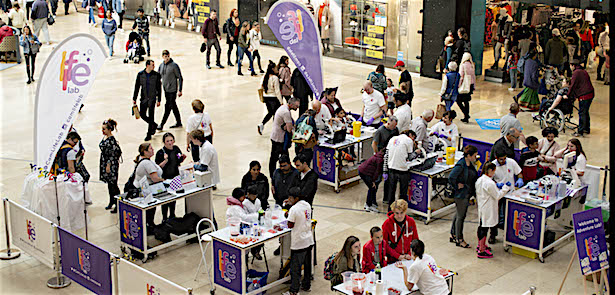 LifeLab is coming! Join in the fun on 27th and 28th September to make new discoveries
You're living in a global centre for new discoveries. In our area, right now, people are finding ways to personalise medicine for each patient, they're measuring how obesity could affect your children, and discovering new ways to help our bodies fight disease and much more.
Friday 27th and Saturday 28th September are your chance to make your own breakthroughs, when LifeLab will transform locations around Cambridgeshire, including the Key Theatre and Queensgate Shopping Centre in Peterborough into discovery zones for all ages.
Part of European Researchers' Night – the largest public science event in Europe – LifeLab offers a fun and diverse programme of pop-up, interactive activities in public spaces in Peterborough, Ely and Cambridge. Brought to you by five local research organisations: the Wellcome Sanger Institute, the EMBL European Bioinformatics Institute, the Babraham Institute, the University of Cambridge, and the MRC Laboratory of Molecular Biology, LifeLab invites you to discover the ground-breaking research that is happening on your doorstep.
For just these two days, the people making these discoveries will be popping up all across the local area to share what they've found with you. And the best part is, most of it is free!
Peterborough discoveries
In Peterborough, LifeLab is showcasing LifeLab LOUD, an immersive sounds installation that will represent the sounds of the lab and integrate research focusing on how cells communicate and work together to keep us healthy. Created in partnership with the award-winning and critically acclaimed artistic duo, M+R – Neil Musson and Jono Retallick, the installation has been shaped by discussions with researchers from the Babraham Institute. Come along to the Key Theatre on Friday 27th September (6pm – 8.30pm) to experience an awe-inspiring soundscape, which promises to make you marvel at the intricacies of the human body.
On Saturday 28th September (10am – 6pm), LifeLab will be transforming Queensgate into a discovery zone. Visit the pop-up lab to get hands-on with a range of interactive activities. Our friendly researchers will be on hand to chat about their research and careers or to answer your science questions. Family groups are invited to take a break and join the LifeLab team for 'Tell me a story' (10am – 4pm): enjoy some thrilling stories with perhaps one or two surprises! You'll also be able to browse LifeLab's Stories from Science exhibition to see another side of our region's researchers – professional and personal.
Come and join in
Across the three LifeLab locations of Peterborough, Ely and Cambridge, there will be activities to appeal to all tastes and ages; whether you like to get hands-on, browse an exhibit, or enjoy a chat, there's something for you, your friends, and family. Above all, there will be plenty of chance for you to share your opinions and ideas as you chat to the people making exciting discoveries happen.
For a taste of what to expect, watch the short video summarising LifeLab 2018 at https://youtu.be/1dhxyIAV4QA
If this information leaves you wanting to know more, follow @camlifelab on Twitter, Facebook or Instagram for the latest updates. For more details about LifeLab, including full event details for Peterborough, Ely and Cambridge, please visit camlifelab.co.uk.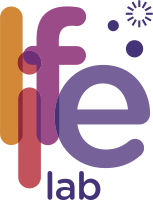 LifeLab is brought to you using funding from the European Commission. Join LifeLab's celebration of the globally-leading research that is happening in our region, learn something new, find a future career and perhaps see another side of science. We look forward to seeing you there!
---
PETERBOROUGH EVENTS

LifeLab LOUD at the Key Theatre
Fri 27 Sept, 6-8.30pm, Key Theatre
£6 (£4 concession), booking required. Refreshments provided. 18yrs+
What do our cells sound like? How do they communicate and co-operate? Experience an immersive and interactive sound installation, created by artistic duo Neil Musson and Jono Retallick in partnership with researchers from the Babraham Institute. The evening includes a discussion with the artists and scientists over refreshments.
Adventure Lab
Sat 28 Sept, 10am-6pm, Queensgate Shopping Centre
Free. Drop-in. Suitable for all ages
We're turning Queensgate into a lab for the day! Come and explore hands-on science with our friendly scientists. Extract DNA and marvel over microscopic worms. You'll be able to use real-life lab equipment to explore the cells that make up our bodies.
Tell me a story…
Sat 28 Sept, 10am-4pm, Queensgate Shopping Centre
Free. Drop-in. Suitable for families
Everyone loves a good story! Take a break with the children and sit down with the LifeLab team for story time. Hear fun, thrilling stories and be inspired by real-life adventures! Browse our Stories from Science exhibition to discover the personalities, work, passions and quirks of the people behind science.
Leave a Reply