Lakeside Activity Centre approved at planning committee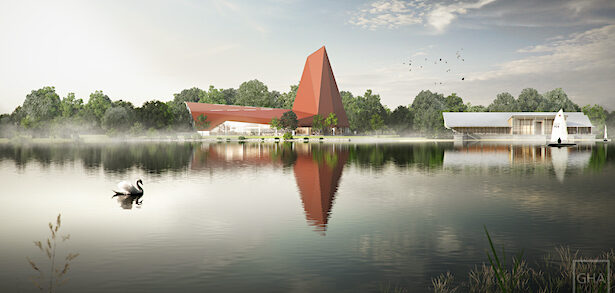 Nene Park Trust's plans to create an exciting indoor activity and climbing centre at Lakeside in Ferry Meadows have been approved by Peterborough City Council's planning committee.
The proposals will create a year-round, all-weather indoor activity centre, which will include one of the country's largest Clip 'n Climb arenas suitable for all ages and an Olympic-standard climbing facility. The plans also include a natural-themed indoor toddler play area, an additional café and private hire spaces for community groups. The centre is also expected to create 31 new jobs.
The plans, designed by Glenn Howells Architects, have been developed to support Nene Park Trust's 10-year strategy to become the region's favourite park by creating improved leisure, recreation, cultural and environmental offers for the city all year round.
The centre is a key element of the charity's 2050 vision and 10-year masterplan, which involved extensive consultation with the public about the future of Nene Park. In particular, these consultations identified a need for year-round indoor provision to make the Park a more attractive prospect for families during the winter months.
This focus on indoor facilities will complement the many well established outdoor activities across the Park. Lakeside Activity Centre will be located next to and share a site with the existing Nene Outdoors watersports and activity centre, creating a defined hub of sport, play, recreation and leisure in an easily accessible area, well away from the more sensitive nature-rich areas of the Park.
The plans will also dramatically improve the biodiversity and natural habitats in that area of the park by substantially increasing the number of trees and canopy cover, as well as creating attractive landscaping and bird and pollinator friendly planting.  The scheme has been developed from the outset to ensure net gain for biodiversity and identified additional opportunities for this throughout.
Matthew Bradbury, Chief Executive of Nene Park Trust, said, "We are absolutely delighted by the decision of the planning committee. This marks the culmination of four years of consultation, planning, research and development work for our team here at Nene Park Trust that started when we launched our 2050 vision and Masterplan in 2017.
"As a charitable Trust our aim is to support the health and wellbeing of the people of Peterborough through the provision of recreation and leisure activities. We do this against the backdrop of our beautiful Park, which we develop and maintain as a place to reconnect with nature, a haven for wildlife, a venue for focusing on culture and heritage and a rich source of educational opportunity.
"Lakeside Activity Centre will draw together many of these threads into a contemporary new nature-friendly offer at a time, post-COVID, when health and wellbeing, leisure, sport, and play will be so important, especially to families and young people.
"When the centre is open, it will also help us to continually improve the environmental, cultural and recreational offer for people throughout the 1,700 acres of Nene Park the Trust manages."
Nene Park Trust's Masterplan focuses on many other areas including nature recovery and placing visitors first. The Trust's 'Bringing Nature Closer' programme has already resulted in the creation of wildflower meadows and the restoration of spectacular wetland meadows. As well as planting new trees throughout the Park, the Trust has also further supported wildlife through the provision of tern rafts, bug hotels and extremely successful Sand Martin boxes.
In addition to this, the Trust has built a 750m boardwalk through Bluebell Woods, and has expanded its volunteer programme, offering a quality volunteer experience to many more people in the Peterborough community. Going forward in line with its own climate emergency declaration, Nene Park Trust intends to 'double nature', introduce sustainable farming on its Rural Estate, and rewild many areas across the Park.
Glenn Howells, Partner of Glenn Howells Architects, added: "The proposed design is a result of a thorough contextual analysis and comprehensive design process, and we hope it will be a welcome addition to Nene Park and Peterborough as a whole.
"The carefully crafted external facade, attentive detailing to the elevations, combined with the bespoke climbing space will together combine to form an impressive climbing centre. We are pleased to be part of a project that aligns itself to Nene Park Trusts' 'Masterplan 2017-2050' that aims to benefit the people of Peterborough and represents an exciting proposal for the Park and wider area."
To find out more about Nene Park Trust, please visit www.nenepark.org.uk
Leave a Reply