International works at Peterborough Museum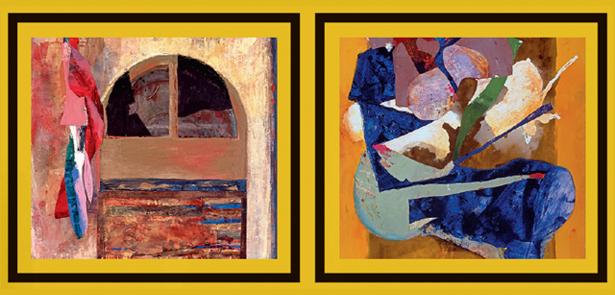 In 2018, all of Peterborough is celebrating – and this year, Vivacity's City Art Gallery at Peterborough Museum has plenty to shout about. Thanks to its recent refit, the City Gallery has two exhibitions of works by internationally renowned artists to take it into the summer and also looks forward to restoring sculptures from the city's own collection to public display including Sir Anthony Caro's Lagoon. The Moment talked to Sheena Carman, Vivacity's arts programme manager, about the exhibitions, the artists and how the gallery's growing reputation is helping put Peterborough on the map
The current exhibition On Form has been organised in conjunction with the Southbank Centre, London and features some big name artists. How has that been received?
The footfall for that has been fantastic. It's a selection for the Arts Council collection that we selected ourselves, all by artists from the 1950s through to now, including Victor Vasarely, Richard Deacon, Cornelia Parker, Patrick Caulfield, Sir Antony Gormley, Julian Opie and Sir Eduardo Paolozzi. They're all international names who exhibit all over the world, but it's also a really accessible, fun, colourful exhibition which has had great feedback from people. It's been very popular with families, and especially children; there's a piece which moves when you press a button which is something children seem to love!
The exhibition is quite a coup for the city in terms of the status of the artists – but what made that happen?
The main point to make is that we couldn't have had this exhibition in previous years, because we did not have the upgraded security that the recent refit provided. Basically, the investment that Vivacity made in the gallery means that we are now able to take world-class exhibitions. It will make a tremendous difference to what we can host in future, and means that people in Peterborough can actually see exhibitions that previously they would have to have travelled to London or Nottingham to see.
So, it really is helping to put Peterborough on the national and international cultural map?
It means we're in now contact with people at the Tate, for example. We also have some fantastic pieces in our own collection, such as pieces by Patrick Heron and Elizabeth Frink, and major galleries who are looking to borrow pieces like that are now more aware that we have them. Having said that, we also want to involve artists in the city because we have some great artists right here, and we think it's important to give opportunities and platforms to them as well. We've been lucky enough to work with Queensgate Shopping Centre who have given us a unit that we can use as an exhibition space, so over the next few years people will be seeing artists' work out in the city far more. That's just as important as us having the big names.
The next exhibition, following On Form, also has some interesting connections with the city…
Yes, it connects directly with Sir Anthony Caro's sculpture Lagoon – a large-scale work that we have in our permanent collection and which we aim to get back on public display in 2018. The exhibition itself is called Anthony Caro & Sheila Girling: A 64-year conversation about art. They were married for 64 years, and she was a tremendous influence on his work. She used a lot of bold colour in her paintings and her collages, and started to influence him to use colour in his sculpture. That's partly why we're exhibiting them together, to show how she enhanced his work, but her work is fantastic in its own right – giant collages, very bold colours, which also contrasts nicely with the bronze and wood colours of a lot of Caro's sculptures.
But also, Caro's Lagoon is not necessarily a very easy piece to understand, and this exhibition helps with that by putting it in a wider context, as well as paving the way for its return. Caro's work goes from very small, tabletop sculptures to huge public pieces, to the Millennium Bridge by the Tate in London. He's in collections all over the world, especially in America. He's a very, very important and influential artist, and he was himself influenced by Henry Moore – arguably Britain's greatest sculptor – who he worked for as an assistant. Caro used to drive Henry Moore to meetings, and when Moore was in the meetings he'd go to the Royal Academy and spend an hour drawing. Then he'd pick up Moore, who would say 'So, what have you done today?' and look through the sketchbook while Caro was driving, making corrections and suggestions on Caro's drawings! Sometimes you'd have a Caro drawing, with Henry Moore's version of that drawing above and to the right. There are literally thousands of drawings in Caro's collection. I went to Caro's studios yesterday and they've just brought back a whole load of work from Washington and New York, which they have been exhibiting all over the world. We are going to have some fantastic pieces that we've selected from their collection for our exhibition in Peterborough.
You mentioned the city's own collection and Caro's' piece Lagoon going back on public display… What can you tell us about that?
Our sculpture collection is very important to us. We're currently restoring several of our more important pieces – not just Lagoon,. We hope to get both these major pieces back on display. It's a big job and has been a few years in the making to get it to this point –but it's great timing this happening in 2018 because it's such a big year in the city with the Peterborough 900 celebrations – an opportunity for lots of different people, organisations and individuals, to work together to showcase the city. Peterborough's a city of tremendous potential with enormous cultural diversity and richness and I think we are now really beginning to tap into that. This celebration year is going to be a really important one for the visual arts. What we're trying to do here is position Peterborough as a city that is known for exhibiting and holding international work. It's so easy to get here, wherever you're coming from. With the our sculpture collection on display and the gallery having these world-class exhibitions, I really hope that people will start thinking of Peterborough as somewhere not just to pass through but to stop and look! And in terms of Vivacity's investment, all costs for the restoration of those pieces are being covered by Vivacity; no public money is being used for that.
Have you noticed perception of the city shift in recent years?
I've been here three years, and the vision that we had when I first came is now coming together. A key part of that, of course, is the improvement of the gallery space, which allows us to have international artists. That immediately raises your game, and once you have those exhibitions, people see more opportunities. They also realise that we actually value the arts and are prepared to invest in them – and Vivacity has always invested in the arts. A lot of cities are cutting back, but there has always been investment here; look at the new development at Fletton Quays and the excitement about that… But Peterborough has a history of investing in culture and that goes right back to the Development Corporation buying those original pieces of sculpture for the city, by great artists such as Caro and Gormley. And they bought them when those artists were much less well known, so were pretty on the ball. That is what is coming to fruition now. I was talking to a local artist recently who said: 'When the Caro's Lagoon comes back out again, artists in the city will feel that the city's really getting somewhere'. That, to me, is what 2018 should be all about – a year where we're really moving forward.
Anthony Caro & Sheila Girling: A 64 Year Conversation About Art
27 April – 21 July 2018 City Gallery, Peterborough Museum
Peterborough Museum and City Gallery present works by internationally renowned sculptor Sir Anthony Caro and modernist painter Sheila Girling. Spanning the duration of his career from the 60's to early 2000's, the exhibition includes Caro's iconic large scale abstract metal works in block colour, smaller table pieces which he began to work on after his larger works and paper sculptures. Exhibited alongside will be paintings by Sheila Girling. Distinguishable by her intense hues in acrylic, her work balances between figuration and abstraction.
To find out more, visit vivacity.org
Leave a Reply