Pride, prejudice and Peterborough events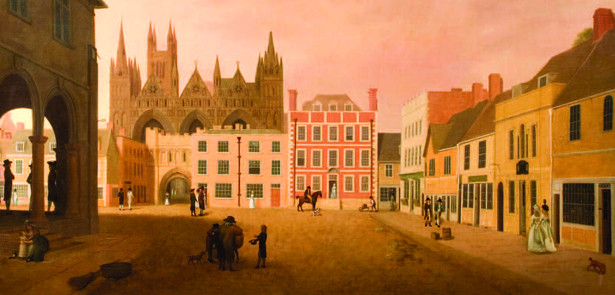 Get involved with the Pride, prejudice and Peterborough events, talks, fun and games running alongside Vivacity's brilliant, upcoming Georgian exhibition…
Georgian Family Tea Party
Saturday, 23 Jan; Saturday, 6 Feb; Saturday, 19 March; Saturday, 9 April; Saturday, 7 May 10.30am – 1.30pm
John Clare Theatre, Peterborough Central Library
Put a spring in your Saturdays this spring and bring the family to the Museum for a tea party with a twist! With Georgian parlour games, a family trail, biscuit decorating and take-home crafts, plus a fabulous tea party lunch, you'll feel like the owners of Priestgate Mansion in no time!
£10 per person. Booking is essential as places are strictly limited.
Time Travellers!
Tuesday, 29; Wednesday, 30; & Thursday, 31 March; Tuesday, 5; Wednesday, 6; & Thursday, 7 April 10.30am – 12.30pm
John Clare Theatre, Peterborough Central Library
In the return of last year's hugely popular Time Travellers!, join in this Easter for a workshop with a difference! Try your hand at making witch bottles to ward off evil like the Stuarts, recreate Georgian healing waters and turn modern-day celebrities into Victorian silhouettes – and discover how we know about these curious activities from the past!
£5 per child, accompanying adults free. Booking is essential as spaces are limited.
Georgian Peterborough Tour
Sunday, 3 April, 2pm
Meet outside Peterborough Museum
An often neglected part of Peterborough's past, the Georgian period had a big impact on the city. The tour looks at some of the surviving (and missing!) Georgian buildings, as well as intriguing stories such as how Peterborough ended up on a 'Grand Tour', and why a set of bells saved the local MPs life…
£5 adults, £3 concessions
Caring for Costume
Saturday, 23 April 2016, 10.30am – 12.30pm
John Clare Theatre, Peterborough Central Library
As part of the Pride, Prejudice & Peterborough exhibition, fine examples of Georgian costume from the Museum's collection will be showcased. This exciting new workshop offers a unique chance to get closer to the Museum's historic costume collection with the experts who care for it. See pieces not on display in the exhibition, and look in detail at how the diverse items are looked after to ensure they remain in the best condition. There will also be an opportunity to get hands-on with packing costume and to pick up tips on how to store any precious items you own.
£10 adults, £8 concessions; booking is essential as spaces are strictly limited.  
What did the Georgians ever do for us?
A season of Georgian-themed talks at the John Clare Theatre, Peterborough Central Library. All talks are at 7.30pm. Tickets: £5 adults, £4 concessions
The First Four Georges – Don Chiswell
Thursday, 28 Jan 2016
The influence of the monarchy was paramount in many respects during the 116 years of the Georgian period, although too often the first four Georges have been dismissed as dull or stupid. They were essentially ordinary people under extraordinary circumstances, which saw profound changes to British society and in Britain's status as a world power.
The Life &Times of Thomas Alderson Cooke – Claire Butterworth
Thursday, 4 Feb 2016
Reading like the plot of a Georgian novel, Thomas Alderson Cooke's life was anything but quiet. Death, divorce, murder and intrigue surrounded the life of one of Peterborough's most distinguished citizens, but what was life really like for the owner of Priestgate Mansion?
The Prison at Norman Cross: The Lost Town of Huntingdonshire – Paul Chamberlain
Thursday, 11 Feb 2016
200 years ago Peterborough had a population of 3,500, but five miles to the west was a vibrant community of nearly 7,000; however this was a prison depot housing many of Napoleon's soldiers. Its story is one of bone ships, domino boxes, forgery of banknotes and bribery of soldiers…
In the Shadow of the Noose: Crime & Punishment in Georgian England – Stuart Orme
Thursday, 18 Feb 2016
Crime in the Georgian period has a romantic image – dashing highwaymen and stories of derring-do. But what was the reality of crime in this period? Explore the truth behind the myths of notorious criminals including Dick Turpin, as well as the summary trials and brutal executions when justice was ruled by the 'Bloody Code'.
Georgian Splendour to Regency Elegance: Changing Fashions in the Time of Jane Austen – Izabela Pitcher
Thursday, 25 Feb 2016
Delicate lace and extravagant wigs – Georgian fashion could be sumptuous! Discover how the dress styles, undergarments and accessories changed throughout the era. Plus get up close with replica costume.
'Capability' Brown and the Gift of Landscape – Steffie Shields
Thursday, 4 Mar 2016
2016 marks 300 years since the birth of 'Capability' Brown. Discover the life and work of this extraordinary Georgian garden designer – his natural style of landscape creation and his architecture – as well as his local work.
Booking is recommended for all ticketed events. Tickets can be purchased from Peterborough Museum on (01733) 864663. For more information please email or visit www.vivacity-peterborough.com
Plus, look out for details of a Pride, Prejudice & Peterborough special event when we'll be returning Peterborough Museum to its heyday as a Georgian mansion – from Regency dance to puppet shows there'll be Georgian entertainment perfect for all ages!
Leave a Reply