Peterborough heritage lectures: Familiar Sights and Hidden Sites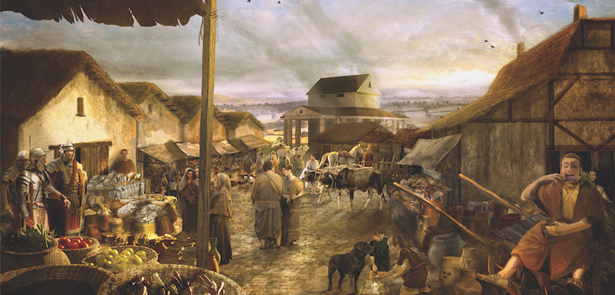 This spring, Flag Fen Archaeology Park hosts an exciting new lecture series exploring the fascinating stories of some of the unique sites on Peterborough's doorstep. This showcase will delve deeper into the significance of sites seen every day, and bring to light those more hidden gems
All lectures will be held at Flag Fen Archaeology Park and tickets are £5 for adults, and £3 for concessions and Heritage Pass holders. This series also aims to raise the profile of the Reopening a Roundhouse campaign and ask people who care about their local heritage to lend their support. Pre-booking for lectures is recommended. For tickets please contact Peterborough Museum on 01733 864663 or
Flag Fen's Bronze Age Roundhouse
12 February, 7 pm
Discover the fascinating story of Flag Fen's roundhouses – experimental archaeology in action! Dr Francis Pryor, and Ian Pycroft of Black Knight Historical, will take the audience on an historical journey from the discovery of roundhouse remains at Fengate, to restoring a reconstructed roundhouse at Flag Fen more than 30 years later.
Speakers: Dr Francis Pryor & Ian Pycroft.
The hidden Roman palace at Castor: the second biggest building in Roman Britain
19 February, 7 pm
The Roman palace at Castor forms probably the second largest building in Roman Britain. Partly uncovered in the 1820s, it is only recently that the full plan of this once spectacular building has been reconstructed and the true importance of the site recognised.
Speaker: Dr Stephen Upex.
Building an Icon: the West Front of Peterborough Cathedral
26 February, 7 pm
Join Peterborough Cathedral's Archaeologist to examine the west front, now such an icon of the city. When was it built; how was it built; and what did it originally look like? The talk will include new research and observations made during recent conservation programmes.
Speaker: Dr Jackie Hall.
Torpel Manor
5 March, 7 pm
Torpel Manor Field is known for being the site of a castle or fortified manor. Until recently very little was understood about the site's character, context and development. Find out about how current research has provided an insight into what the impressive earthworks at Torpel really are.
Speakers: The Langdyke Trust
Longthorpe Tower Flag Fen Archaeology Park
12 March, 7 pm
Join Edward Impey, author of the acclaimed new English Heritage Guidebook to Longthorpe Tower, to explore the story of this fascinating site. Housing an internationally important collection of 14th century wall paintings, the finest of their kind in northern Europe, you'll learn more about the remarkable architecture and history of this medieval building.
Speaker: Edward Impey
Burghley House and the Cecils
19 March, 7 pm
Burghley House is the finest Elizabethan mansion in the country, little changed on the outside since its construction, and set in a beautiful landscape shaped by man. Join Burghley tour guide Brian Jones to explore the story of the house and its owners, including the opulent contents, and consider its role as an indicator of wealth and power.
Speaker: Brian Jones.
A brief history of Sacrewell Watermill
26 March, 7 pm
Sacrewell's Grade II Listed watermill, built in 1755, is thought to be on the site of an earlier Roman watermill, while The Domesday Book lists three watermills in the Wittering area, possibly including one at Sacrewell. The William Scott Abbott Trust was recently successful in securing a £1.4 million Heritage Lottery grant to conserve and restore the current mill building and its surrounding properties, to form a national centre of milling excellence.
Speaker: Jane Harrison, Mill Project Officer
For more information, visit www.vivacity-peterborough.com
Leave a Reply