Heritage workshops and lectures | Spring 2016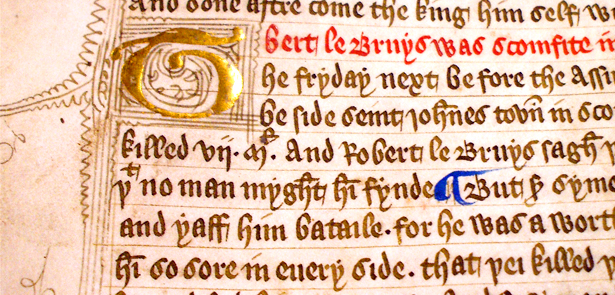 In Spring 2016, Vivacity's heritage sites (Peterborough Museum, Longthorpe Tower and Flag Fen Archaeology Park) will once again host a series of traditional skills workshops and lectures, perfect for those who want to get handson with history or delve deeper into our fascinating archaeological past
All workshops are suitable for beginners unless otherwise stated and lunch is included in the price of all full-day and weekend workshops. Listed below are just some of the things you can get your hands on and/or learn about.
Calligraphy Peterborough Museum
Sat 27 February, 10am – 4pm £55
Tutor: Christine Robinson
Discover the fundamental principles of calligraphy. Learn the foundational script using a dip pen and ink, and explore how to construct letters through demonstrations and individual practice. With personalised support, you'll create a bookmark, greetings card or short quotation. Plus take home all the equipment you'll need to put your new skills into action!
Celtic Dyeing Flag Fen Archaeology Park
Sat 12 March, 10am – 4pm £60
Tutor: Chris Carr
Discover how plants can be used to make a rainbow of colours in our reconstructed Bronze Age Roundhouse! After an introduction to natural dyes and their history, you can make a spectrum of colours to dye linen and spun British wool as they would have done to make clothes 2,000 years ago. Learn how to make a dye bath and use mordants. Includes an authentic 1st century AD lunch cooked over the roundhouse fire (vegetarian option available).
Basket Weaving Flag Fen Archaeology Park
Fri 5 February, 9:30am – 4:30pm £70
Tutor: Sue Kirk
Spend the day making a woven trug from willow, perfect for carrying fresh produce from the garden or displaying in the house. Basket weaving dates back thousands of years, with tools and methods remaining remarkably similar. Learn these traditional techniques from expert local tutor Sue Kirk, who has 15 years basketry experience using Somerset and locally grown willow.
Death and Disaster lecture series
Hosted at Flag Fen Archaeology Park, this exciting new lecture series explores the darker side of archaeology. Through recent excavations, discover how a society's dead can tell us so much about how they lived, and how a disaster can trap a moment in time ready to be uncovered…
Topics include: ● Midland Road medieval cemetery excavation ● Must Farm platform story so far…. ● Oakington Anglo Saxon Research programme ● Holme Fen and the Spitfire
Admission to all lectures is £5 adults, £4 concessions
With more workshops and lectures due to be announced, head to vivacity-peterborough.com/workshops to find out all the latest information.  
Pre-booking for workshops is essential and is strongly recommended for lectures. Please contact Peterborough Museum on 01733 864663.
Leave a Reply