Bronze Age boat from Flag Fen selected by the British Museum to support new history curriculum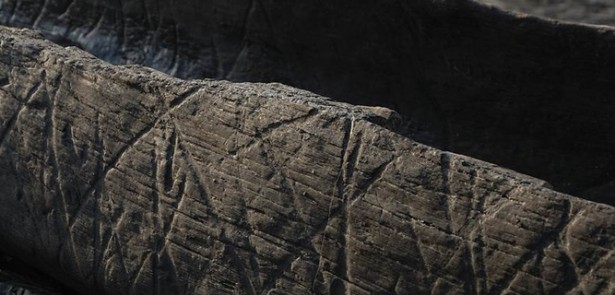 Vivacity Heritage is delighted to announce that a Bronze Age boat from Flag Fen has been selected by the British Museum and Department of Education as a resource to support the new history curriculum, as part of the project Teaching history with 100 objects
The new resource offers a series of stimulating free online resources for teachers, each based around a museum object that connects with key elements of the new history curriculum. It uses object-based learning to enable a wide understanding of UK and world history. Objects have been selected from the British Museum's collection and those of partner museums across the country to trace British and world history from around 700,000 years ago to 1066 and then from 1066 to the present day.
The Bronze Age boat, recently discovered in Whittlesey and now undergoing conservation at Flag Fen, dates from 800-400BC. It is over 6m long, and is made from a single tree trunk. In addition to this it is uniquely decorated with cross-hatchings both inside and out.
The excavations at Must Farm, near the River Nene in the east of England, revealed a landscape which had been dry in the Neolithic and Early Bronze Age periods. In the Middle Bronze Age the climate started to worsen and waters to rise, creating a fenland landscape in what is now Cambridgeshire and surrounding areas. The inhabitants adapted to this new environment by building walkways and platforms raised up on wooden stakes, and by making boats, which would have been by far the quickest way to travel in this new wet landscape.
Resources will be released in several stages, and all 100 will be accessible by the end of December 2014. For more information about the teaching resources, visit www.teachinghistory100.org
Leave a Reply