A unique discovery of eight rare Bronze Age log boats to undergo specialist conservation at Flag Fen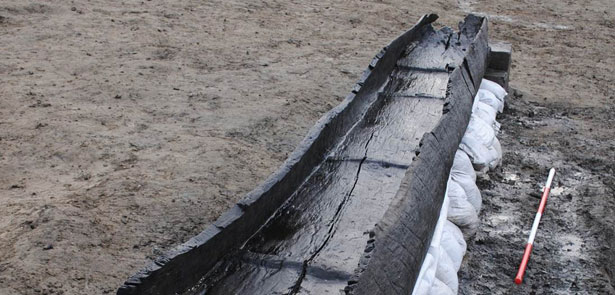 Eight superbly preserved and very rare Bronze Age log boats, uniquely discovered together in just one location, have been moved into a refrigerated unit to start a two-year conservation process at Flag Fen, near Peterborough
It is the first time so many log boats have been found together and they will be conserved using the same techniques pioneered for the Mary Rose – which enables them to be kept in one piece and sprayed with wax to stabilise their fragile ancient timbers. Until now, log boats have been cut into pieces for conservation.
Remarkably intact, the eight boats, measuring up to 9m long, have just taken up residence in their cold store where the carefully controlled temperature will help protect them during their conservation at Flag Fen. Just two miles from the site of their discovery in 2011, in a quarry at Must Farm, Whittlesey, Flag Fen is part of the same 3,500 year-old prehistoric landscape.
The Must Farm quarry is owned by Hanson UK, and Bronze Age treasures, including the boats, were revealed during extraction of the deep Oxford clay layers that are used in the manufacture of bricks.
Archaeologists from Cambridge Archaeological Unit were appointed by Hanson UK to excavate a section of the lost course of the River Nene and came across remarkably preserved items, including preserved eel traps, weapons, pottery and tools. These give an incredible window into what life was like during the Bronze Age some 3,500 years ago.
Most astonishing of all was the discovery of the eight prehistoric log boats, most of which are in an incredible state of preservation due to the wetland nature of the area. Many are virtually intact and some have elaborate features including lifting handles, grooves for transom boards and evidence of decoration.
These boats have now been brought to Flag Fen, where they are undergoing conservation by a team of world-class experts to preserve them for future generations.
It is tremendously important that the Must Farm boats were brought to Flag Fen, because they are part of the same story
explains Mark Knight from Cambridge Archaeological Unit, who worked on the excavation and is one of Britain's leading prehistoric and wetland field archaeologists.
Around 4,000 years ago there was a period when water levels started to rise, effectively creating the fens. At first this drove people living in the area back onto drier land, but by the middle Bronze Age people seemed to be adapting to the new environment and trying to use it to its best advantage.
The boats arrival at Flag Fen represents a kind of 'coming home' because both the boats and the causeway discovered at Flag Fen in the 1980s and now on display to the public, represent novel kinds of conveyances in a landscape fast disappearing beneath rising waters. Both Flag Fen and Must Farm sit at the very edge of a lost world
explains Mark.
The boats represent compelling evidence of a mass colonisation of the recently formed wetlands and reveal just how people learned to thrive in a submerged terrain. They are an invaluable resource for people to learn about the past impacts of climate change on human society.
The boats are an incredibly unique find and conserving them is vitally important. For this purpose a large specialist cold storage facility, funded by a £100,000 grant from English Heritage, was constructed to house the vessels at Flag Fen. The waterlogged boats will now be refrigerated to prevent them drying out too quickly. They will be treated over a two-year period with a specialist wax, polyethylene glycol, which will stabilise the timbers. The same technique was used on the ancient Seahenge timbers discovered in Norfolk, and on the Mary Rose.
It is hoped that the conservation process will reveal more about the Must Farm log boats, including how the boats were used. Carbon-14 tests will give precise dates as to when they were made. Questions like, why the boats were abandoned in the river. – were they just washed up at that point in the river, or were they sunk deliberately as part of some form of ritual or funeral ceremony – may also be answered.
During the treatment at Flag Fen, the boats can be viewed through glass by visitors during regular guided tours and on special event days. For more information, visit www.vivacity-peterborough.com
Vivacity is delighted to be working with a team of experts on this project, including Hanson UK, English Heritage, Peterborough City Council, Cambridge Archaeological Unit and York Archaeological Trust.
Leave a Reply