Heritage Festival 2018: hidden treasures…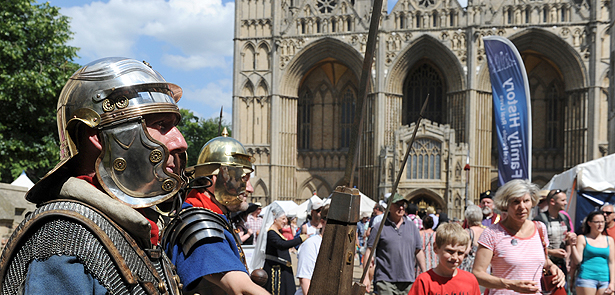 Peterborough Heritage Festival – a collaboration between Vivacity, Peterborough City Council and Peterborough Cathedral, with the support of Perkins Engines – returns on the weekend of 16-17 June. This year, the Festival's tenth, the theme is a 'Festival of Celebrations' as 2018 marks several significant anniversaries: the centenary of the end of World War One, the centenary of Women's Suffrage and the nonacentenary of Peterborough Cathedral, marking 900 years since construction began on the current Cathedral building.
There will be battle re-enactments, arena displays, a vintage fair, have-a-go archery and performances throughout the day – almost all of it free. But there will also be something special to tie in with a major new historical exhibition coming to Peterborough in August, and which aims to bring to light the city's contemporary treasures. The Moment talks to Vivacity's Heritage Programmes Manager Rachel Walmsley about what's afoot…
You've said you wanted to shake things up a little bit this year in the spirit of celebration… So, what's this new element?
It relates to something big that Vivacity is organising at Peterborough Museum – the 'Treasures' exhibition. There are some wonderful historical artefacts coming on loan to the museum from collections all over the UK, including the British Museum, The V&A, the Society of Antiquaries and Corpus Christi College in Cambridge. All relate to Peterborough or were discovered here, but have never been brought together before and many have never been on display in Peterborough at all. The archaeological artefacts from the British Museum, for example, are on display to the public there, but have never been shown here since being found. Some are only rarely seen by the general public; unless you're a member of the Society of Antiquaries you're unlikely to have seen the Black Book of Peterborough – a collection of medieval charters and manuscripts originally belonging to Peterborough Abbey which also contains an early draft of the 'charter of Runnymede', better known as Magna Carta. And if you haven't gone to the Parker Library at Corpus Christi you won't have seen the amazing Peterborough Bestiary – a manuscript from 1300 containing over a hundred miniatures on gilded ground or in golden frames depicting the animal world as it was understood at the time, including the unicorn of the phoenix. These are just some of the amazing treasures we hope to include in the exhibition.
To launch and celebrate that at the Festival we're going to have a 'community treasures' tent, and will be working with various communities to encourage them to showcase what they regard as treasures of their community. What that will look like is being kept under wraps for now, but our project outreach officer is going out ahead of the festival itself to seek them out and over the weekend there will be a tent in which the various treasures are presented.
What qualifies as a 'treasure'?
It can be anything. And it will be quite community based, so one community could decide that their food is really important to them, and we might have a cookery demonstration – but it could be dance, it could be song, particular artefacts, anything! It could even be stories – there's an awful lot of history and heritage that is not objects, but consists of ways of doing things, things passed down from generation to generation. A way of living. A way of celebrating. You can't really collect those as you would objects and put them on display. You can't take a song and put it in a museum. So, it's a way of addressing that. And it will allow everyone to experience and learn about all the current treasures in Peterborough whether tangible or intangible. This year's festival is all about celebration, and this is all about creating a platform for different communities to showcase and celebrate their history and their heritage. The festival covers all of Peterborough's history from the Bronze Age up to WWII, and immigration into the area – whether it's Celts, Romans, Vikings, French prisoners of war or American servicemen – goes right back to prehistory. But this brings the story right up to date.
How will the 'presentation' of the treasures work?
It all depends on what it is. There will be a timetable of events, so if it's a dance or a song or a demonstration – not just an object that can be put on show – we will have timed performances. And they will all be working with our outreach officer to find exciting ways to present the treasures. I'm looking forward to seeing lots of surprises.
I'd like it to be an annual event within the festival, so it's the start of an ongoing engagement with various communities within the city. We call ourselves a heritage festival but it is mostly history, so this really helps draw out that heritage. History is built from objects – documents, things made of stone or metal – but some of the valued things in people's lives – things that make up their own heritage – are not objects. We have a very written heritage, but there are others that are passed down by word of mouth. We will obviously document this in writing, photographs and video, so we have a record of what has happened, but it's really about showing people the rich heritage we have going on in the city right now.
Peterborough Heritage Festival 2018
16-17 June, Peterborough City Centre
To stay up-to-date with news of the festival, including announcements of the programme and top tips on how best to enjoy the weekend, head to vivacity.org/heritagefest
---
Happy 900th birthday!
Special Heritage Festival events at Peterborough Cathedral…
900 years of church music: a whistle-stop tour
Friday 15 June at 7.30pm
Have you ever imagined hearing the monks singing their daily services in the abbey church? Or wondered what the music sounded like when Cardinal Wolsey celebrated Easter at Peterborough Abbey in 1530? Steven Grahl, the Cathedral's Director of Music, will be your expert guide through nine centuries of church music and the Cathedral Choir will be on hand to sing the illustrations.
Tickets: £10 (£8 concessions). Book online or call Peterborough Information Centre on 01733 452336. The evening will last around 70 minutes.
Tower Top Climbs
Saturday 16 June, 10am to 4pm
To mark the Heritage Festival, the Cathedral is holding a day of special tower top climbs – every hour, on the hour. This will involve a straight climb up the steps of the northwest tower onto the central tower outside, for stunning views across the city.
Entry: £5 or £16 for a group of four. Book online via the Cathedral website. Terms and conditions apply.
Choral Evensong with Installation of Mayor
Sunday 17 June, 3.30pm
A special service to welcome in the new Mayor of Peterborough at the conclusion of Heritage Festival Weekend.
Leave a Reply