Have a Burghley Christmas!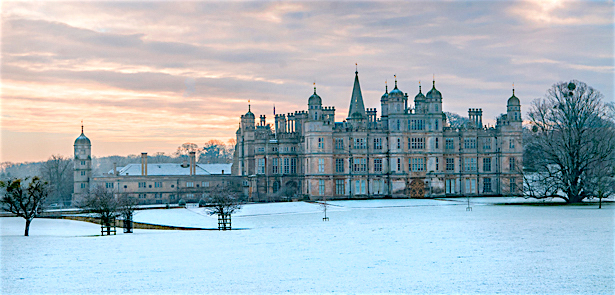 Few places are as festive as Burghley House at Christmas. Pick up a special gift for a loved one or sing along to one of your favourite carols at one of Burghley's special Christmas events
Christmas will be bigger than ever at England's greatest Elizabethan house, featuring a free craft market with more stalls, lots of seasonal shopping opportunities and festive carols set amidst historic grandeur.
Burghley's Christmas Fair and Fine Food Market will be spread over four days (23-26 November). Allow yourself step into the festive spirit at this truly special Christmas shopping spectacular. This year there will be additional log cabin-style stalls, all with the glorious backdrop of this Tudor house. Browse at your leisure and choose from exciting new products to indulge yourself, your family and friends with stunning fashions and accessories, dazzling jewellery, lustrous velvet and satin scarves and luxurious soaps and skincare. Nestling within the Brewhouse and cobbled courtyard, close to Burghley's restaurant and shop, the fair and market is completely free to enter, with free parking too.
Christmas menus at The Orangery restaurant, housed in a building designed by Lancelot 'Capability' Brown and that once provided space for the family's love of horticulture, will be on offer from 23rd November to 17th December.
Christmas Shopping at the Courtyard and Christmas Shops launches on 11th December and the shops are open from 11am to 4pm, Wednesday to Sunday until 17th December for that gift with a difference.
Burghley, on the edge of the Georgian stone town of Stamford, also offers a chance to get into the festive spirit with Christmas concerts set amidst historic splendour on a grand scale.
There's the traditional Christmas Chapel Concert, performed within the intimate setting of the family Chapel, which was renovated by Capability Brown. The concert includes mince pies and mulled wine to warm you up and get you into the spirit (10th December, £25).
Or for a seasonal treat, enjoy Christmas Carols in the Great Hall in the magnificent oak-panelled hall, which has changed little since Queen Victoria and Prince Albert dined there in 1844 (13th December, £20 adults, £10 child, including pre-drink in The Orangery).
And while the house may be closed for winter, Burghley's parkland, with its resident herd of deer, remains open, with free entry throughout the year. Come and explore it for yourself and discover some idyllic winter walks – the perfect chance to blow away those Christmas cobwebs.
Christmas at Burghley House
Weds 1 Nov – Sun 17 Dec
01780 752451, www.burghley.co.uk
Leave a Reply