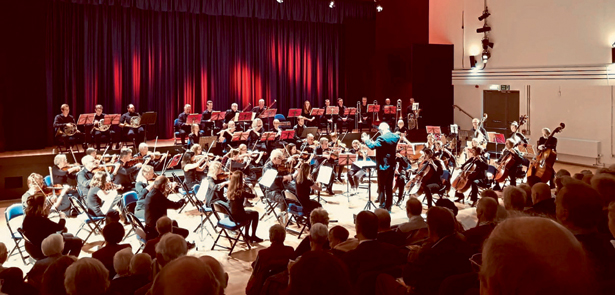 The City of Peterborough Symphony Orchestra (CPSO) recently launched its 30th Birthday Season with an energetic and well-received programme at the Queen Katherine Academy
The highlight of the afternoon was the Sibelius violin concerto played by local soloist Freya Goldmark, a recent Royal College of Music graduate whose resonant, sensitive and technically dazzling playing has already earned her considerable recognition. The CPSO was formed in 1989 through the initiative of local musicians.
Our rehearsal and concert 'home' nowadays is in the spacious and comfortable surroundings of the Queen Katharine Academy. The 30 years in between has seen us perform in a variety of venues in the Peterborough area: The Cresset, the Broadway Theatre, the Key Theatre, Peterborough Cathedral, St. John's Church and even several outdoor venues! Just as our audience were delighted by Freya's performance in October, the CPSO's soloists have always been particularly special. In the past we have been so pleased to welcome onto the stage with us Alexander Baillie, Tasmin Little, Owen Gunnell, Robert Markham, Imma Setiadi, Joy Farrell, to name but a few. Spring 2020 sees our 30th Birthday Season continue with a world premiere. This will be the eagerly anticipated unveiling of a newly commissioned work by composer Martin Bright for orchestra and percussion soloists.
The work spotlights five young and extremely talented percussionists from Peterborough Music Hub and the CPSO is proud to have commissioned this work and is thrilled to be working in partnership with the Hub on this project. CPSO's Summer Concert will have a 'Party' theme…and we are anticipating a full house. There will be magnificent music, surprising soloists and in-Credible Cake! Meanwhile, please become a Friend of the CPSO and support the City of Peterborough Orchestra. Help to keep music live in our city! There are lots of lovely benefits and we can't wait to welcome you to our next CPSO concert.
● 30th Birthday Season: Friends Concert – 1st December 2019 Spring Concert – 28th March
● 2020 Summer Concert – 27th June 2020
Become a Friend of the City of Peterborough Symphony Orchestra!
The Friends play a vital role in supporting the CPSO and its running costs.
As a thank you, you will receive: ● Exclusive concert and afternoon tea ● Discounted tickets for CPSO concerts ● Free glass of wine with a main meal at Fratelli Tavola Calda Italian restaurant, Peterborough ● Regular newsletters ● Access to open rehearsals Membership: £10 (single) / £15 (double) Corporate membership also available www.cpso.org.uk (contact: Janet Frusher)
Leave a Reply