Fifty glorious years for Stamford Shakespeare Company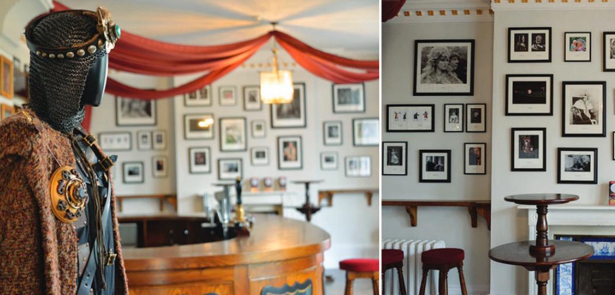 Stamford Shakespeare's Theatre Manager David Fensom on celebrating the company's 50th anniversary
The Stamford Shakespeare Company is celebrating 50 glorious years. Founding members, sadly no longer with us, are responsible for the huge success of the Company which began life performing in the Monastery Garden of Stamford's historic George Hotel, but now owns and runs an Elizabethan Hall, producing plays in a natural amphitheatre in the grounds, with an enchanting woodland backdrop.
Over the years, so much incredibly hard work has taken place by hundreds of dedicated and enthusiastic volunteers to turn a modest, local, amateur venture into a leading regional theatre with a growing national reputation, attracting audiences from around the United Kingdom and overseas. Back in 1968 audience figures were only about a hundred, but now number more than 34,000 and, incredibly, the 2018 season has seen ticket sales hit one million since the Company began performing at Tolethorpe Hall.
The success of each production relies on an army of unseen people who give generously of their time and expertise. It was our founder, Jean Harley's belief that the applause at the end of the performance should not just be for the actors on the stage, but for the entire Company of people who have worked so hard to make it all possible. It is this belief that has borne the Company tradition of no curtain calls, a tradition which has been the case since the very first performance 50 years ago.
We have a wealth of history to celebrate and that is exactly what we wanted to do for our 50th anniversary. To organize the 50th anniversary celebrations a sub committee was formed. This committee comprised Company members Caroline Stephenson, David Fensom, Miriam Spring Davies, Sandie Parsons, Tom Johnson and Lucy Thornton-Reid. This team has overseen a huge amount of work since last September. All the existing posters from the first decade at the George Hotel were newly framed and now adorn the walls in the orangery and restaurant. 32 existing framed photographs were moved from where they hung upstairs in the hall, cleaned, labelled and hung downstairs in the hallway and on the main staircase walls. Shakespearean quotes have been placed above every doorway in the hall. A history exhibition was produced, along with costumes displays and our new 'Friends of Stamford Shakespeare Company' scheme was created and has been launched this summer However, the largest project by far was the refurbishment of the bar.
As part of our celebrations we decided to completely renovate our bar, which we felt was somewhat lacking in character. The aim was to create a theatrical bar which celebrated our 50 year history. So, in late December work commenced on re-covering the existing bar in oak veneer panelling. A completely new bar top was formed out of 10mm x 45mm oak strips laminated together. A bar rail was also built out of oak and fitted around five wall sections. All this work was carried out by Dannie Carlton, one of our members, and a semiretired builder who, until his recent retirement from building our sets, was in charge of all set construction since 1999.
In March, Russel Holley (Hollywood Restoration Services) was contracted to sand down the oak floor and then stain the floor, bar and bar rails dark oak. He then lacquered all the surfaces to make sure they last several years, withstanding heavy footfall and spillages. Steve Kisby, a painter and decorator by trade and another one of our members, repainted the bar walls and ceiling, highlighting in gold the roses on the cornice. Tom Dodson (The Rutland Marquee Company) came to hang drapes from the bar ceiling (he also put up drapes in the restaurant). Mark Aldridge, an artist and one of our members who played many leading roles here over the years, painted 10 panels, each depicting a scene from a Shakespeare play. These stunning paintings were fixed along the front of the bar in April.
Our Company Costume Designer, Miriam Spring Davies, dressed the mannequins in the bar (and also several mannequins in various places around the site). Caroline Stephenson and David Fensom spent many months trawling the archives for photographs to put on the walls. They initially decided on a total of 50 photographs (ten from each decade), however, the process of whittling down hundreds of photographs from 126 productions to just 50 was no easy task and they eventually settled on 59 photographs. These 59 photographs (and the 27 posters that have gone up in the orangery and restaurant) were framed by Anthea Crabb (dArt Frames). Dannie Carlton was back on hand to hang all 86 frames.
It has been a considerable effort, but well worth it, and the team responsible has worked exceedingly hard to pull it off in time. We can now relax and enjoy the result of these labours. It is a privilege to be able to stand in the bar, drink in hand, and see history all around us, particularly the photos of those members, sadly long gone, to whom we owe so much and without whom there would be no Stamford Shakespeare Company at Tolethorpe Hall.
● The 50th anniversary season has opened to great acclaim and you can book for this summer's plays, which are: The Merchant of Venice, The Merry Wives of Windsor, The School for Scandal ● Box office: 01780 756133 For more information and to book online: www.stamfordshakespeare.co.uk
Leave a Reply