Raising the roof at Flag Fen!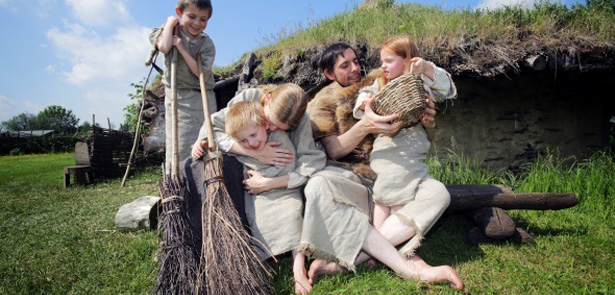 If being asked to 'raise the roof' sounds like an invitation to party, well, perhaps you're not too far off the mark – but this was a party unlike any you're likely to have experienced... For one week in August, a group of re-enactors lived, ate and worked in authentic Bronze Age conditions to restore the roof to Flag Fen's Bronze Age roundhouse. Party on!
As every Peterborough resident must surely know by now, Flag Fen is the finest Bronze Age archaeological site in Northern Europe. Discovered by archaeologist Francis Pryor in 1982, its status was boosted further still by the discovery nearby of the Must Farm boats (currently undergoing conservation at Flag Fen) which suggest that in its day it was an even more important cultural and economic centre than anyone had previously imagined, supporting fishing on an industrial scale. In addition to the archaeology, the site now offers visitors a whole range of related events and hands-on workshops (including making your own sword), with regular visits from Bronze Age, Iron Age and Roman re-enactors. Central to the Flag Fen experience are the two beautifully recreated, highly atmospheric roundhouses – one Bronze Age, one Iron Age.
In recent months, however, it had become clear that the jewels in Flag Fen's crown were in need of some TLC after recent weather conditions. Stuart Orme, Events and Programmes Manager for Vivacity Museums, Libraries & Archives, explains: 'The Bronze Age and Iron Age roundhouses are both about 20 years old, so have been up for quite a long time, but were also hit quite badly with the very heavy rains a while back. So, we had to take the difficult decision to close the inside of the roundhouses off to the public. That's obviously a great shame as they're a great part of the visitor experience, so we wanted to make sure we got them back in operation as quickly as possible.'
With this being a Bronze Age site, the Bronze Age roundhouse – that's the one with the turf roof – was the first priority. And, this being Flag Fen, the restoration was obviously going to be done Bronze Age style. 'The site team of staff and volunteers stripped the turf off, down to bare rafters, and then we had a team of living historians and re-enactors who lived on site for a week to literally raise the roof.' While this was happening, visitors were able to view the work in progress and chat to re-enactors about construction techniques, life in the Bronze Age, or any other aspect of how people would have lived on the site 3,500 years ago – as well as watching them go about some of those everyday domestic tasks, such as cooking.
So, how do you build a Bronze Age roundhouse? First, with the turf removed, the rafters are checked over for any parts that need to be replaced. Then a layer of lathes goes over the rafters, then a layer of reeds on top of that to support the final layer of fresh turf. All of this was done using Bronze Age tools and techniques – no power tools, no screwdrivers, no steel saws. 'A few slightly more modern things have to be done to make it safe for Building Regulations purposes,' admits Stuart. 'There are certain kinds of fixings which aren't strictly speaking Bronze Age, which will be discreetly hidden from the public! But the work was done by people in Bronze Age costume using Bronze Age materials and methods wherever possible.'
One point about all this is that, back then, there were no regulations, so there are no 'rules' when it comes to authentic roundhouse building. The likelihood is that individual roundhouses – made by different family groups in different areas, with their own needs, traditions and materials – would have been quite different from each other. Little is known about exactly how it was done – but this is where the hands-on experience of restoration, using authentic materials and tools, can add to the sum of knowledge. 'It's what we call experimental archaeology,' says Stuart, 'very much about learning how things might have worked by actually doing them. Apart from small finds such as pottery, all the archaeologists actually find in the ground when they discover a roundhouse like this are post holes showing the outline of the building and the fire pit at the centre. That's all that survives. So we have to extrapolate from that, and it's largely a question of what works and what doesn't. There have been a number of buildings like this constructed around the country, so we can also draw on their experience.'
As I write, finishing touches are being made by the site team, and by the time schools are back Flag Fen will have a fully functioning, spanking new (old) roundhouse once more. 'We'll be very busy with schools – in fact, we're pretty much booked up until Christmas with school groups at Flag Fen – so it's important to have a functioning roundhouse for them to experience on site.' Flag Fen also has a newly refurbished dig tent, which is an opportunity for families to have a go at hands-on archaeology in some mock dig pits, so with kids' craft activities on site, regular guided tours, and visiting living history groups, there's plenty going on. And it seems they've got the roundhouse-building bug at Flag Fen. 'We're hoping next year to be able to build a new roundhouse,' says Stuart. 'There was a second Bronze Age roundhouse which was destroyed by a bad winter a few years ago, so we're hoping to build that completely from scratch in 2015, using authentic materials. That will be a really interesting experiment.'
Flag Fen welcomes visitors through the summer months (until 31 October 2014) and is open every day 10am – 5pm (last entry at 4pm). For further information, call 01733 864468 or visit www.vivacity-peterborough/flagfen
Join in the Big Dig at Flag Fen! Calling all families! Whatever the weather, you can head to Flag Fen to join in archaeological investigations at the newly re-launched Big Dig Tent – perfect for under 12s. Plus there's the Small Dig for under 5s. Become an archaeologist and get hands-on with the past. Discover how what's in the ground can tell us more about how people lived in the past. 
The Big Dig Tent is open Weds-Sun, 10am-12noon and 1pm-4pm, April-Oct.
Leave a Reply