Professor Stephen Upex: 'You never know what you're going to find, and that's the great fun of archaeology'
Professor Stephen Upex: 'You never know what you're going to find, and that's the great fun of archaeology' 1 2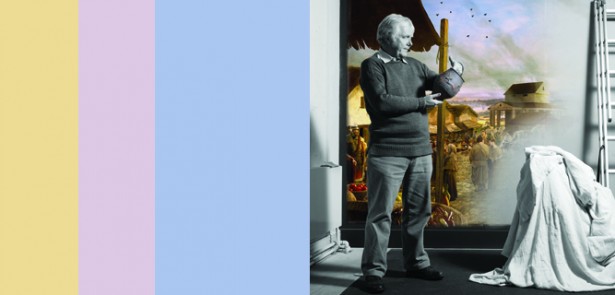 Peterborough Museum's Roman Gallery has undergone refurbishment as part of the Romans Revisited Project, featuring entirely new displays and huge CG images recreating the Roman period. To mark the opening on 15 November, we talked to archaeologist Dr Stephen Upex – an authority on Romans in the Nene Valley. He tells Moment editor Toby Venables about Peterborough's Roman heritage
At home with the Romans: The artefacts
FIRST OF ALL, A VERY BASIC QUESTION – WHY IS IT IMPORTANT THAT WE HAVE PLACES LIKE THE MUSEUM, AND LOOK AT THINGS FROM THE PAST?
There are many philosophical arguments related to that – about learning the lessons of history, and the fact that if we throw this away we can't recover it – but to be honest, I just like doing it! Most people I talk to whether they're school kids or adults, want to know where they came from – what happened in the area, who lived in their house before them, what their grandparents looked like. I think we've all got a bit of an interest in how we got here. And what's wrong with just being interested? We may value it or we may not, but at the end of the day it's also just fun, discovering these stories – or, sometimes, tantalising bits of stories. That's what archaeology is, really; you never know quite what you're going to find, and for every question you answer, you generate several more. That's really the great fun of history and archaeology.
HERE WE CAN SEE STUNNING NEW VISUAL REPRESENTATIONS OF ROMAN PETERBOROUGH, BUT DOES ARCHAEOLOGY CONTINUE TO TURN UP NEW ANSWERS – AND QUESTIONS – ABOUT WHAT ROMAN PETERBOROUGH WAS LIKE?
If I'd spoken to you three years ago, I'd have told you that the Roman town at Durobrivae – the beginnings of Peterborough, in effect – was based on the development of a little Roman fort, that the fort probably lasted about 40 years and that a settlement grew up around it. I excavated the Water Newton site, where the fort is, in 2012, and we now know that the fort lasted for a very, very short time – probably only a matter of months – some time around 60AD, probably in the aftermath of Boudicca's revolt. So, we've had to revise our thinking on the origins of the Roman town. We'd thought the fort spawned the Roman town, but actually wasn't there long enough to spawn anything! The town must have developed in a different way, and I now think it was because of the re-organisation of the road system. With a bridge being put there between Castor and Water Newton, and the development of what we would now call Ermine Street, a little settlement developed to catch trade at this crossing place. The name 'Durobrivae means 'the town with the two bridges' or 'the town with the two crossings' – one at Billing Brook, and the other across the Nene. So, just in the past three years our understanding of the development of Roman settlement in the Nene Valley has been revolutionised by one excavation.
YOU MENTION THAT THIS TOWN – DUROBRIVAE – IS THE BEGINNING OF PETERBOROUGH, BUT ITS REMAINS ARE OUTSIDE PETERBOROUGH. HOW AND WHY DID THAT SETTLEMENT MOVE?
That's a really fundamental question. At Durobrivae you have 44 acres of walled settlement, with another 450 acres of industrial sprawl – nearly 500 acres of densely packed Roman settlement, and within that was the second largest building in Roman Britain. This is a very large structure, partly under Castor church, which was discovered in the 17th century and excavated by Edmund Artis in the 1820s. When he looked at it, he realised it was so big it couldn't be a villa. He didn't know what it was, but called it simply the 'praetorium' – meaning 'headquarters' – and assumed that it was the headquarters of the whole area. It now appears to be a tax collection centre, collecting Imperial dues and revenues from estates in Fenland. If you add all that together – the Roman town of Durobrivae, the Nomangate area where the industrial suburbs are, and the 'praetorium' at Castor – those three form a pretty spectacular collection of Roman clutter on the landscape. So why did Peterborough grow here, and not there? Well, Roman troops are being pulled out at the end of the 4th and 5th centuries, so there are fewer of them. With their withdrawal, the tax collection system goes – and because they're not collecting taxes, the towns are beginning to fall apart. Everybody goes back to the countryside and carries on farming. The villa owners, instead of farming 2,000 acres with 1,000 acres paying the tax, farm 1,000 acres tax free. There's spare land, and incoming migrants claim it – we call them the Saxons. The incoming… [cont]
Professor Stephen Upex: 'You never know what you're going to find, and that's the great fun of archaeology' 1 2
Leave a Reply