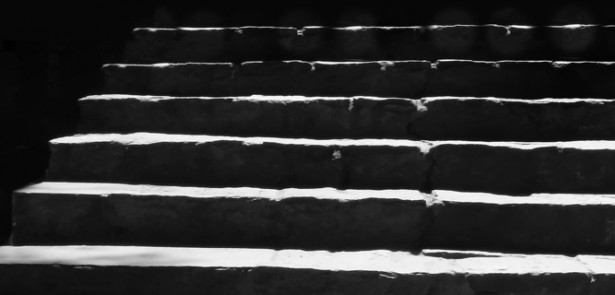 In October 2015, Peterborough Museum opened an entirely new – and very old – space to the public: the haunted cellars beneath the main building. Previously, access to the cellars – which date back to Tudor times – had been limited, but now Priestgate Vaults are fully restored with new audio-visual interpretation telling a story spanning five centuries, and complete with ghostly effects. The Moment editor Toby Venables went to find out more... 
'This has always been a very interesting space,' says Stuart Orme, Vivacity's former Interpretation Manager, as we move along the dark subterranean passage. 'The nice thing about it is there are lots of period features you can't see anywhere else in the building, and whenever we've brought people down here on guided tours and ghost hunts it's always proved hugely popular.' From the passage, a series of doors – one of which was probably hung before the birth of Shakespeare – opens onto various gloomy chambers with low, arched ceilings. Each has seen a variety of uses over the centuries, one being used as an air raid shelter, others for the storage of coal, wine, cadavers…
But more on that later. At the moment, there are a lot of live bodies down here, working away on the restoration of this atmospheric and historically laden space.
'This project is about opening up the cellars and exploring that history, and showing things off that aren't normally accessible by the public. There will be a strong educational element, too. Our education service at the museum is so popular that we're having to book further and further ahead, but our biggest pressure is space. This will allow us to take many more school groups, and give them an experience of the city's history through the eyes of real people who used these cellars over the centuries, with a special version of the cellar tour designed for schools.'
The museum itself was refurbished in 2011 with money from the Lottery Fund and the City Council, and reopened in March 2012. 'Part of that original project was about interpreting the historic building – because, arguably, the building itself is one of the most precious objects we've got – but we knew there were always other parts we wanted to open up.' Jonathan Latchford – Vivacity's Heritage Development Officer and project manager for the cellar redevelopment – explains: 'One of the main challenges is being sympathetic to the building, and making sure that what we do is appropriate and not "Disney-fying" it. Once you start stripping back to restore a building it can be hard to know when to stop, but we approached it with the very clear idea that we divide room by room to tell different stories about different periods.'
'There are essentially four layers of story,' explains Stuart. 'The original Tudor mansion was built on this site around 1536. Then came the Georgian house – which is the core of the current building – dating to 1816. That subsequently became the first hospital in Peterborough in 1857, and then, of course, has been the museum since 1931. So, it was very much about telling those stories, but also being able to use them to tell the story of Peterborough during the last 500 years.'
The tour begins when you're met by a tour guide at the top of the steps, to the left of the museum's main entrance, and given an introduction – and a hard hat. Then you're led down the steps to the vaults themselves and taken through the story of the building room by room. 'The way we're interpreting that is kind of creating ghosts from the past,' says Stuart. 'We're filming actors who have been cast to represent particular characters from the building's history, and they'll be digitally projected onto the walls so they literally appear like ghosts.' As we talk, Stuart and Jonathan lead me through the tour, which proves to have a distinctly spooky climax…
The Tudor vault 
In this wide room you can see some of the original Tudor stonework, and a couple of original windows from the Tudor building (now underground, due the street level having risen over the centuries). 'Against this wall will be projected Sir Humphrey Orme – no relation! – who was the owner of the house in the 1640s, at the time of the English Civil War, and whose… [cont]
Leave a Reply