Peterborough's unique digital WWI project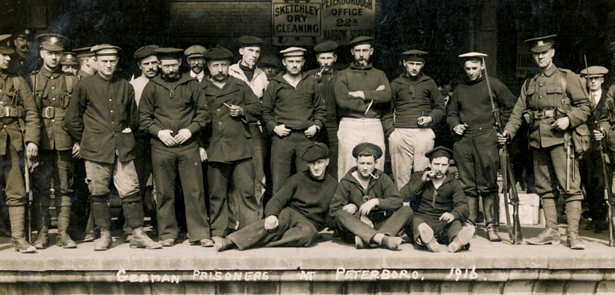 January 2016 saw the launch of www.peterboroughww1.com – a heritage website offering a unique insight into the lives of soldiers during the First World War. The project is based around a guestbook in which traveling soldiers recorded their final thoughts – messages, doodles, drawings and poems – before they went away to the trenches. Many of them never returned. To mark the 100th anniversary of the book's entries, a team of staff and volunteers at Vivacity has digitised and transcribed its contents to create a unique, interactive online resource. The Moment talks to WW1 Project Officer Beverley Jones
What is the guestbook, and why is it significant?
There are two slim volumes that came from East Station, Peterborough, covering 1916- 1917. They were in a tearoom that was run by the good ladies of WUTAC (Women's United Total Abstinence Council), whose aim was to provide tea and comfort for men traveling through the station. Those men were traveling for many different reasons: going to and from the Front; home on leave; attending hospital appointments… Many were going to training camps in the area – we have a lot of entries from the Machine Gun Corps who were stationed at Belton Park in Lincolnshire. And as the soldiers were traveling through, passing time, having a cup of tea and a slice of cake, they also wrote in the book. They wrote poems, lines of thanks, made sketches – there's an amazing sketch of Charlie Chaplin in there – some very chipper comments, some very sombre.
How many entries are we talking about?
There are 586 entries in total, but some are in the guest book twice because they signed on the way in and the way out. There are lots of army regiments, but also the Royal Navy and Merchant Navy, and we've even got a couple of policemen from Warwickshire. The Royal Flying Corps at that time was actually part of the army – the RAF didn't exist until 1918 – but we've got a lot of entries from the Royal Flying Corps as well. It gives quite an insight into the different levels of education; some are in beautiful copperplate handwriting, others have just signed themselves as 'a farm boy from Essex'. But there are entries written in Latin, in French, Irish Gaelic… There's a Belgian, two Australians – we've actually traced the daughter of one of them, who is still alive, and have been in touch with her – a South African and a couple of Canadians
This sounds like it could be a major resource…
Yes! All the names of the servicemen in the entries have been loaded onto the website with the brief details we have, but now we're starting to research into each story, and we'll be adding to it as we go along over the next 18 months to two years. What we want is for people to have a look, see if they recognise a name, and if they've got any information or photographs, for them to get in touch with us – but also to keep coming back and checking the website, or follow us on social media, because we'll continue to find out interesting things. There may be a family name you recognise there, but it can also tell you more generally about their lives, giving a real insight into servicemen's feelings and thoughts during that time.
So, this is a growing resource, to which people can contribute?
Absolutely, and we'll keep revisiting the entries and hopefully people will get in touch so that we can add more information. The whole idea is to try to find descendants, so they can actually see something tangible – where that person was and how they felt on that day. There are going to be school programmes as well, and educational materials and poetry workshops are being developed using the stories as a resource. We've got a touring exhibition featuring five panels with all the information on, and there'll be a big exhibition when the project ends in January 2018 (though the website will stay live after that date). That will take place at Peterborough Museum and will include creative writing, recorded performance, audio and digital projection. There's also a section on the website for historians who want to put up information relevant to Peterborough's history during the war, so we're very happy to hear from them too. It's really a social history project, trying to find out what happened to these men – what walks of life they were from, what was their story after the war, and finding descendants alive now. We've already been in contact with six descendants. We actually found the niece of one man when we launched, and when the story was covered the 92-year-old daughter also got in touch. The niece and daughter hadn't met, but now will thanks to the project.
What kinds of entries did those soldiers write?
Some are very optimistic, some very sombre. Some people just mirror what people have put before them, but then there are entries like that by Private Luke, in the Royal Army Medical Corps, who on 4 June 1916 writes a long poem about pain. Clearly he was very well educated, but it's very sad. Then there are entries like: 'Here's to the happiest days of my life, spent in the arms of another man's wife…' Then he adds: 'My mother'. That one's from Lowestoft But anyone can explore all these on the website. Clicking on the book brings up the transcribed text, which is often a bit easier to read. The words you read in this book reveal exactly how those people were feeling at that time. We're very lucky to have such a unique resource.
How has the project been realised?
It's the volunteers, really, who are driving this project. We've got 17 volunteers, and they're the ones who have transcribed all the books. The books were initially digitised, then transcribed, and every entry has been typed up twice – each by a different person, so we can check and come up with a definitive version. We still may have got some things wrong, because sometimes the handwriting is very difficult to read, but again that's where people can help, if they recognise a name where we have the initial or spelling wrong we'd like them to get in touch so we can update our information. Many of the volunteers are now doing the research into the men who wrote in the book, and others are working hard getting all the information onto the website and keeping it updated. They're doing an amazing job – a very committed bunch! We wouldn't have a project like this without them.
www.peterboroughww1.com
Leave a Reply