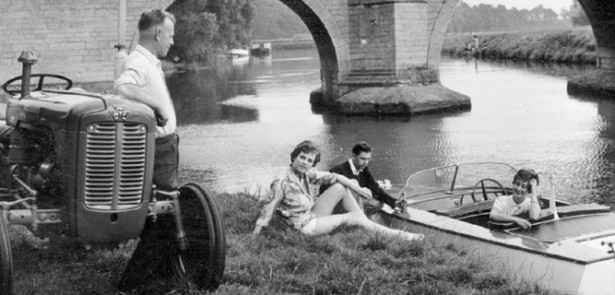 Perkins is one of Peterborough's greatest success stories; founded in the 1930s, it has just celebrated manufacture of its 20 millionth engine and still calls the city its home, despite its operations spreading across the globe. RICHARD GUNN meets some of the people associated with the company's past, present and future
Above the original main entrance of the sprawling Perkins Engine Company Limited plant in Eastfield is carved a motto; 'Where there is no vision, the people perish'. The saying, from the Bible, has become so closely associated with Frank Perkins, the founder and much-respected patrician of what was once regarded as an extended family just as much as a firm, that many think he coined it. His adopted motto is a creed that both the man and his company paid great heed to.
For, having passed its three-quarter century, one of Peterborough's best-known industrial concerns has done anything but perish. It has successfully survived the constantly changing world since its 1932 birth through a combination of innovation, determination, reputation and quality engineering to become a global leader in diesel engine technology. It's also a company that, although it has expanded, diversified and changed ownership, still resolutely regards Peterborough as home. However, despite having employed thousands of local people over the decades and beingwell-known within the area – for many, Peterborough and Perkins are inextricably linked – quite what Perkins now does, and has done in the past, is less recognised. There's a lot more to it than just bolting together diesel engines and having the bit of Peterborough's Parkway system that passes its main entrance christened after the man who started it all.
The story of Perkins begins primarily with two men; one famous – to Peterboroughians at least – the other less so, but still just as vital to the company's early success. Francis Arthur Perkins was born in 1889 in Peterborough, while Charles Wallace Chapman's birth was in Lancaster in1897. Francis – or Frank as he was better known– was part of a family of agricultural engineers, and educated at Rugby School and Emmanuel College, Cambridge, from where he emerged with an engineering degree. Charles got his equivalent from Liverpool University, interrupted by the First World War when heserved as a lieutenant in the navy. During the same conflict, Frank joined the army and rose to the rank of major.
Frank ran a farm in Hertfordshire briefly, before coming back to the family firm of Barford and Perkins in Peterborough. Eventually, that became part of the Agricultural and General Engineers (AGE) Group, leading Frank to become a director of its Aveling and Porter arm in Rochester, Kent. It was there he met Charles, who had come to AGE via Beardsmores and Vickers-Petters, where he'd learnt a great deal about diesel engines, back then still a fledgling technology.
Plans for Perkins almost ended the day they were agreed: driving to the railway station after talks, Charles and Frank were involved in a heavy collision that wrote off the car they were in…
The sprawling AGE conglomerate went bankrupt in 1932. Frank and Charles, now friends, discussed the future together and, fortunately dismissing an initial idea of buying a laundry in Sevenoaks, decided to explore the untapped possibilities of diesel engines for use in cars and small trucks. Up until this date, diesel engines had been large, low-revving monsters, mainly used for marine, railway and agricultural applications. The plan for what would eventually become Perkins was formed in March 1932 at Charles' house in Strood, Kent. And it almost ended the same day; driving back to the railway station after the talks, Charles and Frank were involved in a heavy collision with a lorry that wrote off the car they were in.
The early days of Perkins
With the old Barford and Perkins premises back at Queen Street in Peterborough (an area now vanished under the Queensgate Shopping Centre and bus station) vacant, the decision was taken to start the new company back in Frank's home city, where there was a rich… [cont]
Leave a Reply