Call the Mediaeval Midwife!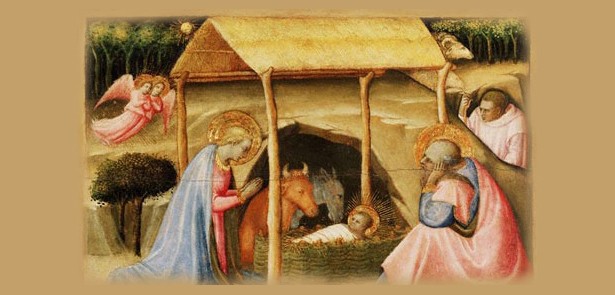 A grumpy Joseph, a heavily pregnant Mary, and a gaggle of sceptical midwives... On 4 July, Eastern Angles community performers present one of the east of England's own medieval mystery plays, Mary and the Midwives, directed by Tony Casement and performed in and around the porticos of the Cathedral West Front. Toby Venables talks to Eastern Angles director Ivan Cutting about the production
FIRST OF ALL, TELL US A BIT ABOUT THE PLAY…
It's the birth of Christ, with a rather grumpy Joseph, getting Mary to Bethlehem, finding a stable, and of course while she has an immaculate birth the animals are still making a bit of a noise… It's a nice story that everyone knows, but with a different take on it. It's sort of a warm up – a quick half-hour tryout, if you like with a view to hopefully doing a longer version in 2016 – being performed in front of the Cathedral, in the little porticos, with people watching whilst having picnics on the grass. And action may take place around them – who knows! Whether these plays happened in Peterborough during the medieval period, we have no idea, because we have no records from that period, but we're assuming that they did.
BUT THIS PLAY MAY WELL HAVE BEEN PERFORMED HERE CENTURIES AGO?
I think the important thing is, this is not just any old medieval mystery play. The ones that we tend to know about are associated with the north of England – the York, Wakefield and Chester mystery plays, which are all very much associated with pageant wagons and northern accents – but there is another cycle called the N-Town Plays (also called the Hegge Cycle and the Ludus Coventriae cycle), which consists of 42 plays. That really belongs to the east of England, so if any mystery play was done in Peterborough, it probably would have been from this cycle.
DO YOU WORK FROM AN ORIGINAL WRITTEN TEXT, OR IS IT A BIT LIKE PANTO, WHERE EVERYONE KNOWS THE STORY AND IT GETS ADAPTED YEAR AFTER YEAR?
As you can imagine, there are various versions. What is written down was probably done so a long time after the event or late on in the plays history. They cover a period from about 1350 to about 1550, but of course in the latter stages, with the arrival of the Reformation, when they were being written down, a lot of them were being performed as a protest against this new Protestant religion that was coming in. They're very much the stories of the old Catholic faith, with lots of imagery, and all the things that the boring old Reformation was against! It ranged between comic interludes and theological discussion, and was very much about telling people the stories. People didn't go home to read a Bible in those days, they came out onto the streets to watch the plays.
I LIKE THE IDEA OF A GRUMPY JOSEPH – I ALWAYS FELT A BIT SORRY FOR HIM…
It's like the famous episode of the Cherry Tree Carol, where Mary has this pregnant craving for cherries and asks Joseph to pick some for her, and he says; 'Why don't you get the bloke who picked your cherry to do it?'
HOW OLD IS THAT JOKE..?
Well, potentially, 700 years! It's a fascinating period, though, and especially when you get to the arrival of the Reformation. I think these plays probably flourished late on in that period, because as soon as you tell people that they have to stop doing something that's just when they insist they always loved it and want to carry on doing it! The other thing is, people think of it as this rather bleak period between Chaucer and Shakespeare in which nothing much happened, but it's becoming apparent that the east of England was the centre of a lot of dramatic development, with morality plays and interludes. The east was alive with this stuff. We've rather forgotten about it, so there's a whole part of our heritage that we tend to miss out on.
HOW MANY CAST MEMBERS CAN WE EXPECT?
We don't know yet! We've just put out a call for this, and they're coming along to try out. Just like River Lane and Dark Earth, it's a chance for community performers to strut their stuff in front of the Cathedral.
MARY AND THE MIDWIVES Peterborough Cathedral Saturday 4 July, at 12.30, 2.30 and 4.30 All performances are free.
Leave a Reply