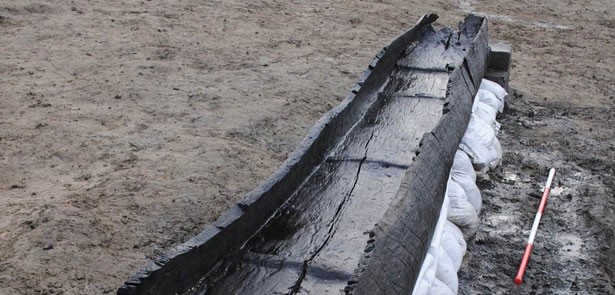 Eight Bronze Age boats found near Whittlesey have recently gone on public display as part of their conservation at Flag Fen. Archaeologist and author Francis Pryor, his wife and prehistoric woodworking specialist Maisie Taylor, and Cambridge Archaeological Unit senior project officer Mark Knight talk to RICHARD GUNN about the significance of these amazing finds
'I can't imagine anybody not wanting to go and see these boats. It would be every bit as bad as living in Peterborough and not going to see the cathedral…'
Francis Pryor, known to millions from Channel 4's Time Team, and locally renowned as the man who discovered Flag Fen, is in no doubt about the importance of the historical find. Eight remarkably preserved and very rare log boats, dating back around 3,500 years and discovered back in 2011 in a brick quarry at Must Farm near Whittlesey, were moved to a specially constructed refrigerated unit at Flag Fen. The relocation is part of their conservation process, but it also provides the public with the opportunity to see the boats – which made international news headlines – in a setting with which they are inextricably linked.
Flag Fen and Must Farm are all part of the same Bronze Age landscape, once lost but slowly being rediscovered. And, in Francis's view, not only are the boats 'in the top half-dozen post-war archaeological discoveries in Britain and perhaps even Europe,' but they're also as essential a part of telling the long and complex story of the city as the cathedral itself.
The Must Farm boats are the latest in a long list of finds that have made this part of the world one of the most fascinating for UK archaeologists. Francis began his own excavations around the area in 1971, discovering Flag Fen in 1982, but also revealing the oldest field system in England along the way, along with farms, settlements and artefacts.
This was the landscape that provided the wealth for people living along the edge of the Fens. What's now clear is that from about 3000BC to about 1500BC, this was one of the most prosperous areas in prehistoric Britain. The population in the Peterborough area would have been thousands, not hundreds, with tens of thousands of sheep and cattle.
But from around 2000BC, the lower-lying parts of the landscape began to flood as sea levels rose.
'What we always imagined is that as the landscape flooded,' explains Francis. 'It had an adverse effect on the economy. But it seems that these people were rather more intelligent than we archaeologists gave them credit for in the 1970s and actually adapted and made a go of it. One of the things you've got at Must Farm is what  we'd call today a commercial fishery; a huge number of weirs and fish traps. They must have been taking fish out in industrial quantities. The boats were part of this process.
'Must Farm and Flag Fen were formed about 1300BC, as things got even wetter. But the communities still seemed to be flourishing, with evidence of regular trade with Europe. It's a possibility that some of the boats found were used as transport for commerce items, as well as fishing and hunting of water birds.'
A LOST ENVIRONMENT
Fast-forward several thousand years and the Must Farm location now forms part of the Hanson UK brickworks site, near Whittlesey. With open-cast clay extraction uncovering new areas of the course of the old River Nene, the Archaeological Unit of Cambridge University were invited to carry out excavations, investigating what was in the silt deposited by rising water levels that has proved so good at preserving items. What they gradually uncovered was a lost environment of fish and eel traps, weirs, weapons, tools, pottery and other paraphernalia of Bronze Age living, all in the places they had been left millennia before. But the biggest and most astonishing objects of all were the eight boats, dating from around 1500BC to 700BC.
Mark Knight, one of Britain's leading prehistoric and wetland field archaeologists and a member of Cambridge Archaeological Unit, was one of those who found the boats. He has been involved with digs in the area since 1995 and feels it offers unique opportunities.
'Most landscapes have about 30 centimetres of cover,' he says. 'Here though, there are six metres of deposits. Even if you dig a lot of test holes, you probably wouldn't find anything. However, the extraction of the clay allows us to get much lower. For the first time we've been able to excavate deeply buried historic sites; all the things that Francis Pryor must have dreamed of when he was working on Flag Fen. I can't think of another archaeological site that has this set of circumstances. The benefit of going so deep is that agriculture or other changes on the surface haven't disturbed the items. Plus this is a landscape nobody builds on anyway.'
The team were able  to target areas that they felt would be particularly interesting thanks to tracking the peculiar Fenland landscape feature of a roddon – the dried, raised bed of an old watercourse – indicating one of the old courses of the River Nene.
Francis became aware of the finds when his wife, Maisie Taylor, a specialist in prehistoric woodworking technology, was called in.
'The thing that's really striking about them is that they're all completely different,' Maisie explains. 'That's so amazing. You'd think they'd all be vaguely the same, but they're not in the slightest. They've also been heavily repaired, with bungs which vary from being unbelievably ad hoc to really carefully-shaped ones. There's also a repair where the boat has split and almost literally been sewn back together again. It's all been pretty amazing; it was exciting when we found one boat but absolutely extraordinary to find eight. And it's quite handy it all happened on our doorstep, too.'
Some of the boats still show the cutmarks from when they were constructed, and there's also evidence of decoration. Other elaborate features include grooves for transom boards – one of which was found nearby – as well as lifting handles and even depth gauge holes.
'The technology of the boats is extraordinary. These are working boats, not religious offerings or anything like that. They are very well-made, and it can lead one to believe that there was a specialist trade of boatbuilder. A big problem that we archaeologists suffer from is that the public-at-large believe the people in the Bronze Age were primitive. But they weren't. We wouldn't have survived five seconds because we wouldn't have had anything like their knowledge and expertise. In many ways they were at the same stage of technological evolution as those in the Middle Ages. And nobody says that the people who built Peterborough Cathedral were crude,' contemplates Francis.
Despite the fragile nature of the finds, they were initially uncovered by mechanical excavators – what most people would imagine as a very blunt instrument for such delicate work, even if they are being directed by archaeologists.
However, as Francis points out, 'Those machine drivers deserve an enormous pat on the back, it was superb work. That said, a good driver should be able to pick up a raw egg.'
After this, the boats were painstakingly unearthed by hand over many months and through many different types of weather, with the diggers becoming so attached to what they were gently revealing that each boat was christened with its own affectionate nickname.
'There was no blueprint for this, recalls Mark. 'You're just learning new skills all the time.' In all, 150 metres of the old river was exhumed. What Mark refers to as the 'soft, friendly deposits that encased and entombed the items' ensured that they were still in remarkable condition given their age and also gave a real sense of stepping back thousands of years  to how Must Farm used to be during the Bronze Age.
'There was something intact about that world,' continues Mark. 'It was almost as if we didn't find the boats, but just came across them and you half-felt the people who owned them were going to tap you on the shoulder. Yet here we were besides a brickworks and the McCain factory. It was the last place you'd expect to find these. They are stunning; each one was just another shock in terms of preservation. And boats have never been found in this sort of context before, alongside water traps'
Leave a Reply