Elf portrait! Interview with a Christmas elf…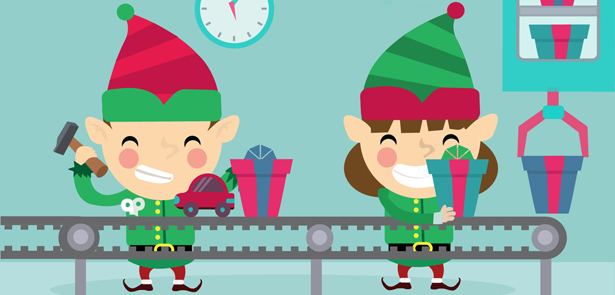 Elves are very busy at this time of year making sure everything is ready for Christmas, and can be a little shy, but at Vivacity's Peterborough Museum we managed to catch up with Frosty Rosycheeks, one of Santa's most hardworking elves, for a rare, exclusive interview
Frosty, everyone looks very busy – what's going on?
As Santa will be busy this festive season travelling around libraries for 'Stories with Santa', all of the final preparations and jobs have been left to us elves! We are hoping to enrol some honorary elves to help us at The Enchanted Christmas Museum where we have set up our workshop.
Have you met the reindeer?
Of course! I help brush their fur, I clean their stables and, most importantly, I make sure Blitzen doesn't eat all of the other reindeers' food. This year we are looking for children who can help us prepare the reindeer food so that Rudolph and his team have plenty of strength and energy to pull Santa's sleigh across the sky and all over the world!
What's your favourite thing about working in Santa's workshop?
When Mrs Claus has been making her special festive hot chocolate in the Victorian Kitchen, and all of us elves get to try some! I heard her say she might let the lucky children who visit the museum know her secret recipe and make some to take home themselves this year!
What are you making in the elf workshop at the museum this year?
Well, I overheard Santa saying that his Christmas wish this year is that every little boy and girl has a new favourite book for the coming year. So I started making reindeer bookmarks that will help his wish come true… but I really could do with some good little helpers to make lots more!
We've heard about the elf workshop, and Mrs Claus' kitchen but will there be any other places for people to explore at The Enchanted Christmas Museum?
Lots more! One of my favourite things is that Twinkle Cinnamon, one of the cleverest of all the elves, loves telling magical Christmas stories. Her favourite place at the Museum is the old fireplace, especially when it's hung with Christmas stockings. It's not to be missed!
And don't miss… Stories with Santa! 10 December, 11am Central Library Santa will be at Central Library for a special storytime session this December. Hear some Christmas stories, try your hand at a Christmas craft and meet the man himself! ● £5 per child (includes a gift), book at any library.
Help the elves!
It certainly sounds like there is a lot to do for the elves at 'The Enchanted Christmas Museum' this year. They'll be looking for any helpful boys and girls to join them as honorary elves for the day to make sure everything is ready for Santa Claus come Christmas Eve. The Enchanted Christmas Museum will be coming to Peterborough Museum for two days only. Drop in on Sat 17 Dec and Thurs 22 Dec 10am – 5pm (last entry 4pm) to join in the festive fun! Admission prices apply.
● For more details, visit vivacity-peterborough.com/EnchantedChristmas
Image: www.freepik.com/free-vector/christmas-elfs-working
Leave a Reply