DIRECTOR OF THE PETERBOROUGH CULTURAL ALLIANCE (Up to £60,000 p.a. for the right candidate)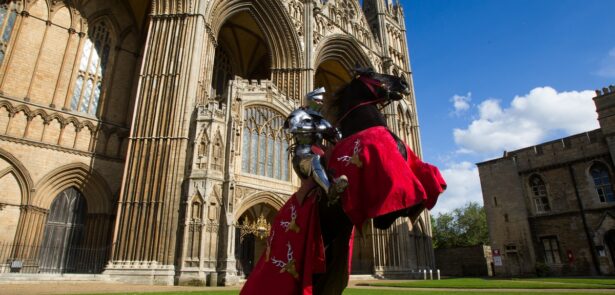 PETERBOROUGH CULTURAL ALLIANCE SEEKS CULTURAL CHAMPION TO FILL NEW LEADING ROLE
By 2030 our aim is for a city transformed, offering an abundant cultural scene renowned for its connections, vibrancy and reach. And Peterborough is no empty canvas: the population of the city skews younger than the national average and is richly diverse; world-renowned heritage hot-spots such as Must Farm, Flag Fen and the Cathedral sit alongside grassroots initiatives like our Lithuanian film club and performance-poetry festival. There's so much to work with, and so many good people to work alongside.
You are:
A person with a deep and passionate love of the arts, and a demonstrable understanding of various arts sectors and the way they work.
Someone able to work across a wide range of communities, practitioners, organisations and individuals.
A credible ambassador and broker for culture and heritage, both within and beyond the area.
Able to build a genuinely connected and innovative organisation that can help us reach Peterborough's amazing potential.
You will:

Work with partners, stakeholders, practitioners and audiences to deliver the new cultural strategy for Peterborough. This strategy has been developed after a long consultation and is focused on making real, lasting improvements in a place that is a high priority for government, funders and partners in all sectors.
Build collaboration and connections, create and develop partnerships that foster great cultural practise, encourage careers in the sector, and build bigger audiences.
This is a unique opportunity to make a real change in the cultural lives of our residents and visitors, and to foster a stronger economy for everyone.
We are:

Committed to championing diversity in all its forms, particularly those who are underrepresented in the arts.
Welcoming of the unique contributions that partners, staff and artists from all walks of life can bring in terms of their education, culture, ethnicity, race, sex, gender identity and expression, nation of origin, age, languages spoken, religion, disability, sexual orientation, and personal beliefs and opinions.
For an informal discussion please contact:
Sarah Tanburn at or on 07771 945945
Kate Hall (co-Chair) at or on 07813 840151
For further information, visit www.peterboroughculturalstrategy.org.uk
CLOSING DATE FOR APPLICATIONS: MIDDAY, 11 APRIL 2023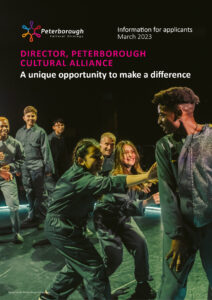 CLICK HERE FOR RECRUITMENT PACK
Leave a Reply