Cromwell's controversial cookbook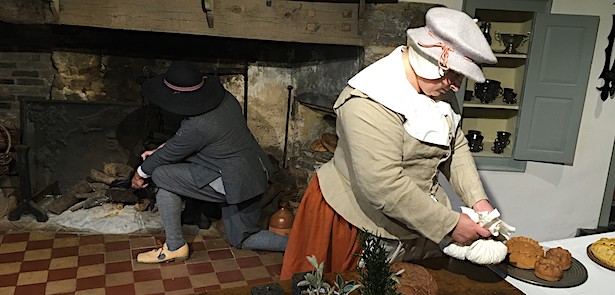 Words: Stuart Orme, Curator & Museum Manager, The Cromwell Museum, Huntingdon
On display in the Cromwell Museum in Huntingdon is a small, unassuming looking book; a leather bound volume with aged printed pages, the title of which proclaims it to be "The Court and Kitchen of Elizabeth, Commonly Called Joan Cromwell, the Wife of the Late Usurper." The appearance of the book belies its significance as one of the strangest cookery books ever published; it claims to contain the personal recipes collected by Oliver Cromwell's wife Elizabeth. These are bound in a volume together with an extended introduction composed of essays condemning the Cromwellian regime in general, the evils of its court and targeting Elizabeth in particular; but then with 102 recipes collated together for dishes that might have been common in the mid-1600s.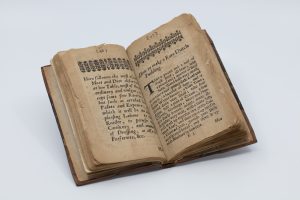 Royalist Propaganda?
Published in 1664 under the restored Charles II, on first sight the book seems to be a piece of Royalist propaganda. Thetitle applied the name "Joan" to Elizabeth Cromwell not because she was known by this, but to be demeaning as it was a name often associated with common prostitutes.
Another route employed by the book was to portray Elizabeth as a parsimonious housekeeper "a hundred times fitter for a barn than a palace". There is a deeper meaning to this; by saying that she was not able to run an efficient household it implied that her husband would be unable to run the country. The recipes included Fenland ingredients like eels, thus adding to the rather snobbish implication that the Cromwells were far too ordinary and therefore unsuited to rule.
The volume can be seen as part of the proliferation of printed propaganda materials that had developed during and after the Civil War. Before then there had been strict government regulation and censorship of any printed materials, but once war broke out this control disappeared. In 1642 more printed material was published than had been in the preceding 165 years since the printing press arrived in England.
After the Restoration in 1660 printed materials proliferated to denigrate the Cromwellian regime and promote the restored monarchy's legitimacy, of which this book is a clear example.
What does it tell us about Elizabeth Cromwell?
Despite her importance in Cromwell's story, there are large gaps in what we know about his wife Elizabeth. We know that she was born as Elizabeth Bourchier in 1598, the eldest of twelve children (nine sons and three daughters) of Sir James Bourchier and his wife Frances. Sir James had inherited land and property from his father before becoming a successful businessman in his own right in the London fur and leather trades.
Elizabeth's own life is something of a mystery until her marriage to Oliver Cromwell in 1620. How the couple met is unknown, although there are several possibilities. For example, Sir James Bourchier was knighted at the same time as Sir Oliver Cromwell, Oliver's uncle and godfather, at King James I's coronation.
By whatever means Oliver Cromwell and Elizabeth Bourchier met, they were married at St Giles Church, Cripplegate on 20 August 1620. The Cromwells seem to have been a devoted family, despite the ups and downs of their fortunes – until an inheritance in 1636, including a substantial house in Ely, provided for them comfortably. That house survives and is
open to the public as Oliver Cromwell's House, including a lovely kitchen which has barely changed from that time. It is interesting to speculate whether any of the recipes within the "Court and Kitchen" were prepared in that space.
The couple had 9 children; one, James, died in infancy, whilst their two oldest sons Robert and Oliver after barely reaching manhood. Whilst these changes and losses must have put a strain on their relationship, there is no suggestion that either of the Cromwells strayed from the marriage bed, and judging by their few surviving letters to each other they had developed a deep affection. Cromwell wrote to Elizabeth while on campaign in Scotland in 1650, telling her:
"Thou art dearer to me than any creature; let that suffice… The Lord bless all thy good counsel and example to all those about thee, and hear all thy prayers, and accept thee always."
Elizabeth responded:
"Truly my life is but half a life in your absence…"
During the Civil War, and Cromwell's resulting rise to prominence, the family seem to have spent an increasing time in London. The introduction to the "Court and Kitchen" suggests that their residence became a hotbed of political activity, and that:
"…her House was in this respect a political or State Exchange by which the Affairs of the Kingdom were governed, and the prizes of all things set, whether Offices, preferments, Indemnity; as all other manner of Collusion and Deceits were practised, and money stirring nowhere else…"
At Cromwell's death in 1658 she was well provided for, with an annuity and lodgings in St James'. The Restoration in 1660 left her position more uncertain and she left London. Newsbooks accused her of trying to remove royal property – an accusation she strenuously denied, and petitioned Charles II, professing obedience to the new regime and requesting that: "after the many sorrows wherewith it hath pleased the all wise God to exercise' her, she might be allowed 'a safe retirement… now in her old age".
Elizabeth was able to retire quietly at Northborough Manor, on the north side of Peterborough. She died in November 1665, and was buried in the local church.
17th Century Cookery Books
Despite its status as a propaganda tool, the "Court and Kitchen" was far from unique in being a cookery book published in the 1600s. "The Queen's Closet Opened" from 1665 allegedly took recipes and remedies from the exiled QueenMother, Henrietta Maria, who had been unpopular in England before the Civil Wars for being both French and Roman Catholic. The volume, almost certainly written by her private secretary Walter Montagu, was a means of reinventing the Queen's image as the 'mother of the nation' by showing her domestic competence, thus making her more relatable, but was also the 17th century equivalent of a celebrity royal exposé.
These books were part of a growing trend for domestic manuals and cookery books, fuelled by increased literacy, more cost-effective printing, and an expanding affluent middle class. In 1615 Gervase Markham had published "The English Housewife", a compendium of household advice and the Mrs Beeton of its day. Robert May, the mid-17th century equivalent of a celebrity chef, published what is arguably the first "modern" cookery book in 1660, "The Accomplish't Cook", which is organised into specific and logical sections as opposed to be being a collection of recipes in no particular order. Critics have often decried the "Court and Kitchen" for having no logical order to it, but this was the norm for this period. The other oft-quoted cookery book from this period was the "Closet Opened" of Sir Kenelm Digby, published in 1669, a collection of recipes which is arguably the first "foodie's cookbook".
The recipes in the 'Court and Kitchen' are consistent with other cookery books of the period in that they only contain the "method" (in modern terms) part of the recipe; no ingredients list or cooking time is included. This was normal, as ingredients would need to be more flexible depending on what was available regionally or seasonally, given the limitations of food preservation in this period. Cooking times would also therefore vary, not least depending on the facilities available in each household, generally using an open fire to cook or roast over.
Food and Dining in the1600s
Generally, most people would consume three meals per day, if they could afford it: Breakfast, Dinner and Supper. Of these, breakfast and supper would usually be light meals of a single course at each end of the day, whilst the main meal would be consumed around 12noon – 2pm, depending on the season. This might consist of two or more courses, each of which would contain several dishes. There was not the distinction at this time of sweet and savoury tastes, and these might be mixed in courses or even dishes. Cutlery was becoming recognisable to that used today; by the 1600s the fork was being widely used by the English, having resisted its use for centuries as it was widely believed to be a French invention.
Ingredients varied regionally and seasonally, although certain items could be dried, salted, or pickled to aid preservation. Certain ingredients that we might think of as being expensive today were regarded as commonplace, even peasant food, such as salmon and oysters. Although potatoes were known in England they were not widely eaten; bread was still regarded as the staple. Spices were widely used in many recipes – not, as the common misconception has it, to take away the taste of poorly preserved food, but to add different tastes and as a symbol of status. Cooking tended to be done by pot cooking over an open fire ("pottage"), roasting on a spit, or baking in a brick oven for pies, pastries, and bread. Whilst cooking at home was deemed to be the province of womenfolk, the housewife or female servants, professional cooks in great households or eating establishments tended to be exclusively men.
Conclusions
A key question that most visitors to the Cromwell Museum who look at the book ask is "did the Cromwell family really use these recipes"? It is impossible to know for sure, and many writers have dismissed the volume. On the other hand, there are small personal details in the book which are consistent and credible with what we know about the Cromwell family, and the recipes fit with a family of their social background; the "middling sort" recipes available in the mid-1600s.
Personally, I am inclined to think that at least some of these dishes were enjoyed by the Cromwell family themselves, although in one sense it does not matter whether they did or did not. This book is still a fascinating window into the culinary tastes, print culture and politics of one of the most tumultuous and fascinating periods in our history.
Court and Kitchen is available via the Museum's online shop at www.cromwellmuseum.org
Photos by Stuart Orme; Models courtesy of the Sealed Knot; photographed at Cromwell's House, Ely
Leave a Reply