Could you make a pomegranate fit for a queen?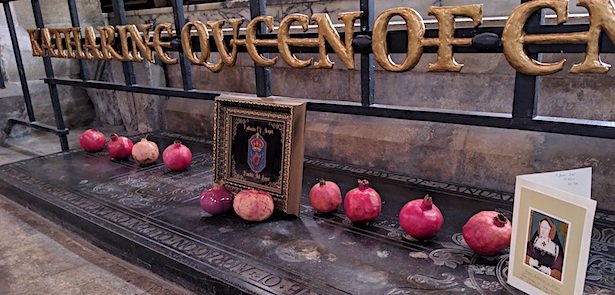 Peterborough Cathedral is challenging children - and adults too - to get involved in a craft project at home, as a way of paying their respects to Katharine of Aragon whose anniversary falls this Friday, 29th January.
The pomegranate is Queen Katharine's special symbol and people often leave them on her tomb in Peterborough Cathedral as a tribute to her. As it is not possible to visit Katharine's tomb at present due to lockdown, people are invited to share pictures of their home-made pomegranates on social media using #pom21, and tagging in the Cathedral's social media accounts on Facebook @PeterboroughCathedral, Twitter @pborocathedral or Instagram @peterborough_cathedral.
A short video gives instructions on how to make your pomegranate, and there is also a little video in which a re-enactor playing 'Old Scarlett', the Tudor gravedigger, tells you more about Katharine and shows you where her tomb is inside the Cathedral.
Children could win a prize!
A prize of art materials is being offered for the best entry from children under 16 years of age. To enter, pictures must be received via social media, or via email to , by 9.00am on Monday 1st February 2021.
Full details, with links to the videos and to the template you will need to make your pomegranate, are on the Cathedral's website here: www.peterborough-cathedral.org.uk/newsarticle.aspx/41/pomegranate

Leave a Reply