Cathedral Highlights Tours start again this weekend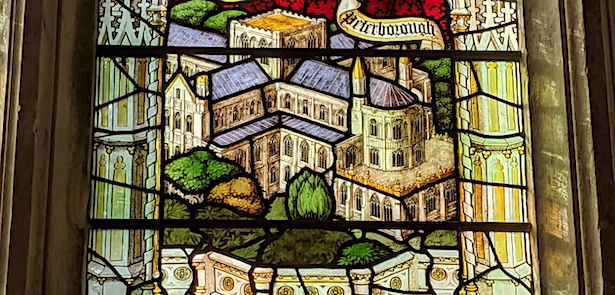 After a gap of nearly seven months, Peterborough Cathedral is starting up its guided tours again this weekend, Friday 2nd to Sunday 4th October, and plan to continue at weekends in coming months.
The Highlights Tours take visitors around the Cathedral in the company of a knowledgeable guide who can share some of the wonderful stories from its many centuries of history.
Peterborough Cathedral, which was an Abbey until 1541, has long been at the centre of national and international events. It was an important medieval monastery and is a royal burial place; it has survived Civil War destruction, and then been through a time of restoration and rediscovery of its Anglo-Saxon roots in the 19th century.
The tours have been carefully planned to ensure that they comply with current COVID-19 guidelines. To maintain social distancing there is a limit of just six people on each tour, so it is advisable to arrive in plenty of time. The tour times will usually be 11.00am and 2.00pm on Fridays and Saturdays (with the exception of Saturday 3rd October when there is no 11.00am tour), and 1.00pm on Sundays. The plan is that the tours continue to run at these times on Fridays, Saturdays and Sundays in the coming months.
For many of the team of volunteer guides it has been a long wait for the tours to start up again. Stephen Dodding, who will be leading one of the first tours back, said:
"I can't wait to get started again. We're certainly living in a different world now but it will still be marvellous to meet people from Peterborough and farther afield once again through these socially distanced tours. With its wealth of history there can be no better place to put the world's current woes into perspective and to demonstrate that all things pass. I look forward to giving everyone a very warm welcome back."
Lesley Hull, who trained as a guide last winter, said:
"I had barely finished my training course as a volunteer guide when lockdown began, so I have been waiting a long time to lead my first tour. I'm a little apprehensive, but also very excited to share this amazing building with our visitors."
Places on the Highlights Tour are £5 per person, payable by contactless card on arrival. It is not necessary to book but anyone wishing to make sure of a place is invited to email two days in advance of the date they plan to attend. Given enough notice, it is also possible to book a private tour at a different date and time (minimum charge applies).
It is hoped that the ever-popular Tower Tours will be running daily during October half term.
For full details please visit the Cathedral website at https://www.peterborough-cathedral.org.uk/143/section.aspx/142/highlights_tours or call 01733 355315 during office hours.
Leave a Reply