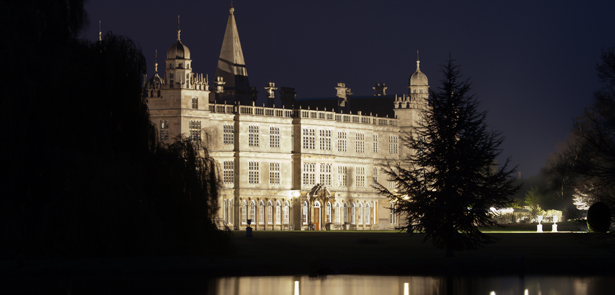 Turn back the clock for a grand night out in stately surroundings...
Music, merriment and magical lighting… Lincolnshire's Burghley House will once again be turning the clock back to a golden age of entertainment this autumn, offering visitors a chance to explore a grand historic house at twilight.
Great houses like Burghley, on the edge of the Georgian stone town of Stamford, were designed for entertaining, and since being built by William Cecil, Queen Elizabeth I's most trusted adviser, Burghley has hosted sparkling evenings of entertainment from supper parties to balls. And this October, visitors will be able to experience their very own grand night out in stately surroundings.
Burghley at Twilight, which runs from 3-6 October, aims to build on the success of last year's inaugural event with a magical mix of music and lights. The House will be bathed in floodlight and the state rooms romantically illuminated by candlelight.
Visitors will be serenaded by musicians as they turn back time and become evening guests to explore England's greatest Elizabethan house as darkness falls. This year there will be more focus on music, including handbell ringers in the Old Kitchen, a traditional square piano being played in the chapel, plus a serenading choir, together with violin and harp music.
Also new will be Elizabethan minstrel Dante Ferrara, a multi-instrumentalist and singer who will be adding yet more music and merriment to this four-day special event. Dante specialises in music, song and entertainment of renaissance Europe and his instruments are faithful copies of originals.
Because Burghley House closes at 5pm during the season, Burghley at Twilight offers a rare opportunity to see the State Rooms as twilight melds with candlelight, providing a completely new perspective on one of England's grandest houses.
Each evening begins with a glass of sparkling wine in the Old Kitchen followed by a self-guided free-flow walk through through the candlelit State Rooms.
Burghley at Twilight will open from 6pm to 8pm each night. Tickets cost £20 per person, which includes the glass of sparkling wine. During the event the Orangery Restaurant will also be open, serving a set menu, and the Burghley shop will open especially too.
Burghley at Twilight
3-6 October
For full details and to book online tickets visit www.burghley.co.uk or phone 01780 752451.
Leave a Reply