Bumper autumn at Burghley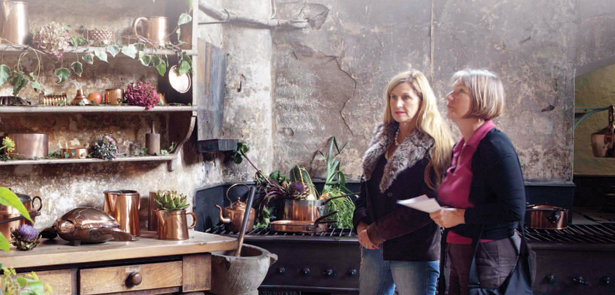 From floral tributes celebrating the Queen's 90th birthday year to pumpkin fun and spooky tours by torchlight, autumn is set to go with a real bump at England's greatest Elizabethan house
A blaze of golden leaves around the sweeping parkland provide the colourful backdrop to Lincolnshire's Burghley House, which also boasts floral treats within the magnificent house itself each October, while the popular Spooky Tours and the Burghley Pumpkin Trail make a return too.
Burghley Flower Festival
Launching the autumn season, the annual Burghley Flower Festival sees the spectacular State Rooms of Burghley transformed with displays, offering a new perspective on the Elizabethan house – and for 2016 it will have a royal theme. Each room will inspire floral arrangements with societies creating displays under the heading of the Royal Households of Europe, in celebration of the Queen's 90th birthday. This year will also see the return of the Leicestershire Society of Botanical Illustrators, whose artworks will be displayed in the Great Hall. Burghley Flower Festival, which is on display every day from 1-9 October (apart from Friday, 7th October when the House is closed), is included with a House and Garden, or House only ticket.
Burghley Pumpkin Trail
Once again the popular Burghley Pumpkin Trail (15-30 October) will offer a whole feast of pumpkin fun for families. Tread through the crispy autumn leaves and find the hidden pumpkins to receive a treat. Children will be encouraged to come in fancy dress while seasonal treats will also be in store in the Orangery restaurant, as well as the Garden Cafe. Open daily from 11am to 5pm (last admission at 4.30pm). Free with a House and Gardens, or Gardens only ticket.
Burghley's Spooky Tours
And from 17-31 October, Burghley's Spooky Tours are back, offering a chance to journey by flickering torchlight into the creepy cellars to explore the forbidding outbuildings and centuries-old cloisters, unearthing Burghley's secret history. The special tours take visitors around some of the less visited areas of Burghley to reveal their spooky stories with the help of local ghost expert Martin Tempest. The tours are designed to be scary, but fun, and although not recommended for children under 11, Burghley leave it up to parents to decide, as they know their children best! Places are limited and usually sell out fast, so the advice is to book early. Spooky Tour tickets are on sale now.
Autumn at Burghley
For more details about all the events and for online bookable tickets, visit www.burghley.co.uk or telephone 01780 752451.
Leave a Reply