Yule bonfire festive event to mark reopening of Flag Fen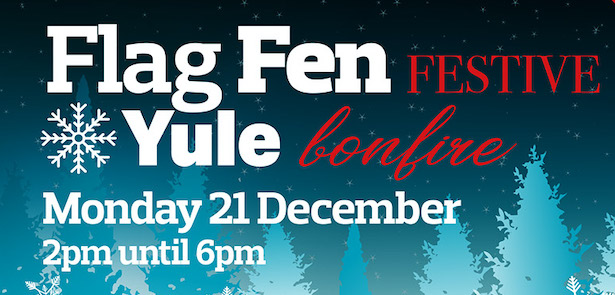 Families are being invited to book their place for a festive celebration to mark the reopening of Flag Fen on Monday 21 December 2020, from 2pm until 6pm.
Organised by City Culture Peterborough, the ticketed event will provide an opportunity for visitors to enjoy the city's world-famous bronze age attraction, which has been closed since March as a result of the Covid-19 pandemic.
Children will see Flag Fen transformed into a unique festive landscape with socially distanced outdoor opportunities for seasonal fun that will include an illuminated Christmas trail, storytelling, yule tree decorating and a gift from Father Christmas who will be making a special appearance in the Round House.
The archaeologist who discovered Flag Fen in 1982, Francis Pryor, will be lighting up the night sky with a bonfire at twilight, which will be followed by a carol singing performance by Peterborough Sings.
Looking forward to the event, Francis said: "Our ancestors once celebrated the winter solstice – the shortest day of the year – and it's fitting that we can also have this celebration on the same day.
"Marking the passage of time was important to prehistoric people and they were in tune with the changing of the seasons. As the days grew shorter and colder, they too longed for the return of the light and warmth, which is symbolised by our lighting of a bonfire."
Councillor Steve Allen, cabinet member for culture and recreation at Peterborough City Council, said: "The team at City Culture Peterborough has worked hard to safely prepare Flag Fen for its reopening. The same attention to detail has been given to ensure the festive event will be managed in a Covid-19 safe environment with all necessary public health procedures put in place.
"We recognise how important it is for our wellbeing to be able to enjoy outside open spaces and it is a welcome boost that we can celebrate and feel safe at the same time."
Light, hot and cold refreshments will be available and can be ordered in advance on entry.
It is a ticket only event and £10 per family. Spaces are limited to ensure safety.
To book, please visit https://www.eventbrite.co.uk/e/yule-bonfire-festive-event-tickets-131057068219
Visitors to the event should wear a face covering unless medically exempt and are encouraged to wrap up warm and remember to socially distance.
Please note that dogs will not be allowed to this event (except guide dogs).
Flag Fen will be free to enter until the end of January and due to Covid-19 restrictions the indoor collection hall will remain closed.
For more information, please email or telephone: 01733 864663.
Leave a Reply