Win a year of free theatre!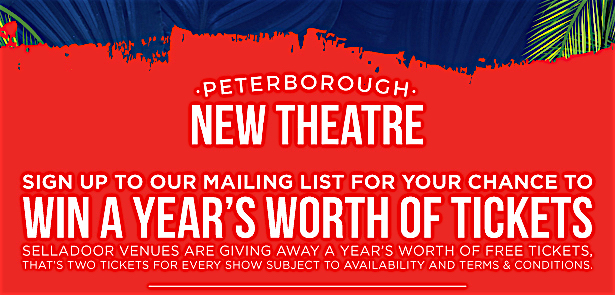 Calling all Theatre fans…. in celebration of its launch in September The Peterborough New Theatre is giving one lucky winner the chance to win a years' worth of theatre tickets. That's two tickets every week from September 2019 to September 2020!
The winner can indulge in what is set to be an eventful series of theatre programming from family fun entertainment such as Madagascar The Musical and pantomime The Wizard of Oz to the adult humour of Avenue Q and much more.. free!
Winners will be selected at random from all subscribers on 31 August to be announced as the venue opens its doors on 01 September.
The launch marks the handover of the keys to Selladoor, as they take over the operation of the venue ushering in a new age for the much- loved theatre, based right in the heart of the city.
To enter the competition all you have to do is sign up to the Peterborough New Theatre's mailing list by visiting https://www.newtheatre-peterborough.com/ – simple as that (Terms and conditions apply)
---
ABOUT NEW THEATRE PETERBOROUGH
The theatre was originally built for Odeon Theatres Ltd, as a single screen cinema with seating for 1,752 people. The cinema was designed by Harry Weedon and opened in September 1937.
The Odeon was a successful cinema for nearly 50 years until it finally closed in November 1991 when a new multiplex opened in the town. The cinema then stood empty until 1997 when Peter Boizot MBE bought the building and some adjoining land for a scheme, which included a restaurant and art gallery, and the conversion of the former cinema into a theatre.
The theatre changed hands in 2004, but was closed after a break in and a major fire in 2009, which damaged the stage and part of the stalls. The theatre was later reopened in 2011 for a short while by Stage Live who had repaired and renovated the building in the later part of the previous year, but sadly the theatre was soon forced to close again. The theatre then remained mostly dark, until 2013 when Bill Kenwright LTD staged two successful seasons at the theatre.
Despite failed plans in 2016 to redevelop the site and turn the theatre into luxury apartments, the theatre will finally re-open as the Peterborough New Theatre from September 2019.
Peterborough New Theatre
46 Broadway, Peterborough, PE1 1RS
Box Office: 01733 852 992
www.newtheatre-peterborough.com
Facebook/Twitter/Instagram: @PboroTheatre
Leave a Reply