Voodoo Room – a night of Hendrix, Clapton and Cream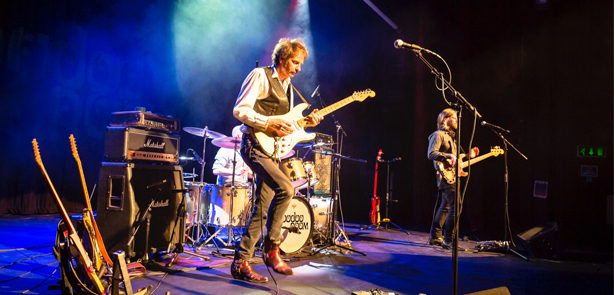 No wigs, no pantomime - just great music played by great musicians!
Celebrating the incredible music of Jimi Hendrix, Eric Clapton & Cream, Voodoo Room are a stunning high energy 'Power Trio' featuring some of the UK's finest musicians The band's members have recorded and toured with Stevie Winwood, Massive Attack, Arthur Brown, Fish, Thunder and many other high profile artists.
Just like their forebears, Voodoo Room are a classic three-piece. First up is journey-man guitarist, Peter Orr. He has been thrilling audiences throughout the UK and Europe for nearly three decades, mashing up classic riff-based rock anthems with the energy and style evocative of their time. His jaw-dropping solos and epic vocal stylings, have wowed all those lucky enough to experience this virtuoso – as well as injecting new life into the classics. The Engine Room of this power trio is the stunning rhythm section of Jevon Beaumont and John Tonks.
Their superlative credentials include: Massive Attack, Duran Duran, Sting, Thunder, Bryan Adams, Fish, Stevie Winwood, Arthur Brown (this list goes ever on…) – not to mention Jack Bruce and Eric Clapton himself! Together they form the mighty, retro, rocking machine that is Voodoo Room – their mission: to deliver the all time great Hendrix, Clapton and Cream numbers, with the true passion and energy worthy of these true masterpieces! Songs featured
Include Hendrix classics such as: Foxy Lady, Little Wing, Purple Haze, Hey Joe; Cream classics such as: Sunshine Of Your Love, I Feel Free, White Room, Badge; Clapton classics such as: Cocaine, Layla, After Midnight. This show is beyond any tribute – its a celebration of pure power trio class. So don't miss the opportunity to experience the thrill of this musical ride as it was back then. Experience the magic with Voodoo Room!
● Voodoo Room Key Theatre, 19 Sept 7.30pm
www.voodoo-room.com
Leave a Reply