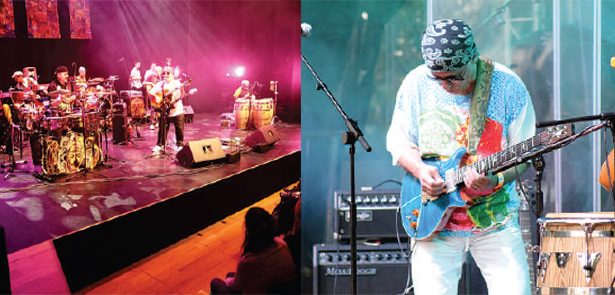 This phenomenal six-piece Latin rock explosion continues to amaze fans with their celebration of the music of the legendary Carlos Santana
Over the past nineteen years Viva Santana have played to full houses as diverse as the prestigious London Guitar Show, Wembley, to theatres and rock festivals in the UK, Europe and even Cuba where soloist Marcos Rodriguez' performance was described as 'a musical bridge between Cuba and Spain'. Created in the spring of the Millennium year by inspirational Spanish guitarist Marcos Rodriguez, the Viva Santana family consists of talented, dedicated, professional musicians who fully immerse themselves to recreate the moods, sounds and atmosphere of Santana's music with passion, heart, soul and chilling accuracy. It's all there, from the powerful four-piece rhythm section, to the infectious Cuban piano and haunting Hammond organ wizardry.
The famous soulful vocal melodies in the native languages of the Americas by the only UK Santana tribute band that boasts Latin members completes what was recently described by Classic Rock Magazine as 'One Of The Top 5Must See Tributes In The UK'. The current line up of musicians have played and toured with such artists as Roger Daltery, Joan Armatrading, Matt Bianco, Jethro Tull, Bad Manners, Desmond Dekker, Yes, Robin Jones and many more. This powerful six piece band take you through the Santana years with a stunning two hour show, from Santana 1, Abraxas and Moonflower to the recent hits from Supernatural, Shaman and All that I am. Viva Santana – much more than a tribute, a Supernatural experience!
● Viva Santana 21 March, 7.30pm Stamford Corn Exchange, Broad St, Stamford PE9 1PX Tickets: 01780 766455 or www.stamfordcornexchange.co.uk
Leave a Reply