Twelfth Night – 60s style!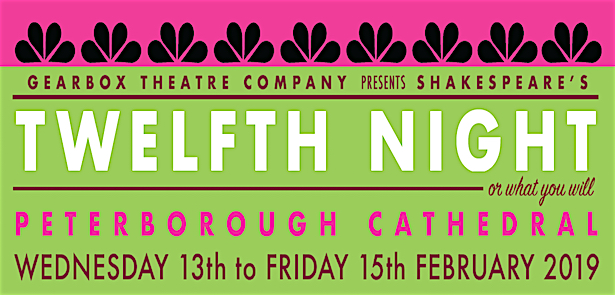 Local company Gearbox Theatre brings a special Valentines treat to Peterborough Cathedral: Shakespeare's classic confection of love and mistaken identity, given a 60s makeover... The Moment talked to director and founder of Gearbox Emma Sheppard about the production
Why Twelfth Night?
When we approached the Cathedral, one of the options we presented was Twelfth Night, and they asked us to do that in February. There are lots of reasons why that was on our shortlist. It's simply a brilliant play – it's funny, it's charming, it's got the musical element that I think will appeal to people who aren't necessarily Shakespeare buffs. The characters are really three-dimensional and interesting and go on such wonderful journeys through the play – and it's got quite a small cast, which is great because some Shakespeare plays are crazy-big! It's also perfect for Valentines, because it's all about love and people finding each other.
You're setting it in the 60s – why that period?
It's a really timeless play, but I wanted to set it in a time that people could relate to in some way. I know that to younger people the 60s is ancient history, but I wanted some modern elements without going completely contemporary. It's more about the music than anything else, because music is absolutely fundamental in the play. It frames the play, and there are lots of songs – written by Shakespeare – that are already in it. In the 60s in this country, music was integral to making that period what it was – but also some of the scenes in the play that deal with gender identity fit well with what people were starting to explore in that period.

You're directing, but are you performing as well?
I'll be taking on the role of Feste. In the original play he's what they called a 'fool' or jester, which at the time obviously existed in court, but in the 60s didn't exist. So I had to find rationale for who this character was and why she – because in this production she is a she – was there in the house, able to take the mickey out of people without getting into trouble. It made sense for me to take that part because I've been working closely with the musicians and Feste has all the songs, so I can be there for all the music rehearsals. She also frames a lot of the story.

Tell us a bit about the music…
We're working with a very talented musician and composer called Steve Hession. There are no original tunes available to us from Shakespeare's time. Since then, quite a lot of composers have composed different tunes for the songs, so for some of them we're going to use those older tunes but 60s them up! Some will be completely new compositions, and we'll be using a skiffle band on stage, as well as some Ronettes-style singers to pop up and set the scene during the transitions.

What's it like, having the Cathedral as a performance space?
It's a big, beautiful space but it could seem a bit foreboding and cold in the gloom of February, so we're going to insert some bright colours and big characters in there, with lots of 60s music from a live band! There are times in the play when the scene needs to open out, and we've certainly got that space with the Cathedral, which is amazing. We're performing it in the nave, and will be using the pulpit a little bit. We'll also be using the aisle through the middle of the audience, and there will be a catwalk that extends back into the Cathedral from the stage. Olivia's entrances will be along this catwalk, accompanied by organ music. We don't want to forget that we're in a cathedral.
Twelfth Night
Peterborough Cathedral
Wednesday 13th to Friday 15th February at 1.30pm (14th &15th only) and 7.30pm. Tickets £11-25
Book online at www.peterborough-cathedral.org.uk/twelfthnight call 01733 452336 or visit Peterborough Information Centre PE1 1HA
Leave a Reply