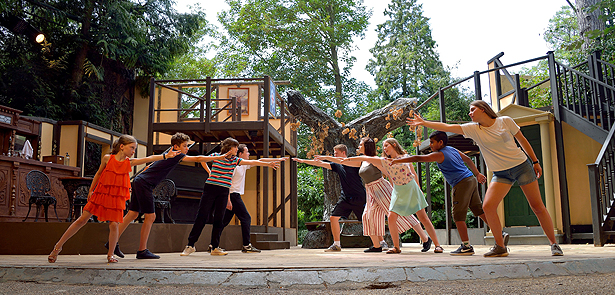 Stamford Shakespeare's Theatre Manager David Fensom on some exciting new drama opportunities for young people
Stamford Shakespeare Company is delighted to announce the re-launch of TYD (Tolethorpe Youth Drama).
TYD has been operating since 2001 providing professional drama classes for children and young people in the region. Now, under the direction of new principal, Mary Benzies, an exciting new programme is being rolled out for the coming year.
Incorporating a greater use of the Stamford Shakespeare Company's wonderful facilities and location, the full and immersive programme will feature opportunities to train, make and perform innovative, exciting, theatre in a variety of settings and venues. Working alongside the Stamford Shakespeare Company, students will have the chance to take part in special days and events, which will help bring to life the works of Shakespeare. Weekly drama workshops will be complimented throughout the year by specialist workshops and master classes, led by visiting industry practitioners in areas such as stage combat, singing, technical theatre, physical theatre, dance, TV and film. Holiday workshops will be held during the summer and half term holidays and a new younger foundation class for 5-7-year-olds is also being introduced.
Mary Benzies brings over 25 years experience of making innovative theatre with children and young people throughout the UK and Ireland and is delighted to be taking on this new role at TYD.
"Having taught at TYD for several years, I am aware of the unique and magical place it is and believe in the huge potential for growth and development here. I think drama is about "play", finding your voice and creatively exploring the world around you, whether you are on a path to pursuing a career in the business or simply want a few hours on a Saturday morning to be creative and have a great time. I believe everyone has the right to be exposed to quality drama workshops. We aim to offer that experience and really look forward to welcoming many new young "players" and theatre makers to TYD this Autumn." – Mary Benzies
The year starts on Saturday, 15 September. To book a place or for more information, visit our website: www.tolethorpeyouthdrama.co.uk or email us at:
---
Stamford Shakespeare Company 2019 season auditions
Julius Caesar
As well as the iconic roles of Brutus, Cassius, Mark Antony, Caesar and the conspiracy of Senators, the play demands a vibrant and proactive 'crowd ' composed of both sexes, all ages, shapes and sizes. Most will double as servants, soldiers, soothsayers, etc.
Twelfth Night
Shakespeare's finest comedy is a merry tale of unrequited love, shipwrecked twins, mistaken identity and drunken revels and contains some of his greatest comic characters. The hilarious antics of the roguish Sir Toby Belch, the foolish Sir Andrew Aguecheek and the sanctimonious Malvolio delight audiences young and old.
Blithe Spirit
Noel Coward's classic comedy, with its witty dialogue and absurd theatricality, is set in the early 1940s and offers seven fantastic parts for actors.  We also have opportunities for crew who wish to work backstage or on the technical side of this wonderful supernatural comedy.
Auditions take place on the weekends of 13-14 & 20-21 October and everyone is welcome, no matter what their previous experience. All that's needed is passion and dedication.
It's not just actors who are needed. The success of every season depends on many more people, all contributing an enormous amount of hard work to produce the three plays. So if you're not keen on being on the stage, why not get involved backstage, front of house, as part of the wardrobe team or perhaps help with sound and light operation?
If you are interested, please contact Lynnette Ford on 01780 754381 (Mon-Fri, 10am-4pm) or via email:
Leave a Reply