Thrilling Literary Festival Heads to The Deepings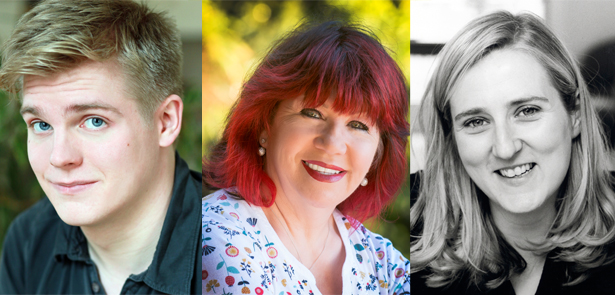 With some of the UK's top thriller writers in the programme, sales for the second Deepings Literary Festival (23-26 May 2019) have made a suitably thrilling start with many events already proving popular with book lovers from across the region – and beyond.
Elly Griffiths (The Stranger Diaries – awarded The Times Crime Book of the Year in 2018), crime fiction award winner Sophie Hannah, together with million copy author Louise Jensen (The Sister) and local success story Darren O'Sullivan (Our Little Secret) head an impressive line-up for this year's event.
No fewer than twenty professional authors, many of whom are multi award-winners and Sunday Times best sellers, will share their journeys to success and offer top tips on word craft and publishing that all important first book. Supported by South Kesteven District Council and its economic growth and regeneration company, InvestSK, the 2019 Festival programme line-up is an impressive array of national and international storytellers – presenting four fabulous days of first-class writing. 
The festival schedule includes, Cathy Bramley (The Lemon Tree Café) and Simon Scarrow, the Sunday Times No. 1 bestselling author of The Fields Of Death.
Specialist author, endurance athlete Mimi Anderson, will appear at the Spinroom Studio in Deeping St. James, and Dr Patricia Fara, the eminent academic from Cambridge University. Dr Fara will enlighten audiences at the Science Lab at The Deepings School with her talk, "A Lab of One's Own – Science and Suffrage in the First World War."
In a programme with something for everyone, railway expert Greg Morse will explore John Betjeman's love of railways (Open Door Church, Friday 24 May at 7.30pm) and local artist Nick Teale will exhibit work inspired by the fens. His book (with Becky Owen-Fisher) Standing High Out Of Shrunken Peat brings art and poetry together in "A Love Letter to the Fens." (The Granary, Sunday 26 May at 2.30pm).
The schedule will also feature Lucien Young the author of Alice in Brexitland, Trump's Christmas Carol and The Secret Diary of Jeremy Corbyn.
There's a theatrical connection too with actress Carol Drinkwater – best known for her portrayal as Helen Herriot in All Creatures Great and Small, now the author of 24 books including her sensational quartet of memoirs set on her olive farm in the south of France (The Olive Route and The Olive Tree). She is joined by Susie Boyt – the Financial Times columnist, Director of The Hampstead Theatre, London and author of My Judy Garland Life.
Once again, a programme highlight is a wonderful Black Tie Gala Dinner. This year's event will be a 'strictly' entertaining evening in the company of veteran broadcaster and now legendary Strictly Come Dancing star, John Sergeant. The evening includes a superb meal and the chance to enjoy the highlights of John's extensive career in journalism – and his personal love of books.
The real draw of the Deepings Literary Festival, however, is its sheer charm, with authors sharing the secrets of their craft in wonderfully intimate venues across The Deepings. The festival's personal nature provides the perfect environment for engaging in meaningful conversations about books – and how to write them.
So, the Deepings Literary Festival not only offers literary highlights, it also presents a wonderful opportunity to profile 'Deepings hospitality', showcasing some of the fantastic shops, bars, cafés and other venues in the area. Great music and great food is on the festival menu across the programme with coffee and cake, prosecco and canapés, afternoon tea, strawberries and cream and a Sunday Brunch – plus a special fish and chip supper at the Boundary's River Restaurant in the company of Sunday Times Best Selling author Milly Johnson (The Perfectly Imperfect Woman).
Local authors get their chance to contribute too in a Read-Dating event at Deepings Library on Saturday 25 May. This free event will create the opportunity to share ten exclusive minutes in the company of one of the region's successful local talents. The line-up for 2019 includes: Sarah Bennett, Margaret Castle, Tony Forder, Helen Claire Gould, Ross Greenwood, Jane E James, Eve Jordan and Tony Millington.
Full details can be found at www.deepingsliteraryfestival.co.uk and to book tickets visit www.stamfordartscentre.com or call Stamford Arts Centre on 01780 763203.
Leave a Reply