We Didn't Mean To Go To Sea…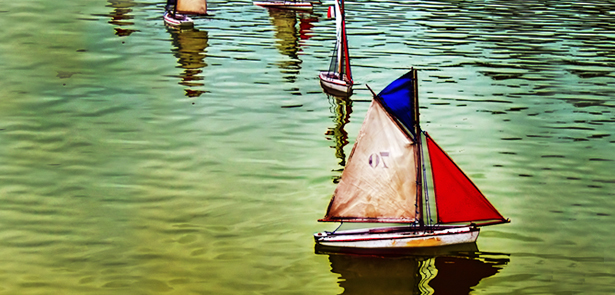 Eastern Angles Theatre Company are known for popping up in unexpected places. Touring is in the company's DNA and taking performances to non-traditional theatre spaces is what they do best
Over the years audiences have come to expect high-quality productions staged in tithe barns, churches and village halls. Recently this has extended to performing in the basement of Serpentine Green Shopping Centre with their heart-warming Christmas show Nativity Blues and on former USAA. Now, Ipswich-based theatre company Eastern Angles have new plans for their next show We Didn't Mean to Go to Sea. Based on one of Arthur Ransome's classic children's books, the theatre adaptation will this summer be brought to an aircraft hangar in Suffolk and a pop-up theatre tent at Nene Park in Peterborough
This will be the second outing for this adaption by acclaimed Nottingham playwright, Nick Wood. Eastern Angles' first staged the show in 2008 in a marquee on Ipswich Waterfront. The show was a sell-out success and gained much critical acclaim, but plans to take We Didn't Mean to Go to Sea further afield were scuppered.
'The last time we did this show we were prevented by copyright difficulties from extending the run because of a large tour of Swallows & Amazons that was also touring massive theatres at that time,' says Eastern Angles' Artistic Director, Ivan Cutting. But, as Ivan explains, this initial curtailing of the first tour has been a benefit to the people of Peterborough.
'Actually, it's all worked out very well', says Ivan. 'Waiting until now means we can bring the show to a perfect 'Swallows & Amazons style' setting in Peterborough, complete with a boating lake, and the new Nene Park facilities!' 'I'm so excited by this show because it is the one Arthur Ransome story that depicts a real adventure, rather than a pretend one involving make-believe pirates.'
In We Didn't Mean to Go to Sea the children accidently sail out to sea from the Suffolk coast, the waves are 10 feet tall and their lives really are in danger.
'I've always loved the classic piece of parenting advice dished out by the children's father, via telegram, in Ransome's more well-known book, Swallows and Amazons. The Swallows write to their dad asking permission to sail to Wild Cat Island. "Daddy" replies with the famously blunt phrase; "Better drowned than Duffers, if not Duffers won't drown" which always makes me smile! In our production the older siblings, John and Susan, have to grow up fast and become mum and dad to the younger Roger and Titty, and in the end all the children have to step up to the plate to prove they are not "Duffers".'
After a two-week run at The Hush House Hangar at Bentwaters Parks near Woodbridge from June 23-July 9, Peterborough audiences will get their chance to see Eastern Angles version of this Arthur Ransome classic story at Ferry Meadows, Nene Park from Wednesday 13-Sunday 17 July. Teresa Wood, Head of Visitor Services, said: 'Nene Park Trust are delighted to be hosting the Eastern Angles adaptation of Arthur Ransome's book in Ferry Meadows. With so much water around, Ferry Meadows provides the perfect setting for such a play.
As well as the play Eastern Angles will be offering drama workshops to around 100 local school children hosted in the park in a pop-up theatre tent that is being set up specifically for the production. And our Lakeside Kitchen & Bar will be providing refreshments before the play and during the interval.'
We Didn't Mean To Go To Sea… 
The Hush House Hangar, Bentwaters Parks, nr Woodbridge
Thursday, 23 June – Saturday, 9 July
Ferry Meadows, Nene Park
Wednesday, 13 – Sunday, 17 July.
To book tickets for Eastern Angles' We Didn't Mean to Go to Sea at Nene Park visit www.easternangles.co.uk or ring 01473 211498
Leave a Reply