The Tolethorpe Experience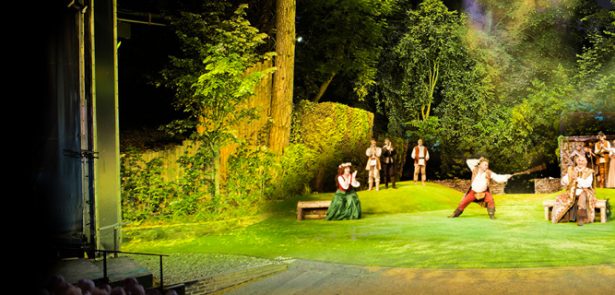 The Stamford Shakespeare Company's renowned open-air performances are taking a step up in gear for the summer season as the Company celebrates two special anniversaries
This year marks the 400th anniversary of Shakespeare's death – Britain and the world's favourite playwright. To mark the occasion the Stamford Shakespeare Company is staging a production of The Tempest, Shakespeare's final play, full of love, magic, treachery and comedy. The Company is also celebrating its own landmark as it marks its 40th year of performing at the beautiful and historic Tolethorpe Hall.
Appropriately, actors from the Company will be putting on a production of one of The Bard's greatest works: the dark and powerful Macbeth, which was the first play ever staged at Tolethorpe. To commemorate this milestone there will be a special gala night of Macbeth on 6th August. Tickets for this performance include a free programme and a glass of champagne or soft drink. There will also be pre-performance entertainment, including jugglers, jesters, fire eaters, medieval magicians and minstrels, a harpist and a falconer with birds of prey. And if two plays isn't enough choice, there's also the Company's annual non-Shakespeare performance, which this year is Alan Bennett's wonderful adaptation of The Wind in the Willows – perfect fun for all the family!
All performances are held within the grounds of Tolethorpe Hall, which makes for a truly special experience. The Rutland open-air theatre offers the comforts of an indoor venue with the delights of an outdoor setting. The covered auditorium faces an open-air stage set within an idyllic woodland glade. There's a great view from every one of the 600 seats and the permanent overhead canopy means no performance is ever rained off. The beautiful gardens at Tolethorpe have been enhanced by BBC gardener Bunny Guinness and overlook classic English parkland, where every night for 12 weeks hundreds of people enjoy picnics before heading into the auditorium to sit back, relax and be entertained.
If you would like something more formal than a picnic, you can dine in the restaurant, where more than 5,000 meals are served during the season, which this year runs from the start of June until the 27th August. There is also a theatre bar so you can enjoy a pre-performance or interval drink, plus a spacious orangery where interval coffee is served. The historic atmosphere, enchanting gardens, highly acclaimed performances and excellent facilities all combine to create what has become known to regular patrons as 'The Tolethorpe Experience'.
The 2016 summer season
The Wind in the Willows
This stage adaptation of Kenneth Grahame's classic novel captures vividly the idyllic world of the riverbank and the distant wild wood where wily weasels lie in wait.
Macbeth
Macbeth's descent from popular and successful war hero to deranged tyrant has all the ingredients demanded by audiences; foul murder, witchcraft, misguided ambition, madness, justice and retribution.
The Tempest
A magical tale of a remote island – of shipwrecks and a lost kingdom, of spirits and monsters, of true love and revenge.
Stamford Shakespeare Company
For more information, including dates and times, or to book online visit: www.stamfordshakespeare.co.uk Box office: 01780 756133
Leave a Reply