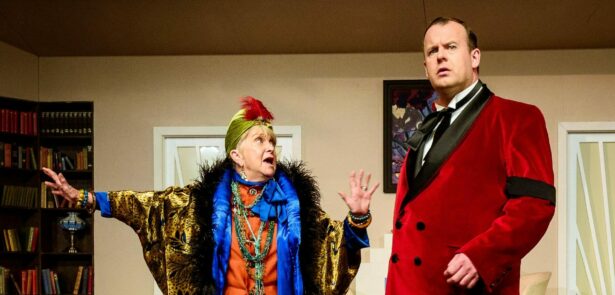 55 years ago, in a garden in Stamford, a group of like-minded people started a modest, amateur theatre group. It has now become a leading regional theatre with a growing national reputation, attracting audiences from around the United Kingdom and overseas to its three-month summer season – and it's still done purely for the love of it. The Moment talked to David Fensom, Stamford Shakespeare Company's Marketing & Theatre Manager (and actor, director, one-time chairman and occasional board member) about the history of this remarkable company.
How did Stamford Shakespeare Company come about?
It started life in 1968 in the monastery gardens of the George Hotel in Stamford. Stamford Shakespeare Company itself was initially set up to raise money for the new Stamford Arts Centre, which was then a newly proposed idea for the town. Jean Harley was the founding member. Jean had studied as an actress at RADA after the war, and then did her teaching and directing qualifications through the Guildhall School of Music and Drama. Jean and other local people got together and the first production they did was A Midsummer Night's Dream, which obviously works well in an outdoor, garden setting with flowers and trees. There weren't many performances, but people loved it so much it just sort of carried on.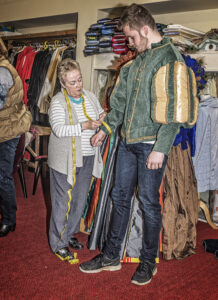 Tolethorpe Hall is an amazing setting, with its Tudor house and beautiful landscaped gardens. How did SSC come to be based there?
In 1977, due to building work, the hotel could no longer accommodate the Company, so suddenly that performance base was no longer there, and the Company had to find another place very quickly in order to have another season. And Tolethorpe Hall just happened to come on the market. It was near derelict – one wing had fallen down and there were holes in the roof – but Jean came and had a look and found that it had an amazing natural amphitheatre in the grounds. So the idea was born… After many heated discussions the Company put in an offer of £36,000, which was low even for then. But it was accepted. The catch was, the Company only had £78 in its account! Fortunately, local businessman Tim Clancy was able to give the Company a loan, which was later repaid, and they bought the Hall. There were also one or two members at that time who put their homes up as capital.
So they moved in. It was this group of people just doing it for the love of performing Shakespeare, really. So then they set about clearing the grounds, getting rid of rubble. It was the members who put floors in the Hall and everything else – they all banded together to get that first season at Tolethorpe up and running. And it just grew in size. Moving from what we could do with the garden at the George Hotel to here, suddenly, it could be bigger. In the early days, the theatre itself was just a canvas canopy erected over plastic seating; it wasn't a permanent structure at all. And that carried on for a number of years. It grew in size to about 450 – auditorium size – but it was still plastic chairs being brought in every year, and everything being put up and taken down each season.
Each season's audience figures were around the low thousands then, but it was when they appointed Derek Harrison as the first General Manager in the early 1980s that things really started to grow. They had realised they needed a paid person to run things as there was just too much for volunteers to do, and he was absolutely instrumental in putting Tolethorpe on the map, going out and marketing it. And the audience figures just increased and increased, going into tens of thousands, rather than thousands. Derek oversaw increases in attendance from 6,000 in 1985 to 12,000 in 1986 and over 34,000 by 1994. Putting on a season draws on a huge number of people – directors, actors, set builders, wardrobe department, people both backstage and front of house – and it's almost entirely volunteers. People are happy to travel to be involved as well. I knew a couple of actors who used to come all the way from Downham Market three times a week for rehearsals, and then performances every night for a four week run. So people really do love it and want to be involved. Same with our audience who come from all over the UK – and we also get people coming from overseas each year. It's different generations now, too, so those who came here when they were young are now grown up and are bringing their children. It's lovely to meet people who have been coming since those early days at the George.
Then in 1993 the auditorium capacity was increased to 600 with permanent seating and a
new canopy, made from high tensile fabric – the same material as was used for the Millennium Dome – was erected as a permanent structure. Sam Wanamaker, who was in the midst of overseeing the construction of The Globe, came to open the new theatre and brought in quite a lot of interest from some big names, including Douglas Fairbanks, Jr. Other well-known personalities who have supported us with their presence include Sir Alan Ayckbourn, Richard Todd OBE, Kate Adie OBE, Colin Dexter OBE, Jane Lapotaire, Margaret Wolfit and Jimmy Ellis. Royalty has graced the theatre too, with HRH Duke of Gloucester enjoying a performance of A Midsummer Night's Dream in 1992.
I did also hear that Sam Wanamaker invited Jean to go and perform at The Globe. She would never have done it, because really that wasn't what she was in it for. She didn't want any fame or anything. She was an extraordinary woman; clearly she had been a very good actress in her time, and though she had a very soft centre, you almost never saw it because her steely exterior was to the fore! She was a tough cookie, but that's what was needed to run this company for all those years.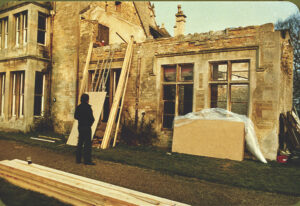 I always hesitate to refer to the Company as 'amateur' because it seems so… well, professional!
Jean and Derek always tried not to use the word 'amateur' in any way. That was deliberate. A lot of people who come in assume it's professional. I often get emails from professional actors who want to audition and don't realise they won't get paid!
But there is a striving for excellence and level of professionalism – then each year you try to outdo the year before. You're trying to do it differently, do it better, and keep pushing yourselves. In some amateur societies, you only have three nights of performance, so it just gets going and it's over. I don't think there's another amateur society where a play gets a four week run – around 26 performances for each of our three productions – which is great as an actor because you can really develop the performance and the show over those weeks. But because there's a long period of time that you're performing, the sets and costumes have got to be so durable and last the season. Also it's a big space to fill. Our former Set Manager retired a few years ago and his son took over, and it is him, with help from a friend of his, who spends six months a year here building these magnificent structures. The costumes are built to last, too, because they're getting rained on and dragged through mud. We also want to keep them for the future so that we can potentially reuse them, or adapt them for future productions of things. In some ways, I suppose, it's a victim of its own success. It has become terribly popular and people love that wow factor when they walk into the auditorium and are bowled over by the set. But you're then very aware of having to better it each year, which isn't easy!
So what is a typical year for the Company?
The audience only sees that three months of intense activity when there are performances, but the year for us begins about April-May time of the year before, when the board and artistic committee start looking at potential plays for the following summer; they start to put out the feelers for directors who are interested and finding out what they might want to direct. That takes a bit of time, but the decisions are usually made by the beginning of the summer. Then you've got your current year's productions to get through, and by the end of the summer you're already looking at auditions, which tend to take place in October. So during the summer productions there's also a hubbub of excitement about what everyone's interested in for the following year. So auditions then take place, with recalls into November and then the plays are cast from the local community – and we try and get new people in each year. That's important. Then everyone has a meeting at the beginning of December, where all three casts get together for the first time, and read through the play. And then rehearsals start in the new year. Each director works differently, but they tend to start end of January. So we're just starting it as we speak. And there are usually three rehearsals a week – two in the week and one at the weekend – and they go right through to opening night. The set builders usually like to have started before Christmas. Costumes are already underway in January – certainly in terms of design – and this weekend they'll be taking the measurements of all the actors. So there's a lot going on, as well as the general upkeep of the building, the work of our Administrator and our Estate Manager, keeping outside looking lovely. We've now got a box office in-house for the first time, which was a huge project last year, getting all that up and running. So, when we open the doors in the summer it all should be looking magnificent out there, on stage and off, with all the plays well rehearsed and ready!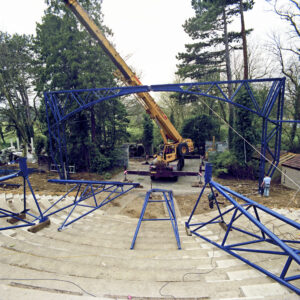 Three productions, each with its own cast, sets, costumes and four week run… That sounds like a monumental task.
One production is tough enough in terms of the workload and the effort, but having to juggle three makes it much more difficult. And now we actually have to juggle four because we also have the production from TYD Theatre Makers. It's my job to plot the rehearsal schedule, and just that takes me weeks!
This year, we're doing As You Like It, which we last did in 2014 and this year the director has decided to set it in the 60s, with a Woodstock, summer of love, flower power vibe to it. Then we're doing Measure for Measure, which we have only ever done once in our 55 year history – in 1988. It's an interesting play, a difficult one, and although it is classed as a comedy it doesn't get done that often, but one of our directors was brave enough to take it on. It's nice to do
a Shakespeare we've never done before or one that we haven't done for a long time, otherwise we're in danger of repeating ourselves. And our non-Shakespeare for this year is Alan Bennett's The Lady In The Van. We have a fourth choice this year as well, because Theatre Makers, which is an offshoot from our school, Tolethorpe Youth Drama, founded here by Carol King in 2001, will be doing Jessica Swale's Blue Stockings.
How did you first become involved with Stamford Shakespeare Company?
I started as an actor. I was drafted in in 1999 when we were doing King John – the one and only time we've done it. Great play, but not a popular play. I remember a couple of nights where there were more people on stage than there were in the audience! A week before it opened, Jean got rid of whoever was playing the English Herald and they needed someone to stand in during August. Somebody in the play knew me and recommended me, and I came along and was immediately drafted. That was my introduction to the company as an actor. And then the next year she had me playing Hamlet!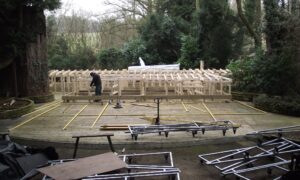 Hamlet? OK, that's quite a leap…
It's a huge leap! I remember feeling a bit sick when she suggested it… As wonderful as it was, it was hard work. Hard work for what felt like months – just me and Jean, and Hubert, who was the acting coach at the time. Hubert had been a member of ENSA (Entertainments National Service Association) during the war and appeared on stage with Sir John Gielgud in Hamlet in Cairo. After the war he was in twice- nightly rep in Peterborough, doing 52 plays a year with people like Lennard Pearce, who was grandad in Only Fools and Horses. Hubert really took me under his wing – a great mentor with amazing stories and expertise. His advice was invaluable.
After that I had a few more years of various leads and things, then became a board member, then chairman of the Company, and then I decided to go to drama school – which had always been my plan since leaving school. So, I left in 2006, went to drama school and worked as an actor and director in this country and overseas for a bit, but kept getting pulled back… I got back in the Company, and back on the board again, did some more acting and directing, and then seven years ago this job came up. So I've done acting, directing, been a board member, have been chairman, and am now an employee. I think there's only me and my predecessor, Steve Whittaker, who have done all those roles and I think it gives us a unique perspective on the Company. As an employee, and as a volunteer, you've got to be prepared to roll up your sleeves and get stuck in with anything and everything. I've designed and painted sets. I've pruned hedges and weeded gardens. I've cleaned toilets. I think the only area I've not been involved with is wardrobe, because I would be completely useless!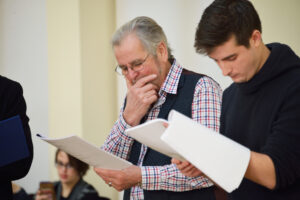 There must be an amazing community spirit…
It becomes an extended family – and often you end up spending more time with these people than your own family! You become very close to people, and you keep coming because you love it. There's nothing like being on a stage in front of 600 people, being supported by great actors – especially in comedy, nailing a punchline and getting 600 people laughing and applauding. There's no feeling like it. But I think there is something quite unique about this place, too. Even those people who just do front of house for us love it. They have no desire to be on stage, but they love being here, in the evening, in the grounds. It's a lovely place to be. And on a summer's evening when it's full of picnickers, and there's a lovely play to watch and that hubbub of excitement, it's wonderful. We have people who are booking their seats in the front row the minute the booking line opens. We're so lucky that people love it and love coming. There's a huge amount of love involved that keeps it running. We rely almost entirely on our volunteers and are always on the lookout for more people to get involved. Anyone can join.
Is it very different, performing outside?
With open-air theatre, you have to give so much more. It needs to be bigger. And every night is different. The atmospherics are different. Sometimes your words just fall down in front of you, and have to push it so hard if the wind's up or the rain is coming down. It's hard work! Jean used to say if you don't come off that stage exhausted, you haven't been giving enough. And she was totally right, it takes a huge amount of strength and stamina to perform, particularly in the open air.
And, as well as dealing with atmospherics as an actor, you have to deal with things like animals coming on stage. During King John we had a cat walk on at a really poignant moment. We've had dogs on stage. In Hamlet, when Laertes was lying dead on the ground, a toad hopped across the stage and up inside his costume. We've had foxes and bats and all sorts of things. So there's a lot to contend with. The joys of open-air theatre!
Leave a Reply