Henning Wehn: 'My first gig didn't get any applause, at all!'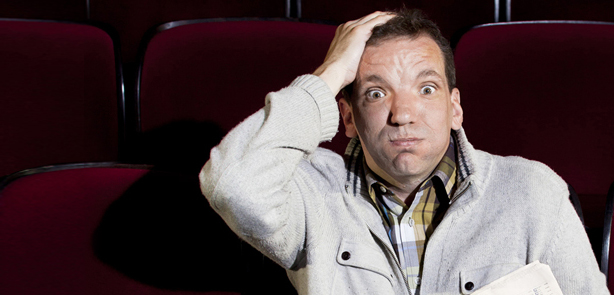 It's easy to laugh at the Germans – especially if the German in question is Henning Wehn, the hugely successful 'German comedy ambassador to the UK' with a string of TV appearances, newspaper columns and live gigs to his name. The Moment magazine online caught up with Henning for an exclusive chat, ahead of his appearance at the Key Theatre later this month, to find out about his extremely efficient approach to beating the Brits at their own game (comedy that is, not football, although he likes it when the Germans beat us at that, too)…
When Henning performs, he seems such a natural. Surprisingly, it turns out that his comedy career didn't begin until after he moved here in 2002 to work in marketing. Watch his routines, during which he affectionately pokes fun at the Brits for such careless, un-Teutonic habits as over-spending and economic reliance on the housing bubble, and you get that it's not that Germans, famously, 'don't have a sense of humour', it's that Brits and their eccentric ways provide such an irresistible and fertile opportunity for laughs: 'Here in Great Britain,' he observes, 'there is only one economic rule: you must not worry. Once you are at a level where interest payments on your credit card exceed your actual income you must not worry… and get yourself another credit card. It will be interest-free for the first six months and that gives you enough breathing space to treat yourself to a luxurious holiday abroad! I don't want to ruin the atmosphere, but you're doomed.'
So, the jokes are based, extremely effectively, on our many cultural differences. Are there times when the chasm is so wide even Henning can't find the words to sum up his observations on what makes us so very unlike his fellow countrymen?
He ponders this, then replies: 'I don't think it's very much of a jump, actually. For me, the main things are the reference points. I talk about a political incident or whatever; I know about it and I assume the audience knows about it – if they don't it's never going to work! The moment you start reading the British newspapers regularly then you can do stand-up and make a connection with the audience.'
And what was it that made him decide to choose stand-up as his way in, so notoriously difficult and, at times, quite soul-crushing? Especially, one would imagine, for a German in front of a rowdy English crowd.
'One night I was walking past a pub, and I saw a sign for stand-up comedy. I was intrigued, as I'd never heard of it.' I laugh, but Henning's not, at this point, joking: Germany just doesn't have a tradition of stand-up comedy. He continues: 'I went in and watched it, and really enjoyed what I saw. I thought I'd give it a go and it just started from there. I didn't get ideas for a routine at that time – it was the concept I enjoyed. My first gig didn't get any applause, at all! But after a few, it began to feel natural and there seemed no reason not to keep going.'
Inevitably, success and offers of TV work soon followed, including well-received appearances on Would I Lie To You, 8 Out of Ten Cats and QI. Is a transfer on the cards, for more TV and less live work, maybe even a sitcom like Miranda or Lee Mack?
'TV's good, all part of it, but I prefer the live gigs. Writing my routines is the only writing I'm really interested in: if we were to talk sit-com writing, I'd have to act in them – and I don't think of myself as an actor – and write lines for other people, and I think I'd rather just write material for myself! One of my strengths is my form of delivery, the persona, the whole package and taking myself out if that and just doing the writing, that would remove quite a big element of what makes my act work.'
For now, then, Henning's enjoying his career just the way it is, which currently includes a nationwide tour – not, thankfully, in a Heinkel bomber with a copy of Baedeker's Great Britain, but with a brilliant show that proves, even if we are quite different, we can all get together and have jolly good laugh about it.
The Moment magazine online spoke to Henning ahead of his one-man show, Henning Knows Bestest, which played at the Key Theatre on Thursday, 19 September.
Leave a Reply