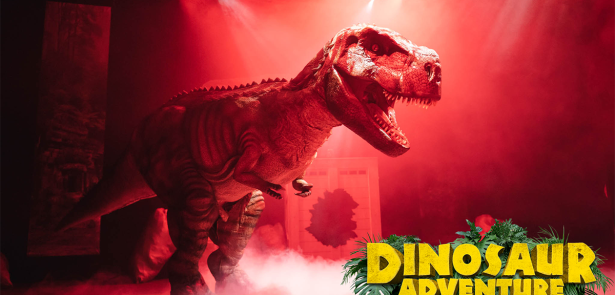 After 65 million years, the dinosaurs are back. And they're stampeding straight towards Peterborough. You have been warned!
Most kids love dinosaurs and let's admit it, most adults do too! So, Dinosaur Adventure Live promises to be an awesome theatrical adventure for all the family.
It's a thrilling, interactive, and educational show that will take you and your kids deep into steamy Jurassic jungles to come face- to-face with some of the most awe-inspiring creatures that ever lived.
Operated by a mixture of animatronics and puppeteers, the massive dinos include a T. rex, a Velociraptor, and an Apatosaurus, amongst others. There's even a juvenile T. rex and a cute little baby Triceratops!
It's an interactive experience too, so your kids might just get the chance to pet a baby dinosaur or even feed one – if they're brave enough! They'll also learn loads of incredible dino facts as well as a history of their domination of the planet and their ultimate demise.
The show is based around the hunt for a missing data crystal which the park rangers need to find – with your kids' help – to restore power and save the dinos in the park. And you can be sure of plenty of thrills and chases along the way, as the park rangers introduce you to their Jurassic and Cretaceous charges.
The props department behind the show has ensured the creatures are completely lifelike, so this is as close as you and your kids will ever want to come to these magnificent beasts. You'll not only be able to marvel at the spectacle, you'll also marvel at how it has been achieved.
Just be careful you don't end up on the menu!
There will be two showings of Dinosaur Adventure Live at the Key Theatre on Monday, August 22 at 2pm and 4.30pm. Tickets start at £15. To book visit keytheatre-peterborough.com or call the box office on 01733 207239.
Leave a Reply