The Cresset pantomime that's Over The Rainbow!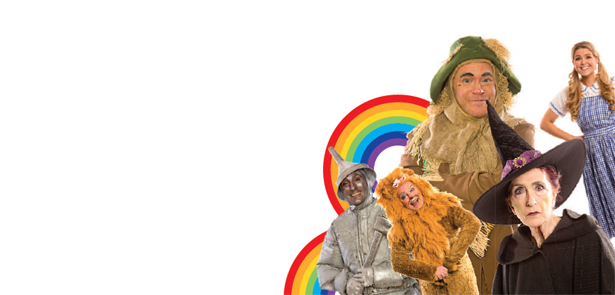 The Cresset's annual pantomime is back with a bang – and following the yellow brick road…  
It's exciting news for Peterborough – this year's pantomime at The Cresset is set to be The Wonderful Wizard of Oz! Not only will audiences be able to enjoy this timeless tale told anew, they will also have the opportunity to see a show that's not so common on the pantomime roster. This will prove a perfect complement to other pantomimes in the region, giving families an excuse to have double the entertainment fun this Christmas! The classic story of Dorothy Gale in the land of Oz has delighted readers since it was published as The Wonderful Wizard of Oz in 1900.
Since that time, the characters created by the author, L Frank Baum, have become archetypes we continue to refer to: the Straw Man without a brain, the Tin Man without a heart, and the Cowardly Lion. Add to this the irresistible story of 'not being in Kansas anymore, Toto' – that is, being whisked away to a magical land where anything and everything is possible – and it's easy to see what draws us back to this story again and again. The Wizard of Oz, the MGM film released in 1939, added sumptuous visuals and an unforgettable score that brought further life to the story.
This year's show has something for everyone, and producers have worked hard to make sure the show crackles with magic and energy. It's also got something of a community feel, too: as well as a top-flight cast of professional actors, talented local dancers were auditioned back in September and selected to make up the chorus. Theatre-goers keen for their families to experience a proper panto will be reassured to know that plenty of audience participation is also promised!
And what would a pantomime be without stars? This year, The Cresset is pleased to welcome Steven Arnold to Peterborough. Steven is probably better known to TV and soap fans everywhere as Coronation Street's Ashley Peacock, and he'll be applying his character skills and impeccable comic timing to the role of the Scarecrow. Other roles include Lucy-Jane Quinlan as Dorothy; Lawrence Stubbings as Tin Man; Zach Vanderfelt as the Cowardly Lion; and Linda Clark as the Wicked Witch of the West.
The Wonderful Wizard of Oz at The Cresset runs from 11-30 December. Visit www.cresset.co.uk/pantomime-2015 for more details and to book tickets, or phone the box office on 01733 265705
Leave a Reply