Stamford Shakespeare Festival: All In Good Company  
Stamford Shakespeare Festival: All In Good Company   1 2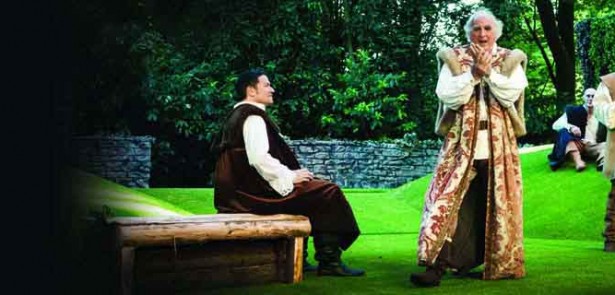 One of Europe's finest open air theatres sits right on our doorstep. The Stamford Shakespeare Company performs within the natural amphitheatre at Tolethorpe Hall and this year's season, which runs from June to August, promises as compelling a line-up as ever. Benedict Vanheems talked to director and vice chairman Michael Harrison and found that this amateur company of actors is anything but amateur in standard 
FIRST THINGS FIRST, I NOTICE YOU ARE PUTTING ON NOT ONE BUT THREE PLAYS THIS SEASON. THE LOGISTICS FOR THAT MUST BE COMPLICATED!
We've been putting on three plays for the past 20 years, so we've had time to get used to it! Before that we did two plays per season but decided to be more adventurous and give ourselves a little bit more to worry about! Running three plays proved to be an instant success because people were in effect given 50 percent more choice. Once we made the decision we didn't look back, it just sort of clicked.
HOW DOES THIS WORK WITH THE PERFORMERS? DO SOME OF THEM ACT IN TWO PLAYS?
We have one or two people who are in two plays. I've done it myself; it's a hard grind but you can't hold back enthusiasm can you? It has a way of surfacing no matter what you do. Our casts are absolutely committed to putting the plays on. And every now and then they like to have another bite at the cherry and do something else as well – perhaps something in another genre.
THIS YEAR THE STAMFORD SHAKESPEARE COMPANY IS PUTTING ON TWO SHAKESPEARE PLAYS – HENRY V AND ROMEO AND JULIET, PLUS HENRY FIELDING'S MASTERPIECE TOM JONES. HOW FAR IN ADVANCE DID YOU DECIDE ON THESE?
We decide on what to produce 15 to 18 months in advance, so at the moment we're finalising decisions for the 2016 season. Once we've decided, we spend the summer thinking about how we can stage and cast it. Then in September, when the current season is out of the way, we carry out the auditions and talk to the ladies who make the costumes and the men who make the sets. By January rehearsing starts in earnest.
WHAT WAS THE RATIONALE BEHIND CHOOSING THIS YEAR'S PLAYS?
We haven't done Romeo and Juliet for about seven years and we usually run this play every six to eight years, so it was time. It's a popular choice because it's such a wonderful story. This couple are trying to make it all work but they just make the mistakes that see them end up in a tragic situation as opposed to wonderful, romantic situation – tiny steps each way that go the wrong way. We settled on Henry V to mark the 600th anniversary of his victory at the Battle of Agincourt. And as for Tom Jones – I'd wanted to do this for a while. The third play the company puts on is usually a non-Shakespeare play. It gives those who aren't certain they are going to enjoy a Shakespeare play another choice.
I GUESS SHAKESPEARE ISN'T FOR EVERYONE…
Unfortunately a lot of people had bad experiences of Shakespeare at school, which turned them off. We're trying to turn them back on again by making his plays relevant and accessible. We always try and present them in such a way that people understand what's going on, even if people may not be familiar with the language. But it's funny – if you sit and listen your ear eventually tunes in and you realise you are understanding more then you thought you would. This year's performance of Romeo and Juliet will be set in the Victorian era. It gives a new angle to Shakespeare. But then his dramas are as applicable when he wrote them in the 16th and 17th centuries as they are now. They have modern resonances because human frailties are no different and the situations people find themselves in are very, very similar. It means you can successfully translate his plays from one period to another. Shakespeare endures because he is dealing with people – that's the whole point of his plays.
YOU'VE GOT SOME REALLY STRONG TALENT WITHIN THE COMPANY. ARE ALL THE PERFORMERS FROM THE LOCAL AREA?
They are, yes. In the past we've had people from further afield – Lincoln, Boston, Kings Lynn and Cambridge – but the vast majority are from the Peterborough/Stamford area. Some of our performers have been here for 30 to 40 years. For example, Steve Whittaker, the… [cont]
Stamford Shakespeare Festival: All In Good Company   1 2
Leave a Reply