Somewhere in England: Eastern Angles explore the 'friendly invasion' of 1940s East Anglia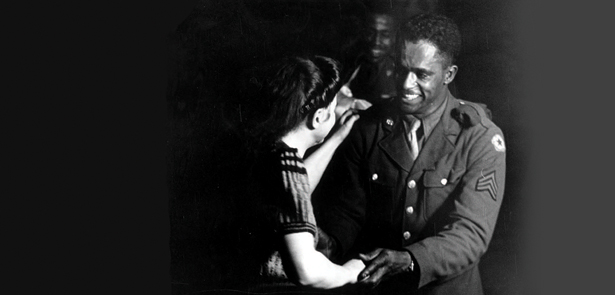 When people think about the massed of ranks of the American Army stationed in England during World War II this legendary British quip often comes to mind. But there was good-humoured banter on both sides, with the GIs delivering their own cheeky come-back – they labelled the Brits, 'underpaid, undersexed and under Eisenhower'. Now Eastern Angles have taken the story of the culture clash caused by the influx of Americans and turned it into a fascinating and moving new theatre production 
Tales of our gum-chewing American visitors with their catchy tunes, sharp uniforms and Hollywood glamour have gone down in local history, especially in the East of England where thousands of US servicemen were stationed during the 1940s. This spring, Eastern Angles' new production Somewhere in England brings the period to life, touring over fifty venues across East Anglia and calling at St John's Hall in Peterborough on Saturday, 19 March.
Eastern Angles' theatre production is part of a wider Heritage Lottery Funded Eighth in the East project – a programme of activities using theatre, archaeology, photography, oral testimony and documentation to highlight this period in East Anglia's history. As Eastern Angles Artistic Director Ivan Cutting explains, the input from the Eighth in the East project has been invaluable.
'This is one of those productions I've been looking forward to for so long,' says Ivan. 'I knew we had to do a play about the arrival of the Americans one day and to do it in partnership with the Eighth in the East project is just perfect. We have had access to so many memories, so many enthusiasts with their historical knowledge. Now our theatre tour will take in the same geographical area that those famous US planes once covered.'
The first Eighth U.S. Army Air Force aeroplanes arrived in East Anglia in May 1942. With them came huge numbers of black and white American GIs who, in some places, outnumbered the local population by 50 to one. Somewhere in England, written by Polly Wiseman, will examine the US Army Airforce's policy of enforced racial segregation, which meant that black and white military personnel were not allowed to mix socially. This policy led to 'black nights' and 'white nights' in local village pubs and dance halls – a shocking rule that often bemused and confused many local East Anglians.
'Somewhere In England, to me, is a timeless and universal story of injustice,' says the production's director Gari Jones. 'It goes to highlight the somewhat relentless ignorance that, for me, still exists. Polly's play and the work of Eighth in the East is attempting to bring to the surface the reality of the war, leaving some kind of legacy before it's forgotten or becomes a series of untruths.'
This unique moment in history, often referred to as 'the friendly invasion', had a huge impact on social and cultural life in the Eastern region and it's a story that's in danger of being forgotten. Inevitably, nylons, Hershey bars and jitterbugging to swing bands in the local village hall all feature in Polly Wiseman's new play, but there was another side to this shared history – a tale of rural communities turned upside down, of youngsters being forced to grow up before their time, friendships forged and then blown apart, and outsiders learning to live amongst the locals.
Between 9 March and 4 June Eastern Angles will tour this new theatre production to village halls, theatres, art centres and community centres across the region. The show will also appear at a number of site-specific venues such as Debach Airfield Museum in Suffolk and Thorpe Abbotts Airfield Museum in Norfolk where audiences will be able to enjoy talks and tours. But for Peterborough audiences St John's Hall on Mayor's Walk is the place to be. To book tickets for this performance contact the Eastern Angles Box Office on 01473 211498 or book online at: www.easternangles.co.uk
Leave a Reply