Simon Egerton: "There'll be lots of songs. And I can promise a few pandas"  
Simon Egerton: "There'll be lots of songs. And I can promise a few pandas"   1 2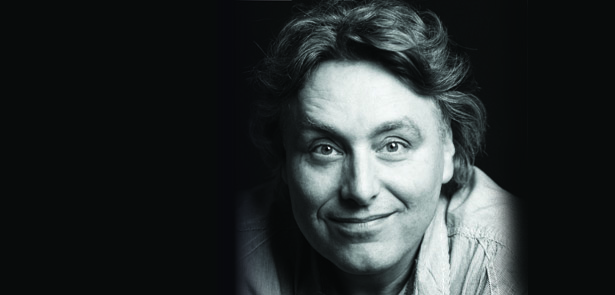 Panto looms once again at the Key Theatre – and after two record-breaking, sellout years with Cinderella and Jack and the Beanstalk it's now the turn of Aladdin to take centre stage. One of the talents who helped make both productions such a success is composer Simon Egerton – and he's back, not only writing original music and lyrics for the third year running, but directing the whole show, with the actors once again playing all the music live on stage. There will be magic. There will be mayhem. And, of course, pandas. Toby Venables talked to him  
FIRST OF ALL, ABOUT THE SHOW…
Well, it's the traditional story, with Aladdin and Wishee Washee – and we get two magic genies, the Slave of the Ring played by Helen Power – a great singer and actress and former Roxie Hart in Chicago, as well as a multi-instrumentalist – and the Genie of the Lamp, played by Trevor A Toussaint. He's a fabulous singer, doing Sister Act at the moment AND will be a big presence on the stage. And there's all the usual panto stuff! There'll be the usual silly routines. Lots of songs. And I can promise a few pandas…
AND ONCE AGAIN, THE ACTORS THEMSELVES PROVIDE THE MUSIC?
Yes, it's all actor-musician performed again – no click tracks, no backing tracks, all the music played played live by the performers themselves on the stage. And we're going very much back to swingtime – saxophones, trumpets, a real showtime feel. But it's also a very traditional panto. Peterborough has this wonderful tradition of that at the Key, so even though the performers themselves are the musicians – with the benefit of a big, ten-piece band – we still have all the traditional characters.
AND SOME NEW FACES, AS WELL AS A FEW FAMILIAR ONES?
We have a new Dame coming in the shape of Darren Machin, who is terrific. He's worked with people like Ray Cooney and Terry Scott and he really knows the territory. He's even been in Downton Abbey, so I'm delighted he's joining us. But James Peake, who was Dame last year, is coming back to play Wishee Washee. We also have Natalie Morton Graham, who was in Cinderella a couple of years ago playing Princess Poppy, and Robin Johnson, who was Fleshcreep in Jack and the Beanstalk. He's coming back to be a baddie again – he's our Abanazar. The good news for the band is that Lewis Hall is back as Music Director – he was MD for Cinderella, and has been a veteran of the panto pit at the Key for some years. He's a fabulous bass player; he goes around with Think Floyd, who tour internationally – a really big tribute band – and he'll be anchoring it on stage. He is the only person who isn't playing a character as well, but everyone else is, and there's a cast of ten.
YOUR FIRST PIECE OF WORK FOR PETERBOROUGH WAS WRITING THE SONGS FOR PARKWAY DREAMS, BUT SINCE YOU'VE KIND OF BECOME PETERBOROUGH'S COMPOSER IN RESIDENCE…
Unofficially! But I'm delighted by that. And that first show I did – Parkway Dreams – is coming back in September. That was my introduction, really. I didn't really know Peterborough very well when I was asked to do that, so did a lot of research. I did know the old Roy Kinnear ad for the city, though – and one of the songs in Parkway Dreams is actually that Roman Centurion!
THIS IS YOUR FIRST TIME AS DIRECTOR OF THE PANTO. HOW DID THAT COME ABOUT?
I was asked! I actually do a fair bit of direction, mostly comedy. I work with a group called Last Chance Saloon, who do sort of spoof horror knockabout comedy, and I started out as a comedy performer. I've been working with Fourth Monkey this year as music director and composer, and I'm directing a show about Liza Minelli in January next year. It seemed a natural evolution of what I was already doing with the panto. And when they asked, I thought 'Yes, love to!'
DOES BEING DIRECTOR CHANGE THE WAY YOU APPROACH THE SONGS?
I don't think it changes it, but it makes it easier, because you can see how it's going to connect. With panto songs, you see them, visually, and it means you can write gags and know how you're going to make them work. But it's still the same old digs at the local area, and jokes at the expense of Cambridge or Stamford… It has to be topical. And there's lots of silliness. And the odd, gentle double entendre. Nothing blue, of course – we don't want to go down that road; it is absolutely a family show – but just the odd bit of cheek… And pandas.
WHAT ABOUT THE SCRIPT?
The script was originally by Brad Fitt, and was performed at Cambridge Arts Theatre, but I've adapted it for Peterborough. And it's a really well-constructed, traditional panto, with its boots firmly in music hall, which I think is where panto should be.
HOW DO YOU SETTLE ON A MUSICAL STYLE FOR THE SHOW?
I think it's partly the characters. I see the characters in panto as having three very distinct roles. There are the Fools – in this case the Dame and Wishee – the Heroes – Aladdin and the Princess – and the Magic Folk. The song styles tailor a little bit to them. The Fools are very much music hall in style – Widow Twankey is totally music hall, and so is the Emperor. He's called Emperor Hoo Dun Pu Pong, and there's a song called Mr Pu in there, for example! So you're immediately into that music hall style. For the Heroes, it's more modern and poppy. For the Magic Folk it comes out a bit more showtime, with a bit of soul. But you also… [cont]
Simon Egerton: "There'll be lots of songs. And I can promise a few pandas"   1 2
Leave a Reply